Extracts from "The Living Room: A Memoir"


---
9
On top of the three-shelf bookcase in the foyer are four brass pieces. Two of them, a small bowl and a basket with a large handle, came from the family house. The other two are eighteenth-century French candlesticks—or so I was told by Joe Tucker, who gave them to me. Joseph Eagon Tucker, a professor of French at the University of Wisconsin, was one of my first acquaintances after I moved to Wisconsin in September of 1960. I met him one evening at dinner in the Wisconsin Union, and I saw him regularly from then on. He was exuberant, gregarious, and mildly sarcastic. He gave me the candlesticks (eight and a half inches tall, with knob-and-slot candle-ejectors) to help furnish my room at the University Club, along with three watercolors by Nicolas Krycevsky (two of Paris dated 1947 – 48 and measuring ten by fifteen inches and twelve by nine and a half, and one of Venice dated 1949 and measuring fourteen by twelve). Krycevsky, whose illustrations for Gogol's Taras Bulba were published in 1945, was being talked about in Paris during Joe's postwar visits, and Joe was attracted to his work. These lovely watercolors now hang on the west wall of my living room; they and the candlesticks have therefore been in my sight constantly for nearly fifty years, in my two Madison locations and my one in New York. In the summer of 1961, on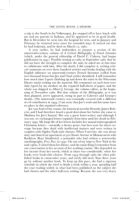 a trip to the South in his Volkswagen, Joe stopped off to have lunch with me and my parents in Indiana, and he appeared to be in good health. But in December he went into the hospital for tests, and in January and February he returned twice more for extended stays. It turned out that he had leukemia, and he died on March 12, 1962.
A year earlier, he had undertaken to prepare a section of the nineteenth-century volume of A Critical Bibliography of French Literature (which, under the general editorship of David C. Cabeen, had begun publication in 1947). Possibly sensing as early as September 1961 that he did not have the strength to complete the task, he asked me at that time to collaborate with him. After his death, I did complete it, writing critical comments on over three hundred articles and books dealing with the English influence on nineteenth-century French literature (culled from two thousand items that Joe and I had earlier identified). I still remember how much time I spent climbing up and down the stairs in the Wisconsin library stacks seeking out the material. My comments on each item were duly typed (by my mother) on the required half-sheets of paper, and the whole was shipped to Albert J. George, the volume editor, at the beginning of November 1962. But that volume of the Bibliography, as it was then planned, never appeared, owing in part to Cabeen's and George's deaths. (The nineteenth century was eventually covered with a different set of contributors in 1994.) I am sorry that Joe's work and his name have no place in this standard reference.
Joe was fond of his cousin, the historical novelist Dorothy James Roberts, and I had therefore heard a good deal about her before she came to Madison for Joe's funeral. She was a great letter-writer; and although I was not, we exchanged letters regularly from then until her death in February 1990. My large file of her letters includes her annual mimeographed Christmas letters—normally a dreary genre, but hers were far above average because they dealt with intellectual matters and were written in couplets with Ogden Nash-style rhymes. When I met her, she was about sixty and shared an apartment at 910 Stuart Avenue in Mamaroneck with Kathleen (Kay) Smallzried, a journalist who had written a noteworthy autobiography, Press Pass, in 1940. On one of my trips to New York in the mid-1960s, I visited them for dinner, and the main thing I remember from our conversation is her account of her working routine. She depended on her income from her novels, which at times was considerable, when her books were book-club choices. From 1943 through 1963 she often published books in consecutive years, and rarely did more than three years go by without another book. To keep up this pace, she had a rigorous schedule in which she tried to finish a book within a year, spending half the year reading widely in what had been published on the subject she had chosen and the other half-year writing. Because she was very heavy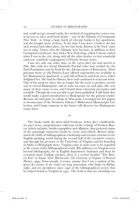 and could not get around easily, her method of acquiring her source material was to ask a used-book dealer—one of the Gilmans of Crompond, New York—to bring a large batch of relevant books to her apartment, and she bought many of them. At the time I was there, I believe the last such session had taken place, for her last book,
Kinsmen of the Grail,
came out in 1963. I knew who the Gilmans were because, in addition to their Crompond warehouse, they had a New York shop, which I always visited when I was in the city, along with all the other dealers in that wonderful (and now vanished) congregation of Fourth Avenue stores.
I saw her only one other time, in the 1970s after she had moved to Palo Alto with her friend Elizabeth Paschal (who had worked for the Ford Foundation and its Fund for the Advancement of Education). Their pleasant house at 569 Patricia Lane offered enjoyments not available in her Mamaroneck apartment: a yard full of flowers and fruit trees, which delighted her. She had her library there and continued to read and write. One of her projects (since she no longer felt the need to produce novels) was to reread Shakespeare and to write an essay on each play. She sent many of these essays to me, and I found them extremely perceptive and readable. Though she was not able to get them published, I still think they would make a good introduction to Shakespeare for the general reader. Because she had gone to college in Wisconsin, I arranged for her papers to become part of the Newberry Library's Midwestern Manuscripts Collection, and I hope someone in the future will discover her Shakespeare essays there.
Extracts from "The Living Room: A Memoir"


---