DIRECTORIES OF AMERICAN BOOKSTORES TO 1950: ADDENDA AND CORRIGENDA


---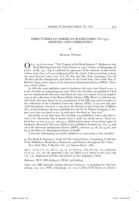 DIRECTORIES OF AMERICAN BOOKSTORES TO 1950: ADDENDA AND CORRIGENDA
by Michael Winship
On p. 153 of my essay, "'The Tragedy of the Book Industry'?: Bookstores and Book Distribution in the United States to 1950" (Studies in Bibliography 58 [2007–2008]: 145–184), I confessed my ignorance of the existence of directories of shoe stores but, as I was reading proof for the article, I discovered that at least one such directory does exist. It is The Boot And Shoe Trade Containing A List Of The Boot And Shoe Manufacturers And Dealers In The United States (New York: Wm. F. Bartlett, 1859), and a copy is at the American Antiquarian Society (MWA). There may well be others.
In 1860 the same publisher issued a bookstore directory that I listed as no. 4 in the checklist accompanying my essay. When the checklist was published, I had not yet examined this directory, but based my entry on a report of an incomplete copy in the collections of the Boston Public Library (MB). Below is a full description of the directory based on my examination of the MB copy and of another in the collections of the Columbia University Library (NNC). I can now also give a full description, based on a copy from the libraries of the University of Illinois (IU), of the bookstore directory published by the H. W. Wilson Company in August 1910 that was listed as no. 43 and there described as "not seen."
Inevitably, in the time since the checklist was published, I have also discovered a few directories that I missed when I made my initial survey. These are listed here as nos. 9.3, 9.7, and 43.5. Additional locations of surviving copies of bookstore directories that were listed in the published checklist are: nos. 14 and 28 at the American Antiquarian Society (MWA), and nos. 15, 28, 58, 59, 62, and 63 at the Henry E. Huntington Library (CSmH).
I welcome information on further additions or corrections to the checklist.
4. The Book & Stationery Trade Of The United States, Containing A Full List of the Publishers, Booksellers, Stationers, and Printers throughout the Union.
New York: Wm. F. Bartlett, No. 122 Nassau Street. 1860.
ads 2–10, [11] 12–21, ads 22–24, 25–72 [73] 74–108, ads 109–112, stationery [113] 114–117, ad 118, appendix [119] 120, index [121], index to ads [122], ads 123–131. Pagination includes ads printed on the endpapers. Cloth.
References: NUC (NB 0638402); OCLC (318164859).
Copies seen: MB (rebound, missing all leaves before p. 13 including the title leaf, and pp. 129–131); NNC (missing pp. 111–112; ex libris ATF library, to which it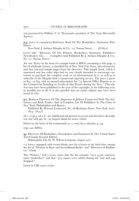 was presented by William T. G. Weymouth, president of The Typo Mercantile Agency).
9.3. [note to customers] Reference Book Of The Booksellers, Stationers, Publishers ...
New-York: J. Arthurs Murphy & Co., 111 Nassau Street. ... [©1872]
Cover title: "Directory Of The Printers, Booksellers, Stationers, Publishers, Newsdealers, Etc., ... Compiled And Published By J. Arthurs Murphy & Co., No. 111 Nassau Street."
Not seen. Entry on the basis of a sample book at MWA containing a title page, a list of wholesale houses, a classified list of New York City firms, advertisements, and four inserted sample pages from the directory. This sample book, which is annotated and has order slips laid in, was clearly intended to encourage customers to purchase the complete work or an advertisement in it, as well as to subscribe to the Murphy firm's commercial reporting service. The price is given as $25–or $35 with an annual subscription for "25 Special Office Reports as to the Commercial Standing or Credit of Any Parties during the Year." This edition may have been published in the year of the copyright, in the following year, or possibly not at all. It is also possible that an earlier edition may have been issued in 1871.
9.7. Business Directory Of The Importers & Jobbers Connected With The Stationery and Book Trades, And A Complete List Of Publishers In The Cities of New York, Philadelphia and Boston.
Published By Howard Lockwood, No. 28 Beekman Street, New York. [n.d., 1874–1875?]
ad 1, 2 [3] 4, ad 5, 6–96. Additional ads printed on rectos and elsewhere throughout, but with pp. 60–92 largely blank for notes. Cloth.
Dated on the basis of the testimonials, p. 5, and 1875 calendar, p. 94.
Copy seen: MWA.
43. Directory Of Booksellers, Newsdealers and Stationers In The United States And Canada Seventh Edition
Minneapolis The H. W. Wilson Company August 1910
112 leaves, unpaged, with versos blank, save for 9 leaves at the back that contain the list of "Dealers in Rare and Secondhand Books" and "Directory of Publishers." Cloth.
The "Preface," leaf 2 recto, states that the list contains "over 4,500 representative booksellers" and that "425 names were added during the year and 449 dropped."
Listed in CBI (1910) at $10.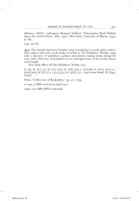 References: OCLC (13879902); Marjorie Stafford, "Subscription Book Publishing in the United States, 1865–1930" (MA thesis, University of Illinois, 1943), p. 169.
Copy seen: IU.
43.5. The Annual American Catalog 1909 Containing A record under author, title, subject and series of all books recorded in The Publishers' Weekly, 1909, with a directory of publishers, authors and printers issuing books during the year; and a directory of booksellers in the principal towns of the United States and Canada
New York Office Of The Publishers' Weekly 1910
[i–iii], bl. [iv], [v], bl. [vi], [vii], bl. [viii], [ix] x–xii [xiii], bl. [xiv], [xv] xvi– xlviii [xlix] bl. [l]; [1] 2–574 [575] bl. [576], 577–639 (versos blank), bl. [640]. Cloth?
Prints "A Directory of Booksellers," pp. 577–639.
A copy at MH received 29 April 1910.
Copies seen: MH; MWA (rebound). DIRECTORIES OF AMERICAN BOOKSTORES TO 1950: ADDENDA AND CORRIGENDA


---