Extracts from "The Living Room: A Memoir"


---
7
When you look to the left of the east-wall closet door in the foyer, you see three framed advertisements from the late 1890s for the Ault & Wiborg Printing Ink Company of Cincinnati, two of them between the closet door and the north wall and the other on the north wall just east of the front door of the apartment. A fourth stands on the floor in the dining alcove. These small posters (about eleven by eight and a half inches), intended to display different colors of printing ink, were designed by Will Bradley, who has received considerable attention as a designer and printer of the American fin de siècle. I have not tried to collect him comprehensively, but I have his periodical Bradley His Book (1896–97) and a few of the small books he printed at his Wayside Press in Springfield, Massachusetts, as well as the books with his binding designs that were brought out by the publishers I do collect, such as Stone & Kimball of Chicago (for whom he did the celebrated binding for Edmund Gosse's In Russet and Silver, 1894). Although he is usually thought of in connection with the 1890s, the geometrically stylized figures of dancers in his work for Ault & Wiborg look forward to Art Deco.
The one on the north wall, showing the colors "Bronze Brown" and "Green Lake," and the one in the dining area, showing (more simply) "Blue" and "Brown," were bought unframed in July 1975 at the Old Book Shop on Sutter Street in San Francisco (a shop that always rewarded my visits), and I had them framed, with large colored mats, by Limbert's, my home-town framer (responsible for the framing of most of my turn-of-the-century publishers' posters). The other two Bradley items, one displaying "Bronze Blue" and "Brilliant Lake [red]" and the other "Brown" and "Olive" (this one has the same design as the blue and brown one) were already framed (with colored mats to complement the colors in the posters) when I found them at the Inscribulus Bookshop in Baltimore in September 1983.
I stopped in at this shop (along with others in Baltimore) several times during the years when Bill and Nina Matheson lived there, in a large fifth-floor walk-up apartment at 529 North Charles Street, one block south of Mount Vernon Place. (They always needed spacious quarters to house all their books, wines, and phonograph records and still allow for open, uncluttered, serene areas punctuated with vases of cut flowers.) Bill, whose death on June 17, 2004, came far too early, had been Chief of the Rare Book and Special Collections Division of the Library of Congress; Nina, whom I still see on her visits to New York for the opera, was the director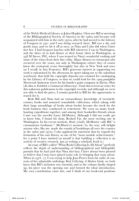 of the Welch Medical Library at Johns Hopkins. I first met Bill at meetings of the Bibliographical Society of America in the 1960s and became well acquainted with him in the early 1970s, after he had moved to the Library of Congress in 1971 and I was doing research there. Bill was a shy and gentle man, and we hit it off at once, as Nina and I also did when I later met her. I had frequent lunches with Bill whenever I was in Washington, and the three of us had dinner at their house (then in Washington, at 338 M Street, SW), where I was treated to Nina's wonderful cooking and some of the wines from their fine cellar. Many dinners in restaurants also occurred over the years, not only in Washington (where they of course knew the restaurant scene thoroughly) but also in New York and once (as I recall) in San Francisco. Bill's generous interest in supporting my work is epitomized by the afternoon he spent taking me to the suburban warehouse that held the copyright deposits not retained for cataloguing by the Library of Congress, so that we could look for the 1909 pamphlet Sherwood Anderson wrote for his family's paint company in Elyria, Ohio (
An Idea to Establish a Commercial Democracy
). I had discovered an entry for this unknown publication in the copyright records; and although we were not able to find the piece, I remain grateful to Bill for the opportunity to search for it.
Both Bill and Nina had an extraordinary knowledge of twentieth-century books and amassed remarkable collections, which (along with their large assemblage of books about books) became the stock for the book business they conducted in retirement. We went on many book-hunting expeditions together, and among their bookseller-friends whom I met was the novelist Larry McMurtry. Although I did not really get to know him, I found his shop, Booked Up, the most exciting one in Washington. In his recent memoir, Books (2008), McMurtry calls Bill "a consummate bookman." (McMurtry's memoir, by the way, will delight anyone who, like me, made the rounds of bookshops all over the country in the 1960s and 1970s. I also applaud his statement that he regards the formation of his own library as one of his "most notable achievements," for a point I have insisted on myself is that building a collection is an activity of creative research, just as writing a scholarly book is.)
An essay of Bill's called "What Book Collecting Is All About" perfectly reflects the depth of understanding of bibliographical and bibliophilic pursuits that he had (and that Nina also has). I have always been pleased to believe that I may have played some role in bringing that essay about. When in 1976–77 I was trying to help Jean Peters form the table of contents of her admirable anthology Book Collecting: A Modern Guide, we both knew that Bill's inclusion was essential; and as the volume finally shaped up, his piece was the opening one and formed the ideal introduction. My own contribution came last, and I think of our book-end positions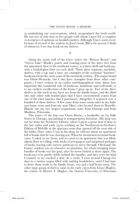 as symbolizing our conversations, which encapsulated the book world. He was one of only four or five people with whom I have felt a complete convergence of opinions on bookish matters. Although I have warm recollections of several of the authors in Jean's book, Bill is the person I think of whenever I see that book on my shelves.
Extracts from "The Living Room: A Memoir"


---