---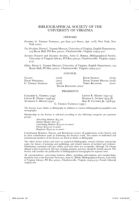 BIBLIOGRAPHICAL SOCIETY OF THE UNIVERSITY OF VIRGINIA
OFFICERS
President, G. Thomas Tanselle, 420 East 51 st Street, Apt. 10-D, New York, New York 10022
Vice President, David L. Vander Meulen, University of Virginia, English Department, 219 Bryan Hall, PO Box 400121, Charlottesville, Virginia 22904–4121
Secretary-Treasurer and Executive Secretary, Anne G. Ribble, Bibliographical Society, University of Virginia Library, PO Box 400X52, Charlottesville, Virginia 22904–4152
Editor, David L. Vander Meulen, University of Virginia, English Department, 219 Bryan Hall, PO Box 400121, Charlottesville, Virginia 22904–4121
COUNCIL
Vacant

(2016)

David Whitesell

(2017)
G.

Thomas Tanselle

(2018)

David Seaman

(2019)

David Vander Meulen

(2020)

Terry Belanger

(2021)

Ruthe Battestin

(2022)
PRESIDENTS

Chalmers L. Gemmill

(1947)

Linton R. Massey

(1948–49)

Atcheson L. Hench

(1950)

Linton R. Massey

(1951–74)

Kendon L. Stubbs

(1974–78)

Irby B. Cauthen Jr

. (1978–93)

G. Thomas Tanselle

(1993-)
The Society issues Studies in Bibliography in addition to various bibliographical pamphlets and monographs.
Membership in the Society is solicited according to the following categories per payment period:
Subscribing Members ($55.00)
Student Members ($27.50)
Contributing Members ($150.00 or more)
Patrons ($250.00 or more)
Benefactors ($500.00 or more)
Contributing Members, Patrons, and Benefactors receive all publications of the Society and by their contributions assist in furthering the Society's work. The names of individual and institutional members of the Society are listed in Studies in Bibliography.
The editor invites articles and notes on analytical bibliography, textual criticism, manuscript study, the history of printing and publishing, and related matters of method and evidence. Submissions consistent with any widely used style sheet are acceptable, although The Chicago Manual of Style is preferred. All copy, including quotations and notes, should be double-spaced. The Society will consider the publication of bibliographical monographs for separate issue.
All correspondence concerning business affairs, including subscriptions and memberships, should be sent to the Executive Secretary, Anne G. Ribble, Bibliographical Society, University of Virginia Library, PO Box 400152, Charlottesville, Virginia 22904–4152; E-mail: bibsoc@ virginia.edu.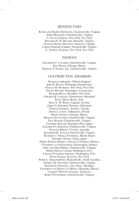 BENEFACTORS
Ruthe and Martin Battestin, Charlottesville, Virginia
Terry Belanger, Charlottesville, Virginia
G. Scott Clemons, New York, New York
Richard H. W. Dillard, Roanoke, Virginia
Frances Massey Dulaney, Somerset, Virginia
Carole Hamner Schmidt, Stanardsville, Virginia
G. Thomas Tanselle, New York, New York
PATRONS
Elizabeth G. Cauthen, Charlottesville, Virginia
Paul Ruxin, Chicago, Illinois
Michael F. Suarez, SJ., Charlottesville, Virginia
CONTRIBUTING MEMBERS
Bodleian Libraries, Oxford, England
John R. Block, Pittsburgh, Pennsylvania
Stanley H. Boorman, New York, New York
Nicole BouchÉ, Farmington, Connecticut
Richard Bucci, Brooklyn, New York
Gerard M. Cataldo, Chestertown, Maryland
Paolo Dessy, Rome, Italy
Rolf E. Du Rietz, Uppsala, Sweden
James O. Edwards, Potomac, Maryland
Patricia Fleming, Toronto, Canada
David L. Gants, Tallahassee, Florida
Philip Gossett, Chicago, Illinois
Bradley H. Gunter, Charlottesville, Virginia
Paul Hunter, Charlottesville, Virginia
Tadahiro Ikegami, Kanagawa-Ken, Japan
Elizabeth S. Johnston, Charlottesville, Virginia
Wallace Kirsop, Victoria, Australia
Elizabeth K. Lynch, Charlottesville, Virginia
Richard C. Noble, Providence, Rhode Island
Yasuhiko Ogawa, Tokyo, Japan
Peirce Edition Project, Indiana University-Purdue
University at Indianapolis, Indianapolis, Indiana
Anne and Fred Ribble, Charlottesville, Virginia
Mark Samuels Lasner, Washington, D.C.
Carole Fungaroli Sargent, Washington, D.C.
David Seaman, Syracuse, New York
Peter L. Shillingsburg, Barnardsville, North Carolina
Andrew M. STAUFFER, Charlottesville, Virginia
EDWARD D. Surovell, Ann Arbor, Michigan
University OF Hawai'i at MĀnoa, Honolulu, Hawaii
Calhoun Winton, Sewanee, Tennessee
Karin Wittenborg, Charlottesville, Virginia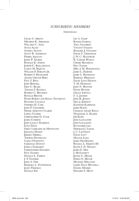 SUBSCRIBING MEMBERS
Individuals
Craig S. Abbott

Mildred K. Abraham

Willard C. Agee

Susan Allen

Sandra Alston

Scott R. Anderson

Pierre Aquilon

James P. Ascher

Ronald R. Atkins

Joseph C. Baillargeon

Carlo M. Bajetta

William P. Barlow JR.

Robert F. Beasecker

Aileen Greyer Berg

Paul F. Betz

John Bidwell

Erin C. Blake

Thomas F. Bonnell

Robert C. Brandeis

Ronald Broude

Peter Byrnes and Kelly Tetterton

Richard Calahan

Stephen H. Cape

John P. Chalmers

Derek Ashdown Clarke

Lorna Clymer

Christopher D. Cook

James Cummins

John Lasley Dameron

Evan Davis

Emily Lorraine De Montluzin

Johanna Denzin

Jeremy Dibbell

Thorne Donnelley

Carlo Dumontet

Christian Dupont

Joshua Echkardt

Christopher Edwards

Paul Eggert

Donald L. Farren

J. P. Feather

John A. Fish

Barbara L. Fitzpatrick

Janet Freeman

Donald Fry

Ian A. Gadd

Roger Gaskell

Tara Gilchrist

Vincent Golden

Richard J. Goulden

David C. Greetham

J. W. C. Hagstrom

R. Carter Hailey

Chiaki Hanabusa

Hao Tianhu

Mrs. J. M. Hargreaves

James L. Harner

Jaime L. Hathaway

Barbara Heritage

David Leon Higdon

T. M. Hofmann

John N. Hoover

David Hunter

Graceioppolo

F. A. Janssen

John R. Jenson

Eric J. Johnson

Kenneth Karmiole

James Kayes

Charles Adams Kelly

Waldemar A. Klemm

Jim Kuhn

John Lancaster

John Lavagnino

Kyungshik Lee

Deborah J. Leslie

J. C. Levenson

David Levy

Maggie Long

James Mackenzie

Russell L. Martin III

James E. May

J. McLaverty

Jennie C. Meade

Horst E. Meyer

Michael Millgate

Larry Dale Mitchell

Daniel Mosser

Howard S. Mott

Paul Needham

Kenneth Nesheim

Sarah Neville

Charles C. Nickerson

Nicholas Noyes

Catherine M. Parisian

Brad Pasanek

Larry Paschelke

Mark Peterson

Pat Pistner

David Radcliffe

Kenneth D. Rapoport

Mark Reed

Robert Barnet Riter

Shef Rogers

Paul W. Romaine

Lance Schachterle

Terry Seymour

Joel Silver

Kristine Smets

Eileen L. Smith

Steven Smith

Laura Stalker

Peter Stallybrass

Oliver L. Steele

Robert Steele

Mrs. Noriko Sumimotok

Leslie Kay Swigart

David N. Swinford

Akira Takano

Hans E. Tausig

Kenneth C. Thompson

Robert A. Tibbetts

Daniel Traister

David L. Vander Meulen

Edward Vanhoutte

Melissa Van Vuuren

Lenora Wannier

Adrian Weiss

Paul Werstine

David R.Whitesell

Dawn Walton Wilson

Dewi Wilson

Michael Winship

Elizabeth Witherell

Rebekah Youngman

William Zachs
Institutions
Aberystwyth University

Abraham Lincoln Presidential Library

Acadia University

American Antiquarian Society

American University

Amherst College

Baylor University

Beasley Books

Biblioteca Angelo Monteverdi

Biblioteca Cremona

Biblioteca Servizi Bibliograhci

Regione Toscana

Biblioteca Universitaria di Pavia

BibliothÈque Cantonale et Universitaire, Fribourg

BibliothÈque Cantonale et universitaire, Lausanne-Dorigny

BibliothÈque Publique et universitaire, Neuchatel

BibliothÈque Ste. Genevieve, Paris

BibliothÈque universitaire de Namur

Birkbeck College, London

Blue Whale Books

Boston Athenaeum

Boston Public Library

Boston University

British Library

Cambridge University Library

Cardiff University

Catholic University of America

Centro Studi Americani, Rome

City University of New York

Clark Library

College of Charleston

Colonial Williamsburg Foundation

Connecticut College

Cornell University

Dartmouth College

Drew University

Duke University

École nationale des chartes

Emory University

English Faculty Library, Oxford

Facultad De Filosofia y Letras Biblioteca, Valladolid

Furman University

Getty Research Institute

Grolier Club

Guildhall Library

Heartwood Books

Helsinki University

Hofstra University

Huntington Library

Indiana University-Purdue University At Indianapolis

Institut Fuer Anglistik, Amerikanistic Und Keltologie Der Universitaet Bonn

Institut Für Englische Philologie Der UniversitÄt, München

Istituto Centrale Per Il Catalogo Unico Delle Biblioteche, Rome

James Madison University

John Carter Brown Library

Johns Hopkins University

Katholieke Universiteit Leuven

Kent State University

Kongelige Bibliotek, Copenhagen

Koninklijke Bibliotheek, The Hague

L & T Respess Books

Library Company of Philadelphia

Library of Congress

London Library

Massey College, Toronto

Memorial University of Newfoundland

Morgan Library And Museum

National Library of Israel

National Library of Scotland

National Library of Wales

Northern Illinois University

Northern Kentucky University

Northwestern University

Oak Spring Garden Library

Queen's University, Belfast

Shakespeare Institute, Stratfordupon-Avon

Sheffield University

Somerville College, Oxford

St. Louis University

St. Vincent College

Staatsbibliothek Zu Berlin

Sweet Briar College

Tavistock Books

Temple University

Texas A&M University

Texas Woman's University

Trinity College, Cambridge

Trinity College, Hartford

Union College

Universidad De Alicante UniversitÉ De Paris

Universidad De Puerto Rico

Universidade De Santiago De Compostela

Universita Cattolica Del Sacro Cuore Milan

Universita Degli Studi Di Parma

Universitätsbibliothek Augsburg

Universitätsbibliothek Kiel

Universitätsbibliothek Passau

Universiteitsbibliotheek Utrecht

University College Dublin

University College London

University College of Swansea

University of Aberdeen

University of Auckland

University of Birmingham

University of British Columbia

University of Chicago

University of Colorado

University of Delaware

University of Dublin

University of Durham

University of Edinburgh

University of Kansas

University of Keele

University of Kent At Canterbury

University of Leicester

University of London

University of Manchester

University of Maryland, Baltimore County

University of Nottingham

University of Oklahoma

University of Otago

University of Queensland

University of Richmond

University of Rochester

University of Saskatchewan

University of Southampton

University of Southern California

University of St. Andrews

University of Stirling

University of Tennessee

University of The South

University of Toronto

University of Victoria, British Columbia

University of Virginia College At Wise

University of Warwick

University of York

Utah State University

Victoria University, Toronto

Victoria University of Wellington

Virginia Historical Society

Vrije Universiteit, Amsterdam

Wellcome Library

Wellesley College

Western Kentucky University

Wilkes University

Williams College

Wright State University

Ximenes: Rare Books

Yale University

Zentralbibliothek Zürich
STUDENT MEMBERS
Christopher Adams

Pascal Delvaux

Christopher Doody

Scott Ellwood

Katia Fowler

Corey B. French

Theresa Goodman

Stephanie Kingsley

Benjamin D. Lee

Jeremy Ljunggren

Michael Pickard

Annika Rockenberger

Annie Rowlenson

Erin Schreiner

Summar Sparks

Jessica F. Thomas

Justin Tonra



---