---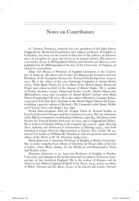 Notes on Contributors
G. Thomas Tanselle, formerly the vice president of the John Simon Guggenheim Memorial Foundation and adjunct professor of English at Columbia, has been on the board of directors of the Library of America since its inception in 1979 and serves as its textual adviser. His most recent books, Essays in Bibliographical History and Portraits and Reviews, were published by the Bibliographical Society of the University of Virginia, of which he is president.
Dirk Van Hulle is Professor of English Literature at the University of Antwerp. He directs the Centre for Manuscript Genetics and was President of the European Society for Textual Scholarship from 2009 to 2013. He is the editor of the new Cambridge Companion to Samuel Beckett (2015). With Mark Nixon, he is co-editor of the Beckett Digital Manuscript Project and editor-in-chief of the Journal of Beckett Studies. He is author of Textual Awareness (2004), Manuscript Genetics (2008), Modern Manuscripts (Bloomsbury, 2014) and co-author of Samuel Beckett's Library with Mark Nixon (Cambridge UP, 2013). He is the editor of Beckett's Company (Faber, 2009) and of the first three modules in the Beckett Digital Manuscript Project, including a genetic edition of Beckett's The Unnamable (with Shane Weller and Vincent Neyt) and Krapp's Last Tape.
Peter Shillingsburg held the Svaglic Chair in Textual Studies at Loyola University Chicago until his retirement in 2013. He was chairman of the MLA's Committee on Scholarly Editions (1982–84), President of the Society for Textual Studies from 2011 to 2013, and a Guggenheim Fellow. He is author of Scholarly Editing in the Computer Age (3rd ed. 1996), Resisting Texts: Authority and Submission in Constructions of Meaning (1997), and From Gutenberg to Google: Electronic Representations of Literary Texts (2006). He authored two books on William M. Thackeray and was general and textual editor of the Works of W. M. Thackeray (1989–2010).
Hope Johnston is Associate Professor of English at Baylor University. She recently completed an edition of Christine de Pizan's Boke of the Cyte of Ladyes, trans. Brian Anslay, for the Medieval and Renaissance Texts and Studies series.
Michael Johnston is an Associate Professor of English at Purdue University, specializing in the production and circulation of literary manuscripts in late medieval England. He is the author of Romance and the Gentry in Late Medieval England (Oxford Univ. Press, 2014), and is co-editor of Robert Thornton and His Books: Essays on the Lincoln and London Thornton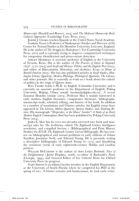 Manuscripts
(Boydell and Brewer, 2014) and
The Medieval Manuscript Book: Cultural Approaches
(Cambridge Univ. Press, 2015).
JOSEPH J. Gwara teaches Spanish at the United States Naval Academy.
Gabriel Egan is Professor of Shakespeare Studies and Director of the Centre for Textual Studies at De Montfort University, Leicester, England. He is the author of The Struggle for Shakespeare's Text (Cambridge University Press, 2010) and is currently trying to improve computerized techniques for compositor identification and press-variant detection.
Ashley Marshall is associate professor of English at the University of Nevada, Reno. She is the author of The Practice of Satire in England, 1658–1770 (2013) and Swift and History: Politics and the English Past (2015), and editor of Representation, Heterodoxy, and Aesthetics: Essays in Honor of Ronald Paulson (2015). She has also published articles in Swift Studies, Huntington Library Quarterly, Modern Philology, Philological Quarterly, The Library, and other journals. She is currently at work on a book about the culture of politics in the reign of Queen Anne.
Hao Tianhu holds a Ph.D. in English (Columbia University) and is currently an associate professor in the Department of English, Peking University, Beijing, China (email: haotianhu@pku.edu.cn). A recent Erasmus Mundus scholar (2013), Professor Hao is mainly interested in early modern English literature, comparative literature, bibliography, manuscript study, scholarly editing, and history of the book. In addition to a number of translations and Chinese articles, his English essays have appeared in The Library, Milton Quarterly, Spenser Studies, and Tamkang Review. His monograph "Hesperides, or the Muses' Garden": A Study of an Early Modern English Commonplace Book has been published by Peking University Press (2014).
James E. May has for over two decades surveyed rare book and manuscript sales for The Scriblerian, edited The Eighteenth-Century Intelligencer newsletter, and compiled Section 1 (Bibliographical and Print History Studies) for ECCB: The Eighteenth-Century Current Bibliography. He has written on bibliographical and textual problems in early editions of Tobias Smollett, Jonathan Swift, and Edward Young. He is presently writing a descriptive bibliography of Edward Young (to 1775) and identifying the ornament stocks of early eighteenth-century Dublin and London printers.
William McCarthy is the author of Anna Letitia Barbauld: Voice of the Enlightenment (Johns Hopkins, 2008), co-editor of Barbauld's Poems (Georgia, 1994), and General Editor of her Collected Works for Oxford University Press (in progress).
Gary Simons is an adjunct faculty member in the English Department at the University of South Florida where he completed his PhD in the spring of 201i. A former scientist and businessman, he took early retirement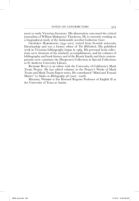 to study Victorian literature. His dissertation concerned the critical journalism of William Makepeace Thackeray. He is currently working on a biographical study of the fashionable novelist Catherine Gore.
Geoffrey Hargreaves (1941–2012) retired from Scottish university librarianship and was a former editor of The Bibliotheck. His published work in Victorian bibliography began in 1969. His personal book collections were elements of his scholarly accomplishment, and his volumes of bibliography and book history and of the Brontë family and their contemporaries now constitute the Hargreaves Collection in Special Collections at St Andrews Üniversity Library.
Richard Bucci is an editor with the Üniversity of California's Mark Twain Project. He has edited volumes in the Project's Works of Mark Twain and Mark Twain Papers series. He contributed "Mind and Textual Matter" to Studies in Bibliography 58 (2007–2008).
Michael Winship is Iris Howard Regents Professor of English II at the University of Texas at Austin. ---