| | | | |
| --- | --- | --- | --- |
| |   |   | ILLUSTRATED HISTORY OF THE BIBLE, ITS ORIGIN, TRUTH, AND DIVINITY. |
The innocents abroad, or, The new Pilgrim's progress


---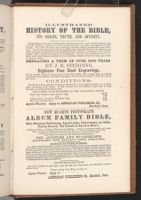 ILLUSTRATED
HISTORY OF THE BIBLE,
ITS ORIGIN, TRUTH, AND DIVINITY.
Comprising an account of Patriarchs and Prophets, the scene of their labors, style
of their writings, character of their prophecies, and the time and manner of their
deaths. The Life of Christ, his teachings, miracles, death, resurrection and ascension.
The Lives and Labors of the Apostles, the Primitive Fathers, the Martyrs and
other prominent defenders of the Christian Faith, with an exposition of the nature,
design, effect, and final triumph of Christianity. Giving in a condensed form, a reliable
and comprehensive survey of the Christian Church, from the early ages down
to modern times.
EMBRACING A TERM OF OVER 3000 YEARS.
BY J. E. STEBBINS.
Eighteen Fine Steel Engravings,
In the various styles of the art and by the best artists, with a large map of ancient
countries and localities, will adorn its pages, and will alone equal in value the cost of
the book.
CONDITIONS:
The Book will be printed, bound and finished in a very superior manner, in modern
style, excelling in all points. It will contain over six hundred pages and be sold
through our authorized agents only.
DELIVERED TO SUBSCRIBERS AT THE FOLLOWING PRICES.
| | |
| --- | --- |
| Extra fine English cloth, marble edge,  | $3.50  |
| Extra fine English cloth, gilt edge,  | 4.00  |
| Library style, (Leather) sprinkled edge,  | 4.00  |
| Half calf, marble edge,  | 5.00  |
Agents Wanted. Apply to AMERICAN PUBLISHING CO.,
Hartford, Conn.
The innocents abroad, or, The new Pilgrim's progress


---