| | | | |
| --- | --- | --- | --- |
| |   |   | PERSONAL HISTORY OF ULYSSES S. GRANT, |
The innocents abroad, or, The new Pilgrim's progress


---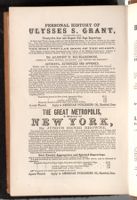 PERSONAL HISTORY OF
ULYSSES S. GRANT,
ILLUSTRATED WITH
Twenty-five New and Elegant Full Page Engravings,
In Steel and Wood, among which are two of General Grant, by the best Artists in the country.
Also, Fac-similes of Rare Documents, Public and Private, the famous Unconditional-Surrender,
and other equally interesting and important Letters, from Originals intrusted to the author
by General Grant and his friends.
THE MOST POPULAR BOOK OF THE SEASON.
This volume contains many Documents and Letters of the Highest Importance, relating to
Civil and Military Matters, SINCE THE WAR, which have never before been made public.
By ALBERT D. RICHARDSON,
AUTHOR OF "FIELD, DUNGEON, AND ESCAPE," AND "BEYOND THE MISSISSIPPI."
AUTHENTIC, AUTHORIZED AND APPROVED,
Written with the knowledge, consent, and full concurrence of the illustrious General.
In view of the prominent position now occupied by General Grant, it must be conceded by all
that a full and truthful history of him, should find its way into the hands of every reader.
No American citizen should live under any President with whose character and antecedents,
both public and private, he is not perfectly familiar.
This work differs very essentially from the many "Lives of Grant," now before the public,
and should by no means be classified with them. While recording his illustrious achievements
both in the Field and in the Cabinet, it is yet personal, rather than martial, or political,
free from military technicalities or partisan coloring, depicting not merely the exploits of Grant,
the soldier, but the entire life of Grant the man, his daily habits and conversation, his thoughts,
and his motives, as evinced by his acts and his words, under all of the many different circumstances
of his eventful career, giving, in fact, a full and clear exhibit of the inner, as well as the
outer man. It has not been prepared for a campaign document, but for the library, and it has
been admitted by all to be a great acquisition to the biographical literature of the country. It
contains 560 pages, and in mechanical execution is fully up to our well known style. Its subcription
price is,
| | |
| --- | --- |
| Beautifully Bound in Fine Cloth, Sprinkled Edge,  | $3.00  |
| Beautifully Bound in Fine Cloth, Gilt Edge,  | 3.50  |
| Beautifully Bound in Leather, Library Style,  | 4.00  |
| Elegantly Bound in Extra Half Calf, or Half Turkey,  | 5.00  |
Agents Wanted. Apply to AMERICAN PUBLISHING CO., Hartford, Conn
The innocents abroad, or, The new Pilgrim's progress


---