The innocents abroad, or, The new Pilgrim's progress


---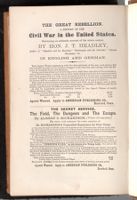 THE GREAT REBELLION.
A HISTORY OF THE
Civil War in the United States.
Embracing an authentic account of the whole contest,
BY HON. J. T. HEADLEY,
Author of "Napoleon and his Marshals," "Washington and his Generals," "Sacred
Mountains," &c.
IN ENGLISH AND GERMAN.
This Great Work commences with the first outbreak of the war, and gives a full
and truthful account of the terrible struggle to its very end, and closing with the Reports
of Generals Grant and Sherman.
Noting each important and interesting event, with time and place of its occurrence,
with perfect accuracy, stating only as facts those things which are well authenticated,
this work cannot fail, ere long, to be accepted by all as a STANDARD AUTHORITY, and
as such will prove of immense value to its possessors as a BOOK FOR REFERENCE, and
no library will be considered complete without a copy of it upon its shelves.
This work is printed from a beautiful, clear, new type, on good paper, and is illustrated
with over seventy first-class Steel Engravings, consisting of Military and Naval
Scenes, and Portraits of Officers prominent in the war.
It will be beautifully and substantially bound in One Superb Volume of nearly
Twelve Hundred Pages.
| | |
| --- | --- |
| Price, Library Style, (Leather) Sprinkled Edge,  | $5.00  |
| Embossed Morocco, Sprinkled Edge,  | 5.00  |
| Embossed Morocco, Gilt Edge,  | 5.50  |
Agents Wanted. Apply to AMERICAN PUBLISHING CO.,
Hartford, Conn.
The innocents abroad, or, The new Pilgrim's progress


---