---
Notes On Contributors
ALICE WALKER, residing at Welcombe in Devonshire, England, is the most active English scholar engaged in applying bibliographical techniques to Shakespearian textual criticism. She is the author of Textual Problems of the First Folio, and is at present assisting J. Dover Wilson in editing the final plays of the New Cambridge Shakespeare.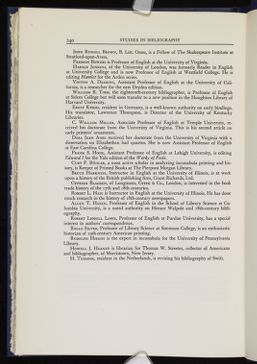 JOHN RUSSELL BROWN, B. Litt. Oxon, is a Fellow of The Shakespeare Institute at Stratford-upon-Avon.
FREDSON BOWERS is Professor of English at the University of Virginia.
HAROLD JENKINS, of the University of London, was formerly Reader in English at University College and is now Professor of English at Westfield College. He is editing Hamlet for the Arden series.
VINTON A. DEARING, Assistant Professor of English at the University of California, is a researcher for the new Dryden edition.
WILLIAM B. TODD, the eighteenth-century bibliographer, is Professor of English at Salem College but will soon transfer to a new position in the Houghton Library of Harvard University.
ERNST KYRISS, resident in Germany, is a well-known authority on early bindings. His translator, Lawrence Thompson, is Director of the University of Kentucky Libraries.
C. WILLIAM MILLER, Associate Professor of English at Temple University, received his doctorate from the University of Virginia. This is his second article on early printers' ornaments.
DORA JEAN ASHE received her doctorate from the University of Virginia with a dissertation on Elizabethan bad quartos. She is now Assistant Professor of English at East Carolina College.
FRANK S. HOOK, Assistant Professor of English at Lehigh University, is editing Edward I for the Yale edition of the Works of Peele.
CURT F. BÜHLER, a most active scholar in analyzing incunabula printing and history, is Keeper of Printed Books at The Pierpont Morgan Library.
BRUCE HARKNESS, Instructor in English at the University of Illinois, is at work upon a history of the British publishing firm, Grant Richards, Ltd.
CYPRIAN BLAGDEN, of Longmans, Green & Co., London, is interested in the book trade history of the 17th and 18th centuries.
ROBERT L. HAIG is Instructor in English at the University of Illinois. He has done much research in the history of 18th-century newspapers.
ALLEN T. HAZEN, Professor of English in the School of Library Science at Co- lumbia University, is a noted authority on Horace Walpole and 18th-century bibliography.
ROBERT LIDDELL LOWE, Professor of English at Purdue University, has a special interest in authors' correspondence.
ROLLO SILVER, Professor of Library Science at Simmons College, is an enthusiastic historian of 19th-century American printing.
RUDOLPH HIRSCH is the expert in incunabula for the University of Pennsylvania Library.
HOWELL J. HEANEY is librarian for Thomas W. Streeter, collector of Americana and bibliographer, of Morristown, New Jersey.
H. TEERINK, resident in the Netherlands, is revising his bibliography of Swift.



---