---
ADDENDA
Verses On the Death of Doctor Swift" Again
Through the kind attention of Mr. G. R. Pettit, of the University Library Cambridge, I have got acquainted with still another [1736] edition of the "Verses" than the six already described in Studies in Bibliography, IV (1952), 183-188. It collates as follows:
Verses | On the Death of | Dr. Swift. | Occasioned by reading the following Maxim in | Rochfoucault. | Dans l'adversite de nos mellienrs [sic] amies nous trouvons tou-|jours quelque choses [sic], qui ne nous deplaist pas. | Written by Himself; Nov. 1731. | [ornament] | Dublin, Printed: | London: Re-printed, and sold by the | Booksellers of London and Westminster.
Sm. 80: (frontispiece+) A4 B2. 2 pp. (blank+frontisp.), 2 pp. (title, verso blank), 3-12 (Verses).
Copy: Univ. Libr. Cambridge (S 72l.d.73.4). Unfortunately this copy is not in its original state; it has been re-sewn with a guard to each leaf. However, the signing A4 B2 makes it apparent that it was published separately, not as an addition to "An Essay on Man."
This edition is very clearly related to the one mentioned on page 184 under (IV), and shall therefore be called (IVa). The following similarities appear in them: (1) the frontispiece; (2) the separate title for the "Verses"; (3) the great wealth of capitals; (4) the greater attempt at ornamentation (title-page; headpiece and decorated capital on page 3); (5) the very significant misprints, not present in any of the other editions, namely "mellieurs" for "meilleurs", and "quelque choses" for "quelque chose"; (6) the variants mentioned on page 185 are exactly the same in (IV) and (IVa).
And yet we have to do with two distinctly different type-settings. The fact that the (IVa) frontispiece, copied from (IV), shows lack of attention to detail,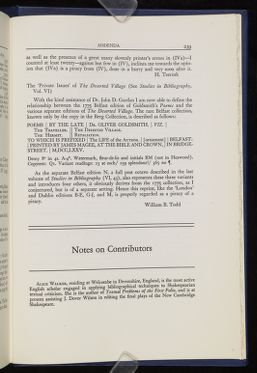 as well as the presence of a great many slovenly printer's errors in (IVa)—I counted at least twenty—against but few in (IV), inclines me towards the opinion that (IVa) is a piracy from (IV), done in a hurry and very soon after it.
H. Teerink
The 'Private Issues' of The Deserted Village (See Studies in Bibliography, Vol. VI)
With the kind assistance of Dr. John D. Gordan I am now able to define the relationship between the 1775 Belfast edition of Goldsmith's Poems and the various separate editions of The Deserted Village. The rare Belfast collection, known only by the copy in the Berg Collection, is described as follows: POEMS | BY THE LATE | DR. OLIVER GOLDSMITH. | VIZ. |
THE TRAVELLER. || THE DESERTED VILLAGE.
THE HERMIT. || RETALIATION.
TO WHICH IS PREFIXED | The LIFE of the AUTHOR. | [ornament] | BELFAST: | PRINTED BY JAMES MAGEE, AT THE BIBLE AND CROWN, | IN BRIDGE-STREET. | M,DCC,LXXV.
Demy 80 in 4s. A-44. Watermark, fleur-de-lis and initials RM (not in Heawood). Copytext: Ql. Variant readings: 23 at each/ 239 splendour!/ 365 no ¶.
As the separate Belfast edition N, a full post octavo described in the last volume of Studies in Bibliography (VI, 43), also represents these three variants and introduces four others, it obviously derives from the 1775 collection, as I conjectured, but is of a separate setting. Hence this reprint, like the 'London' and Dublin editions B-E, G-J, and M, is properly regarded as a piracy of a piracy.
William B. Todd
Notes On Contributors
ALICE WALKER, residing at Welcombe in Devonshire, England, is the most active English scholar engaged in applying bibliographical techniques to Shakespearian textual criticism. She is the author of Textual Problems of the First Folio, and is at present assisting J. Dover Wilson in editing the final plays of the New Cambridge Shakespeare.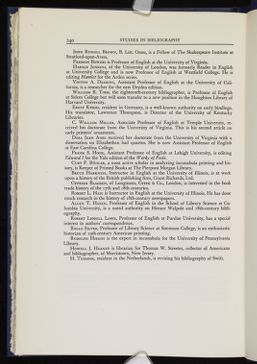 JOHN RUSSELL BROWN, B. Litt. Oxon, is a Fellow of The Shakespeare Institute at Stratford-upon-Avon.
FREDSON BOWERS is Professor of English at the University of Virginia.
HAROLD JENKINS, of the University of London, was formerly Reader in English at University College and is now Professor of English at Westfield College. He is editing Hamlet for the Arden series.
VINTON A. DEARING, Assistant Professor of English at the University of California, is a researcher for the new Dryden edition.
WILLIAM B. TODD, the eighteenth-century bibliographer, is Professor of English at Salem College but will soon transfer to a new position in the Houghton Library of Harvard University.
ERNST KYRISS, resident in Germany, is a well-known authority on early bindings. His translator, Lawrence Thompson, is Director of the University of Kentucky Libraries.
C. WILLIAM MILLER, Associate Professor of English at Temple University, received his doctorate from the University of Virginia. This is his second article on early printers' ornaments.
DORA JEAN ASHE received her doctorate from the University of Virginia with a dissertation on Elizabethan bad quartos. She is now Assistant Professor of English at East Carolina College.
FRANK S. HOOK, Assistant Professor of English at Lehigh University, is editing Edward I for the Yale edition of the Works of Peele.
CURT F. BÜHLER, a most active scholar in analyzing incunabula printing and history, is Keeper of Printed Books at The Pierpont Morgan Library.
BRUCE HARKNESS, Instructor in English at the University of Illinois, is at work upon a history of the British publishing firm, Grant Richards, Ltd.
CYPRIAN BLAGDEN, of Longmans, Green & Co., London, is interested in the book trade history of the 17th and 18th centuries.
ROBERT L. HAIG is Instructor in English at the University of Illinois. He has done much research in the history of 18th-century newspapers.
ALLEN T. HAZEN, Professor of English in the School of Library Science at Co- lumbia University, is a noted authority on Horace Walpole and 18th-century bibliography.
ROBERT LIDDELL LOWE, Professor of English at Purdue University, has a special interest in authors' correspondence.
ROLLO SILVER, Professor of Library Science at Simmons College, is an enthusiastic historian of 19th-century American printing.
RUDOLPH HIRSCH is the expert in incunabula for the University of Pennsylvania Library.
HOWELL J. HEANEY is librarian for Thomas W. Streeter, collector of Americana and bibliographer, of Morristown, New Jersey.
H. TEERINK, resident in the Netherlands, is revising his bibliography of Swift.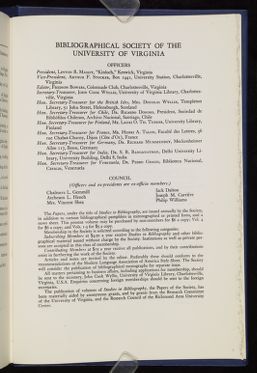 BIBLIOGRAPHICAL SOCIETY OF THE UNIVERSITY OF VIRGINIA
OFFICERS
President, LINTON R. MASSEY, "Kinloch," Keswick, Virginia
Vice-President, ARTHUR F. STOCKER, Box 1441, University Station, Charlottesville, Virginia
Editor, FREDSON BOWERS, Colonnade Club, Charlottesville, Virginia
Secretary-Treasurer, JOHN COOK WYLLIE, University of Virginia Library, Charlottesville, Virginia
Hon. Secretary-Treasurer for the British Isles, MRS. DOUGLAS WYLLIE, Templeton Library, 51 John Street, Helensburgh, Scotland
Hon. Sccrctary-Treasurer for Chile, DR. RICARDO DONOSO, President, Sociedad de Bibliófilos Chilenos, Archivo Nacional, Santiago, Chile
Hon. Secretary-Treasurer for Finland, MR. LAURI O. TH. TUDEER, University Library, Finland
Hon. Secretary-Treasurer for France, MR. HENRI A. TALON, Faculté des Lettres, 36 rue Chabot-Charny, Dijon (Côte d'Or), France
Hon. Secretary-Treasurer for Germany, DR. RICHARD MUMMENDEY, Meckenheimer Allee 117, Bonn, Germany
Hon. Secretary-Treasurer for India, DR. S. R. RANGANATHAN, Delhi University Library, University Building, Delhi 8, India
Hon. Secretary-Treasurer for Venezuela, DR. PEDRO GRASES, Biblioteca Nacional, Caracas, Venezuela

COUNCIL
(Officers and ex-presidents are ex-officio members.)
| | |
| --- | --- |
| Chalmers L. Gemmill  | Jack Dalton  |
| Atcheson L. Hench  | Joseph M. Carrière  |
| Mrs. Vincent Shea  | Philip Williams  |
The Papers, under the title of Studies in Bibliography, are issued annually by the Society, in addition to various bibliographical pamphlets in mimeographed or printed form, and a news sheet. This present volume may be purchased by non-members for $6 a copy; Vol. 4 for $6 a copy, and Vols. 1-3 for $5 a copy.
Membership in the Society is solicited according to the following categories:
Subscribing Members at $4.50 a year receive Studies in Bibliography and other bibliographical material issued without charge by the Society. Institutions as well as private persons are accepted in this class of membership.
Contributing Members at $15 a year receive all publications, and by their contributions assist in furthering the work of the Society.
Articles and notes are invited by the editor. Preferably these should conform to the recommendations of the Modern Language Association of America Style Sheet. The Society will consider the publication of bibliographical monographs for separate issue.
All matters pertaining to business affairs, including applications for membership, should be sent to the secretary, John Cook Wyllie, University of Virginia Library, Charlottesville, Virginia, U.S.A. Enquiries concerning foreign memberships should be sent to the foreign secretaries.
The publication of volumes of Studies in Bibliography, the Papers of the Society, has been materially aided by anonymous grants, and by grants from the Research Committee of the University of Virginia, and the Research Council of the Richmond Area University Center.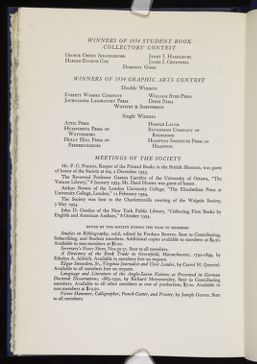 WINNERS OF 1954 STUDENT BOOK COLLECTORS' CONTEST
GEORGE GREEN SHACKLEFORD
JANET I. HAMILBURG
HAROLD EUGENE COX
JAMES J. CROMWELL
DOROTHY GIBBS
WINNERS OF 1954 GRAPHIC ARTS CONTEST
Double Winners
EVERETT WADDEY COMPANY
WILLIAM BYRD PRESS
JOURNALISM LABORATORY PRESS
DIETZ PRESS
WHITTET & SHEPPERSON
Single Winners
ATTIC PRESS
HAROLD LAUCK
HUMPHREYS PRESS OF WAYNESBORO
BAUGHMAN COMPANY OF RICHMOND
HOLLY HILL PRESS OF FREDERICKSBURG
HAMPTON INSTITUTE PRESS OF HAMPTON
MEETINGS OF THE SOCIETY
Mr. F. C. Francis, Keeper of the Printed Books in the Rritish Museum, was guest of honor of the Society at tea, 2 December 1953.
The Reverend Professor Gaston Carrière of the University of Ottawa, "The Vatican Library," 8 January 1954. Mr. Dard Hunter was guest of honor.
Arthur Brown of the London University College, "The Elizabethan Press at University College, London," 12 February 1954.
The Society was host to the Charlottesville meeting of the Walpole Society, 7 May 1954.
John D. Gordan of the New York Public Library, "Collecting First Books by English and American Authors," 8 October 1954.
ISSUED BY THE SOCIETY DURING THE YEAR TO MEMBERS
Studies in Bibliography, vol.6, edited by Fredson Bowers. Sent to Contributing, Subscribing, and Student members. Additional copies available to members at $4.50. Available to non-members at $6.00.
Secretary's News Sheet, Nos.30-31. Sent to all members.
A Directory of the Book Trade in Greenfield, Massachusetts, 1792-1899, by Ethelyn A. Aldrich. Available to members free on request.
Edgar Snowden, Sr., Virginia Journalist and Civic Leader, by Carrol H. Quenzel. Available to all members free on request.
Language and Literature of the Anglo-Saxon Nations as Presented in German Doctoral Dissertations, 1885-1950, by Richard Mummendey. Sent to Contributing members. Available to all other members at cost of production, $7.00. Available to non-members at $12.50.
Victor Hammer, Calligrapher, Punch-Cutter, and Printer, by Joseph Graves. Sent to all members.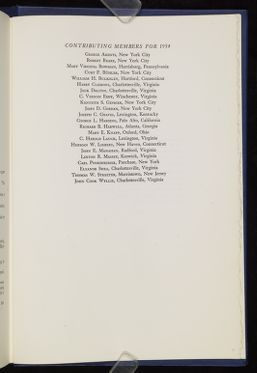 CONTRIBUTlNG MEMBERS FOR 1954
GEORGE ARENTS, New York City
ROBERT BEARE, New York City
MARY VIRGINIA BOWMAN, Harrisburg, Pennsylvania
CURT F. BÜHLER, New York City
WILLIAM H. BULKELEY, Hartford, Connecticut
HARRY CLEMONS, Charlottesville, Virginia
JACK DALTON, Charlottesville, Virginia
C. VERNON EDDY, Winchester, Virginia
KENNETH S. GINIGER, New York City
JOHN D. GORDAN, New York City
JOSEPH C. GRAVES, Lexington, Kentucky
GEORGE L. HARDING, Palo Alto, California
RICHARD B. HARWELL, Atlanta, Georgia
MARY E. KNAPP, Oxford, Ohio
C. HAROLD LAUCK, Lexington, Virginia
HERMAN W. LIEBERT, New Haven, Connecticut
JOHN E. MANAHAN, Radford, Virginia
LINTON R. MASSEY, Keswick, Virginia
CARL PFORZHEIMER, Purchase, New York
ELEANOR SHEA, Charlottesville, Virginia
THOMAS W. STREETER, Morristown, New Jersey
JOHN COOK WYLLIE, Charlottesville, Virginia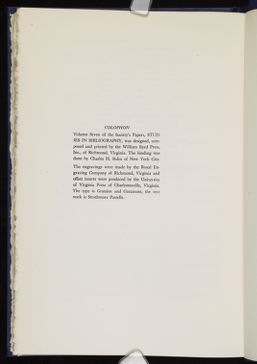 COLOPHON
Volume Seven of the Society's Papers, STUDIES IN BIBLIOGRAPHY, was designed, composed and printed by the William Byrd Press, Inc., of Richmond, Virginia. The binding was done by Charles H. Bohn of New York City.
The engravings were made by the Royal Engraving Company of Richmond, Virginia and offset inserts were produced by the University of Virginia Press of Charlottesville, Virginia. The type is Granjon and Garamont, the text stock is Strathmore Pastelle.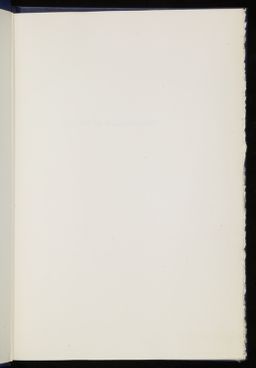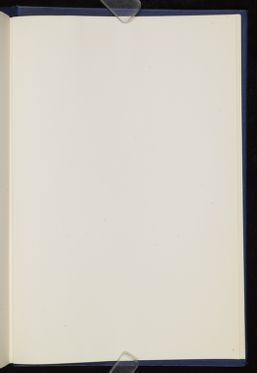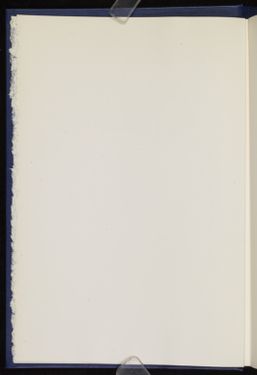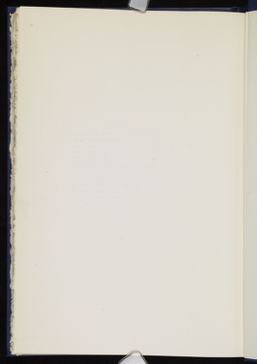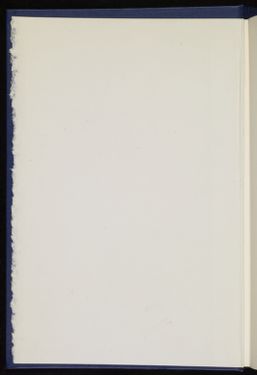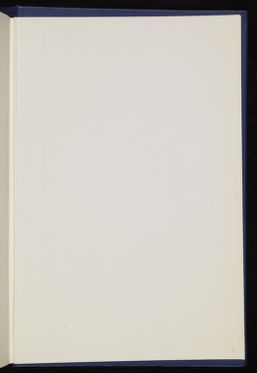 ---