---
ADDENDA
Verses On the Death of Doctor Swift" Again
Through the kind attention of Mr. G. R. Pettit, of the University Library Cambridge, I have got acquainted with still another [1736] edition of the "Verses" than the six already described in Studies in Bibliography, IV (1952), 183-188. It collates as follows:
Verses | On the Death of | Dr. Swift. | Occasioned by reading the following Maxim in | Rochfoucault. | Dans l'adversite de nos mellienrs [sic] amies nous trouvons tou-|jours quelque choses [sic], qui ne nous deplaist pas. | Written by Himself; Nov. 1731. | [ornament] | Dublin, Printed: | London: Re-printed, and sold by the | Booksellers of London and Westminster.
Sm. 80: (frontispiece+) A4 B2. 2 pp. (blank+frontisp.), 2 pp. (title, verso blank), 3-12 (Verses).
Copy: Univ. Libr. Cambridge (S 72l.d.73.4). Unfortunately this copy is not in its original state; it has been re-sewn with a guard to each leaf. However, the signing A4 B2 makes it apparent that it was published separately, not as an addition to "An Essay on Man."
This edition is very clearly related to the one mentioned on page 184 under (IV), and shall therefore be called (IVa). The following similarities appear in them: (1) the frontispiece; (2) the separate title for the "Verses"; (3) the great wealth of capitals; (4) the greater attempt at ornamentation (title-page; headpiece and decorated capital on page 3); (5) the very significant misprints, not present in any of the other editions, namely "mellieurs" for "meilleurs", and "quelque choses" for "quelque chose"; (6) the variants mentioned on page 185 are exactly the same in (IV) and (IVa).
And yet we have to do with two distinctly different type-settings. The fact that the (IVa) frontispiece, copied from (IV), shows lack of attention to detail,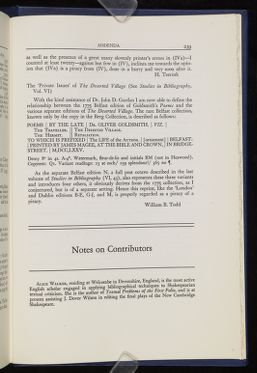 as well as the presence of a great many slovenly printer's errors in (IVa)—I counted at least twenty—against but few in (IV), inclines me towards the opinion that (IVa) is a piracy from (IV), done in a hurry and very soon after it.
H. Teerink
The 'Private Issues' of The Deserted Village (See Studies in Bibliography, Vol. VI)
With the kind assistance of Dr. John D. Gordan I am now able to define the relationship between the 1775 Belfast edition of Goldsmith's Poems and the various separate editions of The Deserted Village. The rare Belfast collection, known only by the copy in the Berg Collection, is described as follows: POEMS | BY THE LATE | DR. OLIVER GOLDSMITH. | VIZ. |
THE TRAVELLER. || THE DESERTED VILLAGE.
THE HERMIT. || RETALIATION.
TO WHICH IS PREFIXED | The LIFE of the AUTHOR. | [ornament] | BELFAST: | PRINTED BY JAMES MAGEE, AT THE BIBLE AND CROWN, | IN BRIDGE-STREET. | M,DCC,LXXV.
Demy 80 in 4s. A-44. Watermark, fleur-de-lis and initials RM (not in Heawood). Copytext: Ql. Variant readings: 23 at each/ 239 splendour!/ 365 no ¶.
As the separate Belfast edition N, a full post octavo described in the last volume of Studies in Bibliography (VI, 43), also represents these three variants and introduces four others, it obviously derives from the 1775 collection, as I conjectured, but is of a separate setting. Hence this reprint, like the 'London' and Dublin editions B-E, G-J, and M, is properly regarded as a piracy of a piracy.
William B. Todd



---