LETTER XII. MR. DOWNING TELLS WHAT IT MEANS TO SET UP A CANDIDATE FOR OFFICE. My thirty years out of the Senate


---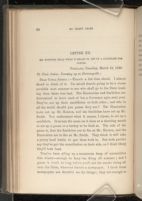 12. LETTER XII.
MR. DOWNING TELLS WHAT IT MEANS TO SET UP A CANDIDATE FOR
OFFICE.
Portland,
Tuesday, March 16, 1830.
To Uncle Joshua Downing up in Downingville:
Dear Uncle Joshua:—There's a hot time ahead. I almost
dread to think of it. I'm afraid there's going to be a worse
scrabble next summer to see who shall go to the State husking
than there was last. The Huntonites and Smithites are
determined to have each of 'em a Governor agin next year.
They've sot up their candidates on both sides; and who in
all the world should you guess they are? The Huntonites
have sot up Mr. Hunton, and the Smithites have sot up Mr.
Smith. You understand what it means, I s'pose, to set up a
candidate. It means the same as it does at a shooting match
to set up a goose or a turkey to be fired at. The rule of the
game is, that the Smithites are to fire at Mr. Hunton, and the
Huntonites are to fire at Mr. Smith. They think it will take
a pretty hard battle to get them both in. But both parties
say they've got the constitution on their side, so I think likely
they'll both beat.
They've been piling up a monstrous heap of ammunition
this winter—enough to keep 'em firing all summer; and I
guess it won't be long before you'll see the smoke rising all
over the State, wherever there's a newspaper. I think these
newspapers are dreadful smoky things; they are enough to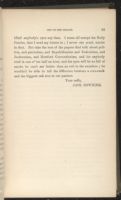 blind anybody's eyes any time. I mean all except the Daily
Courier, that I send my letters in; I never see much smoke
in that. But take the rest of the papers that talk about politics,
and patriotism, and Republikanism and Federalism, and
Jacksonism, and Hartford Conventionism, and let anybody
read in one of 'em half an hour, and his eyes will be so full of
smoke he can't see better than an owl in the sunshine; he
wouldn't be able to tell the difference between a corn-stalk
and the biggest oak tree in our pasture.
Your neffu,
JACK DOWNING.
LETTER XII. MR. DOWNING TELLS WHAT IT MEANS TO SET UP A CANDIDATE FOR OFFICE. My thirty years out of the Senate


---