My thirty years out of the Senate


---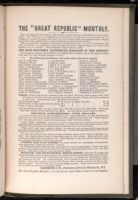 THE "GREAT REPUBLIC" MONTHLY.
This new Magazine has rapidly risen in favor, and its success is established beyond contingency.
The Publishers, by engaging the best writers, treating topics of living interest, providing
for a variety of tastes, and, above all, by an open, frank and impartial course, hope to
secure for it the continued favor of all intelligent and fair-minded readers.
Believing that this Periodical will become a desideratum with all, and that complete files
will be valuable, the publishers would say that the work is Electrotyped, and that all the
numbers can be supplied. The publication began January, 1859.
THE MOST PROFUSELY ILLUSTRATED MAGAZINE IN THIS COUNTRY.
Each number contains the Fashions, an Original Piece of Music, one or two pages of Comic
Cuts, and over fifty Original Designs on wood.
The following Contributors, with many others, have been engaged:
GEO. D. PRENTICE
CHARLES SWAIN
FITZ-GREEN HALLECK
CHAS. J. INGERSOLL
ORESTES A. BROWNSON
GEN. GEO. P. MORRIS
NATHANIEL DEERING
HON. CHAS GAYARRE
WM. GILLMORE SIMMS
PARK BENJAMIN
HON. ALBERT PIKE. of Ark.
ABBE ADRIAN ROUQUETTE
THOS. FRANCIS MEAGHER
SEBA SMITH, (Jack Downing)
R H. STODDARD
JOHN R. THOMPSON
J. T. HEADLEY
JOHN G. SAXE
LIEUT. M. F. MAURY
WM. H. C. HOSMER
A. J. REQUIER
COL. J. H. EATON, U.S.A.
LEVI REUBEN
THOS. DUNN ENGLISH
DUNCAN KENNEDY
REV. NEWELL A. PRINCE
HENRY B. HIRST
APPLETON OAKSMITH.
Author of "Maggie Bell"
HENRY WARD PETTIT
THOMAS MACKELLAR
H. J. BRENT, (Stirrup)
PAUL H. HAYNE
HANNAH F. GOULD
SARAH HELEN WHITMAN
CAROLINE M. KIRKLAND
ELIZABETH F. ELLET
JANE ERMINA LOCKE
ALICE CAREY
PHEBE CAREY
MADAME LE VERT
MARY FORREST
MARY E. STEBBINS
ELIZABETH OAKES SMITH
ANNA C. BOTTA. (Miss Lynch)
ALICE B. HAVEN
ELIZABETH K. CHURCHILL
PAMELIA S. VINING, &c.
TERMS:—There will be two volumes a year, of about 700 royal octavo pages each, commencing
in January and July, making six numbers to each volume, and twelve numbers
to each year. Subscriptions may commence at any time.
Prices

—Single copies, 
$0 25 
 
Subscription 1 copy, 1 year, sent by mail, 
3 00 
 

Clubs,

2 copies, one year, 
5 00 
 

Clubs,

3 copies, one year, 
$7 00 
 

Clubs,

4 copies, one year, 
9 00 
 

Clubs,

5 copies, one year, 
10 00 
 
And all additional copies, over five, at the rate of $2 each, if sent to the same Club. Clubs may
have their numbers sent to different Post-Offices. All subscriptions must be paid in advance.
PREMIUM SUBSCRIPTIONS — FOUR DOLLARS.
In order to secure a very large circulation to the "Great Republic," we offer the following
inducements:—To every person who sends us four dollars we will send the "Great Republic"
one year, and also a large Steel Engraving, richly worth four dollars.
"THE LAST SUPPER" of the Saviour, from the celebrated painting of Leonardo da Vinci, is on a fine
steel plate, nearly three feet by two, engraved by the late A. L. Dick, at a cost of six thousand dollars, and is
undoubtedly the most beautiful and valuable large steel engraving ever executed in this country.
"THE CITY OF THE GREAT KING" is another fine steel engraving, about the same size and
same value as the preceding, and engraved by the same artist. It is the finest large engraving of the City of Jerusalem
that has ever been executed.
We own both of these steel plates, having purchased them of the heirs of the late A. L.
Dick. The regular price of each of these engravings is four dollars. Each subscriber who
sends four dollars shall be entitled to the "Great Republic" one year, and his choice of these
two splendid engravings, sent to him prepaid.
AGENTS AND CANVASSERS can make liberal and satisfactory arrangements
upon application, stating the territory required.
All Postmasters and Clergymen are authorized to receive subscriptions, which they may
forward to us, giving name and address of subscriber, and deducting 25 per cent. for their
trouble. This offer, however, does not refer to Clubs.
POSTAGE AND POST-OFFICE REGULATIONS.—The rate of postage will
not exceed three cents for each number, to be paid in all cases at the office where it is received.
Canadian Subscribers will remit thirty-six cents each, in addition to subscription, to prepay
postage to the line. All communications, to be entitled to answer, must contain return
stamps. Subscribers must in all cases write Names. Town, County, and State in full, as legibly
as possible. There is little risk in sending money by mail. Large sums should be remitted
by draft, if possible, or registered letter.
OAKSMITH & CO., Publishers, 112 & 114 William St., N.Y.
The Great Republic Monthly is for sale by the entire Trade of the U. S. and Canadas.
My thirty years out of the Senate


---