---
IN THE absence of Stamp Office accounts for the early nineteenth century, historians of the press are compelled to rely upon scattered and fragmentary evidence as to the circulation of London newspapers during the period of the Napoleonic wars.[1] Professor Arthur Aspinall's studies of the problem[2] have thrown light upon the methods of circulation, the size of the newspaper-reading public, and the extent of influence exerted by the newspaper press during the period, but reliable contemporary estimates of the circulation of individual newspapers are unfortunately rare.[3] A few such estimates, hitherto unnoticed, occur in memoranda among the papers of the Treasury Solicitor preserved in the Public Record Office.[4] They relate to the years 1806-1808 and 1811, and are based on figures supplied by the Stamp Office from records no longer extant.
During the period from 1808 to 1811 libel actions against the London newspapers were instituted by the government in unprecedented numbers-more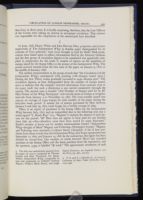 than forty in three years. It is hardly surprising, therefore, that the Law Officers of the Crown were taking an interest in newspaper circulation. That interest was responsible for the compilation of the memoranda here described.



---