---
THE EARLIEST version of Goldsmith's first poem, The Traveller, appears in a series of quarto half-sheets discovered and reproduced by Bertram Dobell in 1902 and now deposited under press C.58.g.7 at the British Museum. Three of these unique sheets (B--D) are leaded between lines, spaced between paragraphs, numbered throughout, and headed A PROSPECT OF SOCIETY, a reference later used as the sub-title of the published edition. The fourth (E) contains only text, signature, and catchwords, all set solid at the top of each page, but of an appropriate number of lines, in each instance, so that the letter when spaced and headed would exactly fill the page.
Whereas the peculiar form of E is not without significance, it has been generally disregarded in the light of an even more remarkable aberration occurring throughout the text. Instead of running forward, this regresses in nine sections, commencing at B1r-2r with lines 351-392 and concluding on E2v with lines 73-90.[1] The orderly derangement of the sections was first noticed by A. T. Quiller-Couch who, in his review of Dobell's reprint, thereupon offered a plausible explanation.
As Goldsmith finishing writing out each page of his poem for press he laid it aside, on top of the page preceding . . . and, when all was done, he forgot . . . to sort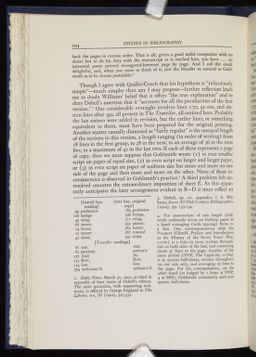 back the pages in reverse order. That is all; given a good stolid compositor with no desire but to do his duty with the manuscript as it reached him, you have . . . an immortal poem printed wrong-end-foremost page by page. And I call the result delightful, and, when you come to think of it, just the blunder so natural to Goldsmith as to be almost postulable.
[2]
Though I agree with Quiller-Couch that his hypothesis is "ridiculously simple" much simpler than any I may propose-further reflection leads me to doubt Williams' belief that it offers "the true explanation" and to deny Dobell's assertion that it "accounts for all the peculiarities of the first version."[3] One considerable oversight involves lines 1-72, 91-100, and sixteen lines after 392, all present in The Traveller, all omitted here. Probably the last sixteen were added in revision, but the earlier lines, or something equivalent to them, must have been prepared for the original printing. Another matter casually dismissed as "fairly regular" is the unequal length of the sections in this version, a length ranging (in order of writing) from 18 lines in the first group, to 28 in the next, to an average of 36 in the next five, to a maximum of 42 in the last two. If each of these represents a page of copy, then we must suppose that Goldsmith wrote (1) in ever smaller script on paper of equal size, (2) in even script on larger and larger paper, or (3) in even script on paper of uniform size but more and more on one side of the page and then more and more on the other. None of these inconsistencies is observed in Goldsmith's practice.[4] A third problem left unresolved concerns the extraordinary imposition of sheet E. As this apparently anticipates the later arrangement evident in B-D it must reflect an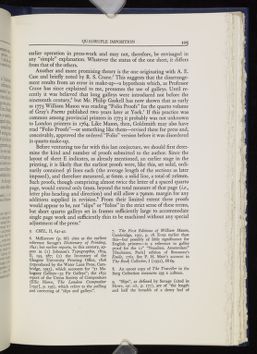 earlier operation in press-work and may not, therefore, be envisaged in any "simple" explanation. Whatever the status of the one sheet, it differs from that of the others.
Another and more promising theory is the one originating with A. E. Case and briefly noted by R. S. Crane.[5] This suggests that the disarrangement results from an error in make-up-a hypothesis which, as Professor Crane has since explained to me, presumes the use of galleys. Until recently it was believed that long galleys were introduced not before the nineteenth century,[6] but Mr. Philip Gaskell has now shown that as early as 1773 William Mason was reading "Folio Proofs" for the quarto volume of Gray's Poems published two years later at York.[7] If this practice was common among provincial printers in 1773 it probably was not unknown to London printers in 1764. Like Mason, then, Goldsmith may also have read "Folio Proofs"-or something like them-revised these for press and, conceivably, approved the ordered "Folio" version before it was disordered in quarto make-up.
Before venturing too far with this last conjecture, we should first deter- mine the kind and number of proofs submitted to the author. Since the layout of sheet E indicates, as already mentioned, an earlier stage in the printing, it is likely that the earliest proofs were, like this, set solid, ordinarily contained 36 lines each (the average length of the sections as later imposed), and therefore measured, at 6mm. a solid line, a total of 216mm. Such proofs, though comprising almost twice the letter of a spaced quarto page, would extend only 6mm. beyond the total measure of that page (i.e., letter plus heading and direction) and still allow a 79mm. margin for any additions supplied in revision.[8] From their limited extent these proofs would appear to be, not "slips" or "folios" in the strict sense of these terms, but short quarto galleys set in frames sufficiently large to accommodate single page work and sufficiently thin to be machined without any special adjustment of the press.[9]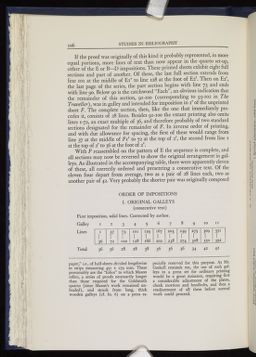 If the proof was originally of this kind it probably represented, in more equal portions, more lines of text than now appear in the quarto set-up, either of the E or B-D impositions. These printed sheets exhibit eight full sections and part of another. Of these, the last full section extends from line 101 at the middle of E1v to line 128 at the foot of E2r. Then on E2v, the last page of the series, the part section begins with line 73 and ends with line 90. Below 90 is the catchword "Each", an obvious indication that the remainder of this section, 91-100 (corresponding to 93-102 in The Traveller), was in galley and intended for imposition in 1r of the unprinted sheet F. The complete section, then, like the one that immediately precedes it, consists of 28 lines. Besides 91-100 the extant printing also omits lines 1-72, an exact multiple of 36, and therefore probably of two standard sections designated for the remainder of F. In inverse order of printing, and with due allowance for spacing, the first of these would range from line 37 at the middle of F1r to 72 at the top of 2r, the second from line 1 at the top of 2r to 36 at the foot of 2v.
With F reassembled on the pattern of E the sequence is complete, and all sections may now be reversed to show the original arrangement in galleys. As illustrated in the accompanying table, there were apparently eleven of these, all correctly ordered and presenting a consecutive text. Of the eleven four depart from average, two as a pair of 28 lines each, two as another pair of 42. Very probably the shorter pair was originally composed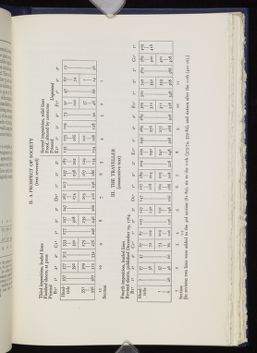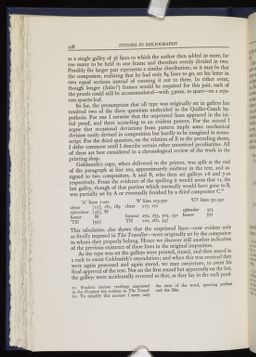 as a single galley of 36 lines to which the author then added 20 more, far too many to be held in one frame and therefore evenly divided in two. Possibly the larger pair represents a similar distribution; or it may be that the compositor, realizing that he had only 84 lines to go, set his letter in two equal sections instead of running it out to three. In either event, though longer (folio?) frames would be required for this pair, each of the proofs could still be accommodated-with 33mm. to spare-on a separate quarto leaf.
So far, the presumption that all type was originally set in galleys has resolved two of the three questions undecided in the Quiller-Couch hypothesis. For one I surmise that the unprinted lines appeared in the initial proof, and there according to an evident pattern. For the second I argue that occasional deviations from pattern imply some mechanical division easily devised in composition but hardly to be imagined in manuscript. For the third question, on the relation of E to the preceding sheets, I defer comment until I describe certain other unnoticed peculiarities. All of these are best considered in a chronological review of the work in the printing shop.
Goldsmith's copy, when delivered to the printer, was split at the end of the paragraph at line 202, approximately midway in the text, and assigned to two compositors, A and B, who then set galleys 1-6 and 7-10 respectively. From the evidence of the spelling it would seem that It, the last galley, though of that portion which normally would have gone to B, was partially set by A or eventually finished by a third compositor C.[10]
'A' lines 1-202  
'B' lines 203-350  
'C'? lines 351-392  
 
chear [13], 181, 189  
cheer 217, 271  
 
splendour [45], 86  
splendor 373  
 
honor 86  
honour 252, 253, 304, 342 honor 352  
 
'Till [93]  
Till 220, 260, 347  
 
This tabulation also shows that the unprinted lines-now evident only as finally imposed in
The Traveller-
were originally set by the compositor to whom they properly belong. Hence we discover still another indication of the previous existence of these lines in the original imposition.
As the type was set the galleys were printed, rinsed, and then stored in a rack to await Goldsmith's emendation; and when this was received they were again processed and again stored, we may conjecture, to await his final approval of the text. Not on the first round but apparently on the last, the galleys were accidentally reversed so that, as they lay in the rack pending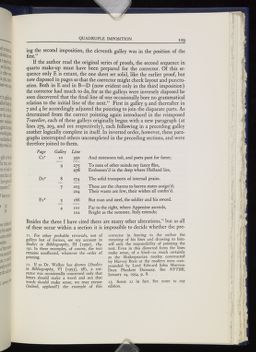 the second imposition, the eleventh galley was in the position of the first.
[11]
If the author read the original series of proofs, the second sequence in quarto make-up must have been prepared for the corrector. Of this sequence only E is extant, the one sheet set solid, like the earlier proof, but now disposed in pages so that the corrector might check layout and punctuation. Both in E and in B-D (now evident only in the third imposition) the corrector had much to do, for as the galleys were inversely disposed he soon discovered that the final line of one occasionally bore no grammatical relation to the initial line of the next.[12] First in galley 9 and thereafter in 7 and 4 he accordingly adjusted the pointing to join the disparate parts. As determined from the correct pointing again introduced in the reimposed Traveller, each of these galleys originally began with a new paragraph (at lines 275, 203, and 101 respectively), each following in a preceding galley another logically complete in itself. In inverted order, however, these paragraphs interrupted others uncompleted in the preceding sections, and were therefore joined to them.
Page / Galley / Line
C1

r

10 350

And statesmen toil, and poets pant for fame;


9 27

To men of other minds my fancy flies,


276

Embosom'd in the deep where Holland lies,



D1

r

8 274

The solid transports of internal praise.


7 203

These are the charms to barren states assign'd;


204

Their wants are few, their wishes all confin'd.



E1

v

5 166

But man and steel, the soldier and his sword.


4 101

Far to the right, where Appenine ascends,


102

Bright as the summer, Italy extends;



Besides the three I have cited there are many other alterations,
[13]
but as all of these occur within a section it is impossible to decide whether the previous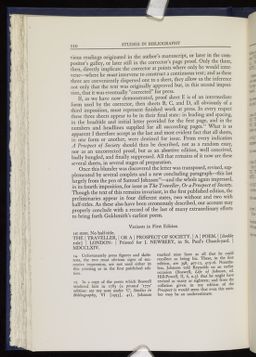 readings originated in the author's manuscript, or later in the compositor's galley, or later still in the corrector's page proof. Only the three, then, directly implicate the corrector at points where only he would intervene* where he must intervene to construct a continuous text; and as these three are conveniently dispersed one to a sheet, they allow us the inference not only that the text was originally approved but, in this second imposition, that it was eventually "corrected" for press.
If, as we have now demonstrated, proof sheet E is of an intermediate form used by the corrector, then sheets B, C, and D, all obviously of a third imposition, must represent finished work at press. In every respect these three sheets appear to be in their final state: in leading and spacing, in the headtitle and initial letter provided for the first page, and in the numbers and headlines supplied for all succeeding pages.[14] What is so apparent I therefore accept as the last and most evident fact that all sheets, in one form or another, were destined for issue. From every indication A Prospect of Society should thus be described, not as a random essay, nor as an uncorrected proof, but as an abortive edition, well conceived, badly bungled, and finally suppressed. All that remains of it now are these several sheets, in several stages of preparation.
Once this blunder was discovered the letter was transposed, revised, sup- plemented by several couplets and a new concluding paragraph-this last largely from the pen of Samuel Johnson[15] -and the whole again impressed, in its fourth imposition, for issue as The Traveller, Or a Prospect of Society. Though the text of this remains invariant, in the first published edition, the preliminaries appear in four different states, two without and two with half-titles. As these also have been erroneously described, our account may properly conclude with a record of the last of many extraordinary efforts to bring forth Goldsmith's earliest poem.
Variants in First Edition
1st state. No half-title.
THE | TRAVELLER, | OR A | PROSPECT OF SOCIETY. | A | POEM. | [double rule] | LONDON: | Printed for J. NEWBERY, in St. Paul's Church-yard. | MDCCLXIV.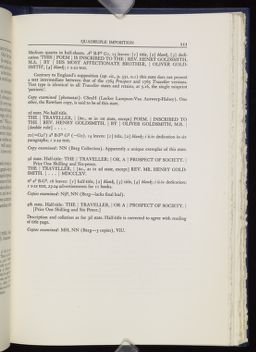 Medium quarto in half-sheets. A
2
B-F
2
G1. 13 leaves: [1] title, [2]
blank
, [3] dedication 'THIS | POEM | IS INSCRIBED TO THE | REV. HENRY GOLDSMITH, M.A. | BY | HIS MOST AFFECTIONATE BROTHER, | OLIVER GOLDSMITH', [4]
blank
; 1 2-22 text.
Contrary to England's supposition (op. cit., p. 331, n.1) this state does not present a text intermediate between that of the 1764 Prospect and 1765 Traveller versions. Text type is identical in all Traveller states and retains, at 5.16, the single misprint 'patrioric'.
Copy examined [photostat]: CSmH (Locker Lampson-Van Antwerp-Halsey). One other, the Rowfant copy, is said to be of this state. 2d state. No half-title.
THE | TRAVELLER, | [&c., as in 1st state, except] POEM. | INSCRIBED TO THE | REV. HENRY GOLDSMITH. | BY | OLIVER GOLDSMITH, M.B. | [double rule] .... π1(=G2?) a2 B-F2 G2 (-G2). 14 leaves: [1] title, [2] blank; i ii-iv dedication in six paragraphs; 1 2-22 text.
Copy examined: NN (Berg Collection). Apparently a unique exemplar of this state.
3d state. Half-title: THE | TRAVELLER, | OR, A | PROSPECT OF SOCIETY. | Price One Shilling and Six-pence. THE | TRAVELLER, | [&c., as in 2d state, except] REV. MR. HENRY GOLDSMITH. | ... | MDCCLXV. π2 a2 B-G2. 26 leaves: [1] half-title, [2] blank, [3] title, [4] blank; i ii-iv dedication; 1 2-22 text, 23-24 advertisements for 11 books.
Copies examined: NjP, NN (Berg-lacks final leaf). 4th state. Half-title: THE | TRAVELLER, | OR A | PROSPECT OF SOCIETY. | [Price One Shilling and Six Pence.]
Description and collation as for 3d state. Half-title is corrected to agree with reading of title page.
Copies examined: MH, NN (Berg-3 copies), ViU



---