---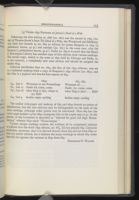 (3) Three 1695 Editions of Jevon's Devil of a Wife
Following the first edition in 1686 (no. 662) and the second in 1693 (no. 663) of Thomas Jevon's farce The Devil of a Wife, the Woodward and McManaway Check List records as no. 664 an edition for James Knapton in 1693 (4 preliminary leaves, 47 p.) and another (no. 665) in the same year, also for Knapton (3 preliminary leaves, 42 p.). Under no. 664 it is noted that the Henry E. Huntington Library has another copy of this edition with variant readings. This second copy, which is the same as that held by Chicago and Duke, is, on the contrary, a completely new reset edition and should be assigned the number 664a.
Collation establishes that no. 664, the first of the 1695 editions, was set in a condensed makeup from a copy of Knapton's 1693 edition (no. 663), and that 664a is a paginal and line-for-line reprint of 664.
664a 
663, 664 
 
C4, line 6 
Witnesses to my Proceedings 
Witnesses of . . . 
 
D2, line 11 
Nadir Ah come, come. 
Nadir. Ay, come, come. 
 
D3

v

, line 28 
what Dog is this, where is my Bell? 
what Dog is this? . . . Bell? 
 
G4, line 9 
buskins empty smelling  
buskins empty swelling  
 
The similar title-pages and makeup of 664 and 664a furnish no points of identification, but the two editions may be distinguished on the basis of the above readings, although other points may be mentioned. Thus 664 has the correct page number 19 but 664a transposes this in the copies seen to 91. In the persons, in 664 Lovemore is described as "beloved for good old Engl. House-keeping" whereas 664a reads "House-keeper."
Various unique readings confirm the evidence of its compressed makeup to indicate that the third 1695 edition, no. 665, did not precede 664. Collation establishes, moreover, that it is derived directly from 664 and not from 664a or from any earlier edition, for it follows the major readings in which 664 varies from 663 but ignores the variants in 664a from 664.
Frederick O. Waller



---