---
AN UNRECORDED EARLY ANTHOLOGY OF CRABBE
by
Franklin P. Batdorf
The bibliographer of George Crabbe's works has strange opportunities in the United States of America, for on this side of the Atlantic have been preserved several early editions which have not thus far come to light in the libraries of Europe and have not been listed in the bibliographies of Crabbe hitherto published.[1] One of these scarce early editions is a collection of the tales and miscellaneous poems of Crabbe which was brought out in 1847 by H.G. Bohn. A copy of this collection, once owned by the Public School Library of Municipality No. 2, New Orleans, Louisiana, is now in the New Orleans Public Library.[2]
The volume is of interest both as a rarity and as an additional testimonial of the popularity of Crabbe's works about the middle of the nineteenth century. I regret that I have not been able to identify the makers of the drawings and the plates or to determine what processes were used.
A description follows:
THE TALES | AND | MISCELLANEOUS POEMS | OF THE | REV. GEORGE CRABBE. | [ornament] | LONDON. | H. G. BOHN, YORK STREET, COVENT GARDEN. | MDCCCXLVII.
a6; B-2K6. Pp. [i-iii] + iv-xii, [1] + 2-60 + [61] + 62-384. Pl. [I-II]. 35-37 lines + headline and signature line. 122-123 (129-130) X 67 mm. a1a, title-page; a1b, printer's imprint: "J. Billing, Printer and Stereotyper, Woking, Surrey."; a2a-a2b, table of contents; a3a-a6b, Preface to the Tales; B1a-2E4a, text of Tales I-XXI; 2E4b-2F3b, text of "The Birth of Flattery";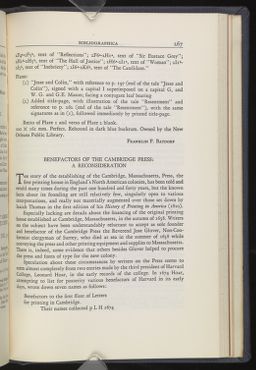 2F4
a
-2F5
b
, text of "Reflections"; 2F6
a
-2H1
a
, text of "Sir Eustace Grey"; 2H1
b
-2H5
b
, text of "The Hall of Justice"; 2H6
a
-2I1
a
, text of "Woman"; 2I1
b
-2I5
b
, text of "Inebriety"; 2I6
a
-2K6
b
, text of "The Candidate."
Plates:
(1) "Jesse and Colin," with reference to p. 197 (end of the tale "Jesse and Colin"), signed with a capital I superimposed on a capital G, and W. G. and G.E. Mason; facing a conjugate leaf bearing
(2) Added title-page, with illustration of the tale "Resentment" and reference to p. 262 (end of the tale "Resentment"), with the same signatures as in (1), followed immediately by printed title-page.
Recto of Plate 1 and verso of Plate 2 blank.
100 X 161 mm. Perfect. Rebound in dark blue buckram. Owned by the New Orleans Public Library.
Notes
[1]
Bibliographers of Crabbe's works have been published by the following individuals: J. P. Anderson: in T. E. Kebbel's Life of George Crabbe, London, 1888 Rene Huchon: in Huchon's George Crabbe and His Times, London, 1907 (a translation by Frederick Clarke of Huchon's Un poète réaliste anglais, Paris, 1906) A. T. Bartholomew: in Vol. III of George Crabbe's Poems, edited by A. W. Ward, Cambridge, 1907 H. G. Pollard: in the Cambridge Bibliography of English Literature, edited by F. W. Bateson, Cambridge and New York, 1941.



---