---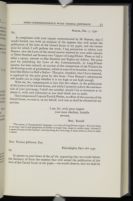 letter 9
Boston, Dec. 5, 1790.
Sir,
In compliance with your request communicated by Mr. Remsen, that I would furnish you with an estimate of the expense that will attend the publication of the laws of the United States in my paper; and the lowest price for which I will perform the work; I beg permission to inform your Honour, that the Laws of the second session inserted by your order amount to Three Hundred and Seventy-two[*] Squares of Long-Primer. These at half a dollar a square, amount to One Hundred and Eighty-six dollars. The price paid for publishing the Laws of this Commonwealth, in Long-Primer squares, has been reduced, on account of the competition of the Printers for the Printing work of government, which in some of its branches, is lucrative, from One Dollar to Half a Dollar—The price, therefore, that I have inserted, is regulated by the price given by this State—Your Honour's information will enable you to judge whether it is too high or not high enough.
With me, Sir, compensation is <not the> first object, in the publication of the La<ws> of the United States; and while I earnestly solicit the continuation of your patronage; I shall rest satisfied, should I be so fortunate as to obtain it, with such allowance as you shall think just to make.
I have empowered Captain Patrick Phelen, an officer of the customs of the United States, to receive, on my behalf, such sum as shall be allowed for my services.
I am, Sir, with great respect
your most obedient, humble
servant,
Benj. Russell
Hon. Thomas Jefferson, Esq.



---