---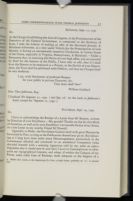 letter 6
Baltimore, Sept. 11, 1790
Sir,
As the Charge of publishing the Acts of Congress, & the Proclamations of the Executive of the General Government, is committed to the Secretary of State, I take the Liberty of making an offer of the Maryland Journal, & Baltimore Advertiser, as a very useful Vehicle for the Promulgation of such Matters, it having an uncommonly extensive Circulation, in various States of the Union, especially in Virginia, Pennsylvania, & Maryland. —Under a Persuasion that, in executing the Duties of your high office, you are actuated by Zeal[4] for the Interest of the Public, I have only to add, that if I shall have the Honour to be employed as a Printer, in the Service of your Department, the Trust shall be performed with Fidelity, and that my Charges shall be very moderate.
I am, with Sentiments of profound Respect
for your public & private Character, Sir,
Your most obed
t
Serv
t
William Goddard
Hon. Tho.
s
Jefferson, Esq:
['Goddard W.
m
Septem.
r
11, 1790. | rec.
d
Sep. 26.' on the back in Jefferson's hand, except for 'Septem.
r
11, 1790'.]



---