| | | | |
| --- | --- | --- | --- |
| |   | 14.  | CHAPTER XIV. THE BIRTHDAY FETE. |
CHAPTER XIV. THE BIRTHDAY FETE. As good as a comedy, or, The Tennesseean's story


---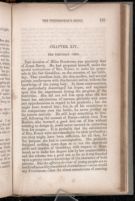 14. CHAPTER XIV.
THE BIRTHDAY FETE.
The decision of Miles Henderson was precisely that
of Jones Barry. He had prepared himself, under the
special instructions of Mrs. Foster, to make his proposals
to the fair Geraldine, on the occasion of her birthday.
That excellent lady, the step-mother, had several
private conferences with this favored suitor, without the
knowledge of the young lady. In these conversations,
she particularly encouraged his hopes, and enjoined
upon him the experiment during the progress of the
festivities. She did not tell him upon what she had
based her calculations of success, probably with some
just apprehensions in regard to his prudence; but she
might have trusted him; for, in all his revelations to
his companions over the bottle, he never yielded up
his secrets entirely. He still kept something to himself,
following the counsel of Burns—which even Tom
Nettles, who wormed a good deal out of him without
seeming to design it, could never succeed in extracting
from his tongue. It is probable that the calculations
of Mrs. Foster were not remarkable for their profundity;
yet they might have been sufficient, for all that, for
the purpose she had in contemplation. She probably
designed nothing more than so to vex the capricious
pride and impulse of Geraldine, with respect to Hammond,
as to make her disgust him by her eccentricities;
and the scheme was a good one, so far as it was founded
upon a pretty correct knowledge of the character of both
persons. But the affaires de cœur of young people are so
much influenced by chance and circumstance — some would
say Providence — that the nicest calculations of cunning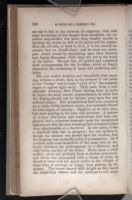 are apt to fail at the moment of exigency; and, with
some knowledge of this danger from casualties, our excellent
step-mother was more than usually careful in
devising the events as well as the picnic and the supper.
How she did this, or tried to do it, it is not exactly necessary
that we should show; and we must not anticipate
actual events by speculating upon their features
and family likenesses while they are yet in the womb
of the future. Enough that all parties had completed
their arrangements for the birthday, which at length
dawned to the awakening of many and conflicting anxieties.
The sun smiled brightly and beautifully that morning,
without a cloud; and, as the purpose of the ladies
at the "Lodge" was to make "a day of it," the company
began to appear right early. They came from a considerable
distance, Mrs. Foster having been at pains
to invite the most remote acquaintances, in order that
the display should not be thrown away upon few and
inferior judges. Her preparations had been conceived
on a scale which, however rustic, was unusually liberal
for that region of country. Supplies, as we have seen,
had been pouring in for some time previous. A number
of violins, clarionets, and tambourines had been employed,
and a volunteer drummer made his unexpected
appearance with the rest, assuming that no musical noises
were objectionable at a charivari. In one sense, it was
a charivari that was in progress; but our opinion is,
though no censure was passed upon his conduct, that
the drummer was decidedly guilty of presumption. As if
troubled with some suspicions of the same sort, he modestly
withdrew his performances to a distance, and
only within earshot of the house. Here, upon a small
mound, which had probably been an Indian tabernacle,
and which was surrounded with a clump of pines, he
threshed away with his merry sticks to the delight of
those who, in carriage or buggy, were passing up the
avenue. The horses danced with delight as they heard
the inspiriting clamor, and the attempts to run away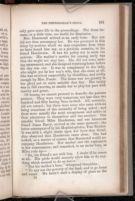 only gave more life to the proceedings. The drum became,
in a little time, too useful for dismission.
Mrs. Hammond arrived at an early hour. Her son
did not then accompany her. He was governed in this
delay by motives which we may conjecture from what
we have heard him say, on a previous occasion, to his
friend Henderson. It was his policy not to seem too
anxious. His mother's motive for coming early was
that she might not stay late. She did not come seeking
amusement, and she designed returning home before
the day was out. It was in compliment to the lady,
who might yet be her son's wife, that she came at all.
She was received respectfully by Geraldine, and civilly
enough by Mrs. Foster. The latter was too greatly in
her glory not to seem amiable that day. Her vanity
was in full exercise, to enable her to play her part with
suavity and grace.
Of course, we cannot pretend to describe the persons
present. They were very numerous, not less than two
hundred and fifty having been invited. All, certainly,
did not attend; but there were some who came without
being conscious of the necessity of being asked; and
these were usually the most conspicuous and active in
their attentions to themselves and one another. Our
amiable friend Miles Henderson, and our humorous
friend Jones Barry, arrived at the same moment; the
latter accompanied by his Mephistopheles, Tom Nettles.
It was with a slight shade upon her brow that Geraldine
observed that Henderson came alone. She had
looked, as a matter of course, that Hammond would accompany
Henderson. Her mother saw the expression
in her countenance, and remarked, in an under tone, as
Miles rode up—
"So, his friend's not with him. I doubt if he comes
at all. His pride would scarcely allow him to do anything
which seemed to do us honor."
"But his mother's here," whispered Geraldine.
"To spy out the poverty of the land, and to go home
and sneer. We havn't such a display of plate as the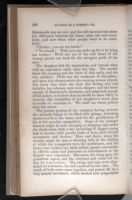 Hammonds can set out; and she will have her say about
the difference between old times, when she was everybody,
and now when other people want to be somebody."
"Mother, you are too harsh!"
"Too harsh! Well, you can make up for it by being
too tender! We'll see yet if the soft heart of the
woman proves too weak for the arrogant pride of the
man."
The daughter felt the imputation, and turned away
with an expressive smile upon her lips. The mother
knew the meaning and the value of that smile, and she
was satisfied. Pride was the weakness of Geraldine;
and upon this characteristic the cunning woman played.
She knew that while she kept this feeling sore and
irritable, her schemes were in no danger; and she knew
enough of Hammond's character, and suspected enough
of his policy, to believe that he would be more likely to
increase this irritability of her daughter's mood than
to soothe or overcome it. We shall see whose politics
were the wisest.
The greater portion of the company having arrived,
the grounds began to be filled with groups, detaching
themselves from the mass, each for the gratification of
his or her peculiar sympathies. Some of the younger
damsels might be seen swinging or skipping rope under
the shade-trees, with a fair sprinkling of dapper young
lads to devour, with greedy looks of love, their several
movements and devices. Here and there, along the
avenue, might be seen a whizzing ball, in the hurling
of which the youngsters were the performers, and the
ladies were lookers on; while tables, spread conveniently,
offered cakes and lemonade as refreshments to the
languid and exhausted. But anon, the drum gave the
gratuitous signal, and the clarionet and violin led the
way for a procession. The swing and rope were abandoned
in a moment, the ball received its last cast. The
youth of both sexes came together, and paired off, by a
very natural movement, which showed how sympathetic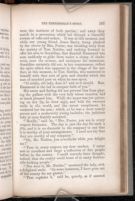 were the instincts of both parties; and away they
march in a procession which led through a beautiful
avenue of oaks and cedars. It was at this moment, and
while our young friend Jones Barry, being plucked
by the sleeve by Mrs. Foster, was breaking away from
the society of Tom Nettles, and rushing forward to
offer his arm to Geraldine, that Randall Hammond was
seen suddenly to glide from under a clump of shade-trees,
near the avenue, and anticipate his intentions.
Geraldine certainly did not, in her countenance, reflect
the spite which was apparent in the visage of the mother,
at this moment, to Tom Nettles, who muttered to
himself with that sort of grin and chuckle which the
man of mischief puts on when he sees sport.
"It sticks, old lady, does it? and so it should. Ran.
Hammond is the lad to conquer both of you."
His sneer and feeling did not prevent him from playing
the gallant with the very lady whose vexation had
so much pleased him. While the anger was yet quivering
on her lip, he drew nigh, and with the sweetest
smile in the world, and the nicest compliment, he
tendered her his arm; which, as he was a most comely
person and a moderately young bachelor, the judicious
lady at once frankly accepted.
"Really," said he, "Mrs. Foster, you are in every
respect fortunate. The day is just the day for such a
fête, and it is no discredit to the company to say that
it is worthy of your arrangements. I need not say that
they are worthy of any company."
"Oh, Mr. Nettles, you overwhelm while you delight
me!"
"True in every respect, my dear madam. I never
saw so excellent and large a collection of fine people
before in the county. I could scarcely have thought,
indeed, that the county could boast of so many fashionable-looking
people."
"Nor does it, Mr. Nettles!" answered the lady, with
a delighted smile. "In some instances, I have gone out
of the county for my guests."
"That explains it," said he, quietly, as if assured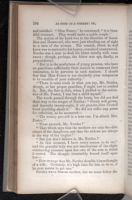 and satisfied. "Miss Foster," he continued, "is a beautiful
creature.
They
would make a noble couple."
The motion of his hand was in the direction of Geraldine
and Hammond, who were just wheeling out of sight
in a turn of the avenue. The remark, which he well
knew was wormwood to his hearer, remained unanswered.
Nettles was a man to dash his bitter usually with some
sweet; though, perhaps, the bitter was apt, finally, to
preponderate.
"But it is the misfortune of young persons, who have
no guardians sufficiently their seniors to command their
veneration, to be perverse in such matters. I should
fear that Miss Foster is too decidedly your companion
to be sensible of your authority."
"There is some truth in what you say, Mr. Nettles,
though, as her proper guardian, I ought not to confess
it. But, the fact is that, when I yielded to the entreaties
of Mr. Foster, I was but a child myself."
The words passed through the brain, but did not find
their way to the tongue of Nettles: "Pretty well grown,
and honestly twenty-eight, if old grandmother Crowell
knew anything about it." He did not suffer any pause
for reflection, as he answered—
"The county proverb is a true one, I'm afraid, Mrs.
Foster."
"What proverb, Mr. Nettles?"
"That which says that the mothers are only the elder
sisters of the daughters, and that the widows are always
in the way of the virgins!"
"But you don't believe it, Mr. Nettles?"
"At this moment, I have every reason to do so;"
and the grateful lady was not unconscious of the slight
contracting pressure upon her own of the arm in which
it rested. The thought irresistibly forced itself upon
her—
"How strange that Mr. Nettles shouldn't have thought
of a wife. Certainly, it's high time for him to do so, if
he ever means to get one."
Nettles was a famous mocker, but we must follow the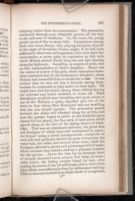 company rather than the conversation. The procession
continued through most delightful groves, all the way
to the mill-seat of Gushlynn. On the route, the young
people sported like so many kids. Conspicuous among
these was Jones Barry; who, playing his antics directly
in the sight of Geraldine Foster, might, if he had been
sufficiently observant and sagacious, have seen upon her
countenance a scorn quite as expressive as that with
which Michal saluted David when she saw him dancing
along the highways. Geraldine, in respect of pride, was
no bad representative of Saul's daughter. Barry was
the centre of a bevy of fat girls, whose dimensions somewhat
reminded him of the barkeeper's daughter, whom
Nettles had counselled him to choose for a wife. It was
evident that he was not less a favorite among them,
because he consented to play antics in their sight. He
might have had his choice among them, without leaving
the rejected any better satisfied, or worse off. Miles
Henderson revolved near Geraldine, but as an escort to
one of the Baileys, a quiet, dignified girl, one of the
three or four whom Mrs. Hammond was not unwilling
that her son should espouse. The procession passed
forward, the music still vibrated along the groves, and
soon the groups began to arrive at the beautiful place
chosen for the picnic, the fine park of open pines which
spread along at the foot of the falling waters of Gushlynn.
This was an abandoned mill-seat, the great dam
and floodgate of which were still maintained in repair;
the former being a broad carriage-track, overgrown on
each side and perfectly shaded by great evergreens, the
water-oak, the cedar, and several other trees; while the
floodgate afforded a pretty and picturesque fall of water,
whose torrents were always making a pleasant murmur
for the groves. Above the dam lay an immense sheet
of several thousand acres, several feet deep, of water;
while below, the falling surplus found its way, after
passing the wreck of the old mill-house, into a sweet little
lake, which was sufficiently deep for midsummer bathing.
This too was surrounded by an ample shade of evergreens,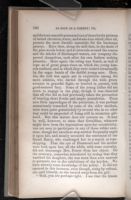 and the
tout ensemble
presented one of those lovely pictures
of united elevation, water, and shade-tree which, after all,
present the most durable materials for the landscape
painter. Here then, along the mill-dam, in the shade of
the pine woods below, and at intervals around the
reserve
and the lakelet of discharged waters, our company dispersed
themselves, each after his own fashion seeking
pleasure. Here again the swing was found, as well of
rope as of great grape-vines on which the young damsels
reclined, and in which they were rocked occasionally
by the eager hands of the dutiful young men. Here,
too, the ball was again put in requisition among the
more athletic, who darted through the wide green
avenues in graceful flight, or hurried in pursuit, with
good-natured fury. Some of the young ladies did not
scorn to engage in the play, though it was observed
that all who did so had previously taken the precaution
of wearing short frocks and ample pantalettes. These
nice little appendages of the petticoats, it was perhaps
censoriously remarked by some of the elder maidens,
were worn quite gratuitously by several who in no other
way could be suspected of being still in miniature girlhood.
But this matter does not concern us. It may
be well, however, to state that Geraldine, whatever
might have been the imputations upon her eccentricity,
was not seen to participate in any of these wilder exercises,
though her excellent step-mother frequently urged
it upon her, and stoutly seconded the entreaties of our
friend Barry, who challenged her to a match at ropeskipping.
That the eye of Hammond and his mother
were both upon her, all the while, with some curiosity,
did not discourage Mrs. Foster from her object. On
the contrary, somewhat stimulated by seeing that they
watched the daughter, she was more than ever anxious
to persuade her to the exhibitions of the hoyden. We
have already some knowledge of her policy. It did not
succeed in this instance, even though, stung by refusal,
she said bitterly, as she turned away from the girl:
"Well, you are perhaps right. I see that the Queen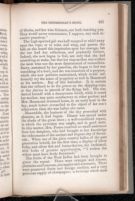 of Sheba, and her wise Solomon, are both watching you.
They would never countenance, I suppose, any such innocent
practices."
The high-spirited girl was half tempted to whirl away
upon the rope, or to seize, and wing, and pursue the
ball, as she heard this imputation upon her courage, but
she too had her reflections, and prudently forbore.
Indeed, she now began to feel, not only that she had
something at stake, but that her step-mother was neither
the most wise nor the most disinterested of counsellors.
Barry, sustained by her guardian, she began to feel was
something of a bore; and she was conscious of a purpose,
which she now perforce maintained, which would sufficiently
try the sense of propriety as well in Hammond
as his mother. But of this hereafter. It is certain
that she refused to do the graces on the skipping-rope,
or the fairies in pursuit of the flying ball. She conducted
herself with a demureness which, while it vexed
her mother, was quite satisfactory to other parties; and
Mrs. Hammond returned home, at an early hour in the
day, much better reconciled to the object of her son's
admiration than she was before she came.
Meanwhile, the business of the day proceeded with
pleasure, as it had begun. Dinner was spread under
the shade of the great trees; a well-considered repast,
in which the provision was ample, and in good taste.
In this matter, Mrs. Foster received no small assistance
from her daughter, who had brought to her knowledge
the refinements of the ancient and elegant city of Savannah.
When one of the plain country ladies of the past
generation beheld, for the first time, a display of silver
forks, and silver fish and butter-knives, she exclaimed,
with looks of genuine apprehension, "I reckon the
widow must have broke Savannah!"
The fruits of the West Indies had been brought to
grace the repast. There were oranges and lemons,
plantains and bananas, pineapples and cocoanuts. There
were preserved fruits and foreign cordials, and a very
generous supply of champagne; a beverage which most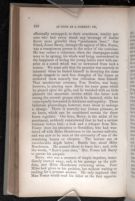 effectually entrapped, to their overthrow, sundry persons
who had never drank any beverage of similar
flavor more grateful than "persimmon beer." Our
friend, Jones Barry, through the agency of Mrs. Foster,
was a conspicuous person in the order of the exercises.
He was rather a volunteer, when the champagne-corks
were to be sprung, his whole soul being surrendered to
the happiness of seeing the young ladies start with surprise
at a sound which was so unwonted from such a
source. We must add that his practice was scarcely so
innocent when he busied himself in decoying the same
simple damsels to such free draughts of the liquor as
rendered them scarcely less ridiculous than himself.
That mischievous creature, Tom Nettles, was busy,
however, in playing upon Barry the same game which
he played upon the girls, and he watched with no little
pleasure the uncertain strides which the latter took
among the several groups which he haunted, while his
voice equally increased in thickness and rapidity. These
ludicrous proceedings, however, were about to undergo
a change. There is scarcely any human pleasure, as
we know, which can be considered certain for three
hours together. Our hero, Barry, in the midst of his
merriment, suddenly remembered that he had a serious
business before him; a look and a whisper from Mrs.
Foster drew his attention to Geraldine, who had wandered
off with Miles Henderson to the ancient mill-site,
and was now to be seen at the extremity of one of the
remaining beams or sleepers. The torrent ran at
considerable depth below. Beside her, stood Miles
Henderson. He seemed about to leave her; and, with
the words, "Now's your time," Mrs. Foster left Barry
to pursue his purpose.
Barry, who was a creature of simple impulses, immediately
started away, and, in his passage up the mill-dam,
met Miles Henderson returning alone. Poor
Miles had given in his petition, but without waiting or
seeking for a present answer. He only implored that
Miss Foster would read his billet at the first opportunity,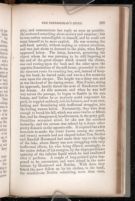 and communicate her reply as soon as possible.
He muttered something about anxiety and suspense; but
he was rather unintelligible to himself, and he could not
trust himself to be more explicit. He was crossing the
mill-bank quietly, without seeking to attract attention,
and was just about to descend to the plain, when Barry
appeared below. The latter, however, perceiving the
object whom he was pursuing to be still lingering at
the end of the great sleeper which crossed the chasm,
one end resting upon the bank and the other upon the
opposite foundations of the mill-house, proceeded to take
the shortest route for reaching her, and, instead of keeping
the bank, he darted aside, and was in a few moments
seen upon the sleeper. The height was a dizzy one, and
so was the head of the daring suitor. Miss Foster, seeing
his approach, hastily thrust the note of Henderson into
her bosom. At this moment, and when he was half
way across the passage, he began to fumble in his own
bosom, and before he or anybody could conjecture his
peril, he toppled suddenly, lost his balance, and went over,
kicking and floundering with ineffectual struggles, into
the boiling waters below. Fortunately, they were deep
enough to break his fall, which was some twelve or fifteen
feet, and he disappeared, headforemost, in the petty gulf.
Geraldine screamed aloud, for she saw the accident
instantly, and the scream was echoed by a dozen other
pretty damsels on the opposite side. It required but a few
moments to make the event known among the crowd,
and twenty seconds had not elapsed before Tom Nettles
and Randall Hammond had made their way to the edge
of the lake, where Barry was now struggling with very
ineffectual efforts, his wine being diluted, seemingly, to
the entire defeat of his energies, by the disproportionate
quantity of the inferior liquid which he had swallowed
after it perforce. A couple of long-pointed poles happened
to be convenient, and were seized in the same
instant by Hammond and Nettles. With these they
fished the poor fellow up by his clothes, to the bank,
the mischievous Nettles contriving, more than once,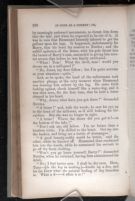 by seemingly awkward movements, to thrust him down
into the lake just when he expected to be out of it. It
was in vain that Hammond honestly labored to get the
gallant upon his legs. It happened, unfortunately for
Barry, that his head lay nearest to Nettles; and the
wilful agitation
of the latter, with his pole thrust into
the breast of Barry's coat, succeeded in giving him several
severe dips before he was finally extricated.
"Whoo! Tom! What the devil, man! would you
drown me in a mill-pond?"
"No, Jones, my dear fellow; but I'm quite nervous
at your situation—quite."
And, as he spoke, the head of the unfortunate took
another plunge, at the very moment when Hammond
was drawing him ashore by the leg. He came forth
looking aghast, shook himself like a water-dog, and it
was then seen, for the first time, that he held a letter
clasped in his hand.
"Why, Jones, what have you got there?" demanded
Nettles.
"A letter!" and, with the words, he cast his eye up
to the head of the mill-seat, as if still looking for Geraldine.
But she was no longer in sight.
"A letter! Where the deuce did you get it?—at
the bottom of the lake?"
"Don't ask me, old fellow. I'm no better than a
heathen icicle. I'm chilled to the heart. Get me into
the bushes, and bring me a bottle of champagne."
"A good brandy-toddy would be better," said the
other, while he hurried off. Hammond then conducted
him into the woods, while he summoned his servant to
go off for fresh clothing.
"Won't you go home yourself, Barry?" demanded
Nettles, when he returned, having first administered his
drink.
"No; I feel better now. I shall be dry soon. Here,
Tony—[to the boy in waiting]—kindle up a fire, and
let me know what the natural feeling of dry breeches
is. What a d—d affair it is!"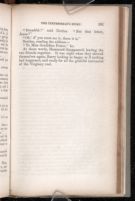 "Dreadful!" said Nettles. "But that letter,
Jones?"
"Oh! if you must see it, there it is."
Nettles, reading the address—
"To Miss Geraldine Foster," &c.
At these words, Hammond disappeared, leaving the
two friends together. It was night when they showed
themselves again, Barry looking as happy as if nothing
had happened, and ready for all the grateful intricacies
of the Virginny reel.
CHAPTER XIV. THE BIRTHDAY FETE. As good as a comedy, or, The Tennesseean's story


---