| | | | |
| --- | --- | --- | --- |
| |   | 6.  | CHAPTER VI. THE RACE.—CROSS PURPOSES. |
CHAPTER VI. THE RACE.—CROSS PURPOSES. As good as a comedy, or, The Tennesseean's story


---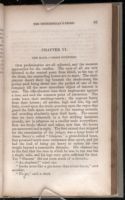 6. CHAPTER VI.
THE RACE.—CROSS PURPOSES.
Our preliminaries are all adjusted, and the moment
approaches for the conflict. The eyes of all are now
directed to the central point from which, at the tap of
the drum, the contending horses are to start. The card-players
desert their log beneath the shade-trees, the
greasy pack being thrust into the pocket of one of the
company till the more immediate object of interest is
over. The rifle-shooters lean their implements against
a tree, and seek the common point of attraction. The
cooks leave their seething-vessels; the negroes hurry
from their horses; all parties, high and low, big and
little, crowd upon the track, pressing upon the ropes that
guard the little space assigned to the running animals,
and crowding absolutely upon their heels. The scenes
that we have witnessed, in a few striking instances
already, are in progress on a smaller scale everywhere.
Bets are freely offered and taken, now that the horses
are uncovered and in sight. The first animal that stripped
for the examination of the judges, was a large horse of
Jones Barry's, called "Glaucus," a great-limbed beast,
that promised much more endurance than speed, and yet
had the look of being too heavy to endure his own
weight beyond a reasonable distance. His chances lay
in the fact that the race in which he was to run was but
a single mile, and his legs were quite sufficient for that.
Yet "Glaucus" did not seem much of a favorite.
"An elephant!" cried one.
"Looks more like a gin-horse than a race-horse," said
another.
"No go," said a third.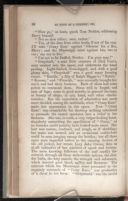 "Slow go," at least, quoth Tom Nettles, addressing
Barry himself.
"Not so slow either; sure, rather."
"Yes, of the dust from other heels, if not of his own.
I'll take `Crazy Kate' against `Glaucus' for a five,
Barry; and the Mississippi mare against him two to
one; say ten to five."
"I'm not to be bluffed, Nettles. I'm your man!"
"Grayshaft," a neat little creature of Dick Vose's,
next vaulted into the space, and underwent the usual
peeling. Light-limbed, clean-legged, and with a good
glossy skin, "Grayshaft" won a good many favoring
voices. "Estella," a filly of Ralph Biggar's; "Nabob,"
"Keener," and "Flourish," were severally brought forward,
and had their backers. Each of them had some
points to commend them. Some told in length and
ease of legs; some in good muscle, in general carriage,
in beauty of shape, in eye, head, and other characteristics.
But the expression of admiration was much
more decided, among the multitude, when "Crazy Kate"
made her appearance in the space. Now "Crazy
Kate" was remarkable for showing nothing calculated
to persuade the casual spectator into a belief in her
fleetness. She was, in truth, a very vulgar-looking beast,
singularly unmeriting the appellation of "Crazy," as
no creature could possibly have looked more tame. Her
hair was coarse, confused, and rough, as if shedding;
her mane was matted, and an occasional cockle-burr
could be seen hanging among the bristles; but all these
signs were regarded rather as the cunning devices of
the old jockey, her owner, Lazy Jake Owens, than as
at all indicative of her qualities of speed and bottom.
The more knowing followers of the turf readily discovered,
through all these unfavorable indices, the slender
limbs, the wiry muscle, the strength and substance,
which denoted good blood, agility, and fleetness. The
contrast which the Mississippi mare presented to the
ungainly externals of "Crazy Kate," was productive
of a shout in her favor. "Graystreak" was the model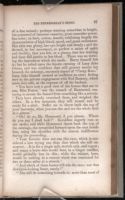 of a fine animal; perhaps wanting somewhat in height,
but possessed of immense capacity, great muscular power,
fine color; in limb, action, muscle, exhibiting largely the
characteristics of high blood, speed, and great endurance.
Her skin was glossy, her eye bright and steady; and she
showed, in her movement, so perfect a union of spirit
and docility, that you felt, at a glance, that her training
had done full justice to her blood. There was no resisting
the impression which she made. Barry himself felt
it; but he relied upon the known cunning of Lazy Jake
Owens, and was confident that still greater merits lay
beneath the unkempt, uncomely aspect of "Crazy Kate."
Lazy Jake himself seemed as confident as ever; feeling
sure in the private engagement with Ned Ramsey, which
made
him
safe, at the expense of all his backers.
"You have now a good view of the horses that are to
run, Miss Foster," was the remark of Hammond, venturing
to arouse the damsel from something like a reverie.
"They have already examined them, and weighed the
riders. In a few moments, they will mount and be
ready for a start. Suffer me to throw back the top of
your barouche, when you can rise and see the whole field
at a glance."
"Oh! do so, Mr. Hammond, if you please. Where
do you say I shall look?" Geraldine eagerly rose as
she spoke, and while Hammond threw back the top of
the carriage, she scrambled forward upon the seat beside
him, using his shoulder with the utmost indifference
during the proceeding.
"Your favorite does not run this race, which is considered
a less trying one than that which she will encounter.
It is for a single mile stretch only, and repeat;
and many a horse who would beat, in a longer conflict,
would probably lose in this; while the winner, here,
would be nothing in a contest which was continued for
two or three miles at a stretch."
"And which of these horses will win the race; not that
dowdyish-looking beast, surely?"
"She will do something towards it; more than most of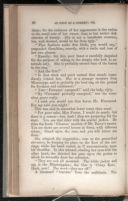 them; for the rudeness of her appearance is due rather
to the small arts of her owner, than to her native deficiencies
of beauty. She is not a handsome creature,
but, well dressed, would be far from ugly."
"Fine feathers make fine birds, you would say,"
responded Geraldine, merrily, with a smile and toss of
her own plumes.
"Exactly: but this poor beast is carefully disguised
for the purpose of taking in the simple, who look to externals
only. She is probably second best of the horses
in the ring."
"And the first?"
"Is that sleek and quiet animal that stands immediately
behind her. She is a strange creature from
Mississippi, and is probably the best nag on the ground
for fleetness and endurance."
"Your `Ferraunt' excepted?" said the lady, slyly.
"My `Ferraunt' probably excepted," was the somewhat
grave reply.
"I wish you would run that horse, Mr. Hammond.
For my sake you might."
This was said in somewhat lower tones than usual.
"For your sake, Miss Foster, I would do much; but
there is a reason—but, hark! they are preparing for the
start. You see that rider with the scarlet jacket. He
rides the horse `Glaucus,' another of Mr. Barry's racers.
You see there are several horses in front, with different
colors. Stand upon the seat, and you will better see
them."
She adopted the suggestion; rose to the prescribed
elevation, he keeping his place on the floor of the carriage,
while her hand rested, as if unconsciously, upon
his shoulder. In this manner, shading her eyes with the
other hand, she directed her gaze upon the points to
which he severally drew her attention.
"They are now all mounted. The white jacket and
cap is the Mississippian; the blue is `Crazy Kate.'
Hark, now! The word—they are off!"
A thousand "hurrahs" from the multitude. The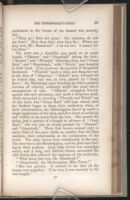 excitement in the bosom of our damsel was scarcely
less.
"They go! they are gone! Oh! mamma, do you
see them? How they dart—how they fly! Where are
they now, Mr. Hammond? I do not see. I cannot follow
them!"
The start was a beautiful one, made at an equal
bound, "Glaucus" and "Grayshaft" taking the lead;
"Keener" and "Flourish" following close, and "Crazy
Kate" and "Graystreak," with "Nabob," just hanging
at their heels. Soon, however, the position of the parties
fluctuated. "Flourish" made a dash, and flung her tail
in the face of "Glaucus;" "Nabob" went forward till
he locked him, and was, in turn, passed by "Crazy
Kate;" the Mississippi mare breezing up with a gradual
increase of velocity, evidently under the most adroit
management of rein. "Glaucus" struggled bravely
against this new adversary, and made a desperate push,
which succeeded in throwing "Flourish and Nabob" out
of the lead; but "Crazy Kate" still kept ahead, until
her backers began to shout their exultation, when, to
their consternation, the Mississippian flared up under a
single application of the whip, and shot ahead as suddenly
and swiftly as an arrow from the bow. She passed the
string just a quarter of a length in advance of "Crazy
Kate," who was just as closely pressed by "Glaucus"
and "Grayshaft." These four horses seemed only so
many links of the same chain, so equally close did they
maintain their relationship at the termination of the
brush. The other horses were considerably in the rear.
The race was to the Mississippian, and the flats were feeling
in their pockets. Lazy Jake Owens was somewhat
scarce, and a long and dubious silence succeeded the
wild shouts that relieved the suspense of the multitude.
"What horse has won, Mr. Hammond?"
"`Graystreak,' the Mississippian, Miss Foster!"
"But not greatly. It seemed to me that all the
horses were together. If he won, it was scarcely by his
own length."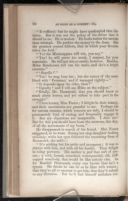 "It sufficed: but he might have quadrupled that distance.
But it was not the policy of his driver that it
should be so. He is modest. He looks rather for success
than triumph. He prefers the money to the fame. But
the greatest contest follows, that in which your favorite
takes the field."
"Yet the Mississippian will win, you say."
"Yes! he will prove too much, I suspect, for your
namesake. He will not win so easily, however. Besides,
Miles Henderson will run his mare, and she's a bright
creature."
"`Sorella?'"
"Yes! he may beat her; but she comes of the same
blood with `Ferraunt,' and if managed rightly—"
"It depends upon the rider, then?"
"Greatly! and I will see Miles on the subject."
"Really, Mr. Hammond, that you should know so
much about horses, and yet refuse to take part in the
struggle!"
"I love horses, Miss Foster; I delight in their beauty,
and their movements are grateful to me. Perhaps but
for certain reasons, which concern me only, I should be
passionately fond of racing, and frequently engage in
it. But my objections are insuperable. I dare not!
But for this you should have been the mistress, this day,
of all the movements of my horse."
He disappeared in search of his friend. Mrs. Foster
sniggered, as he went. Seeing her step-daughter looking
seriously, while her eyes followed the retreating form of
Hammond, she said:—
"It's nothing but his pride and arrogance; it was so
always with him, and with all his family. They delight
in being perverse. His mother is just that sort of person;
a cold, formal, conceited, consequential, old, stiffcapped
somebody, that would be like nobody else. As
for Randall Hammond, every one knows that he's a
tyrant. He thinks he can do as he likes with women;
that they're all so anxious to get him, that they'd submit
to any dictation. But he'll find himself mistaken yet.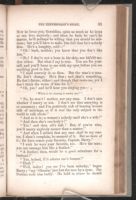 Now he loves you, Geraldine, quite as much as he loves
or can love anybody; and when he finds he can't be
master, he'll perhaps be willing that you should be mistress;
but you'll have to make him feel that he's nobody
first. He's a haughty, cold—"
"Oh! hush, mother; you know that you don't like
him."
"No! I don't; not a bone in his skin, nor his old mother
either. But what I say is true. You see for yourself,
and you'll learn to see with my eyes before you see
anything good in him!"
"I shall scarcely do so then. But the man's a man.
He don't change. He's firm; and that's something.
He don't flatter, either; and though that vexes me, yet I
don't think the worse of him for it."
"Oh, yes! and he'll hear you singing yet—
`When is he coming to marry me?'"
"No, he won't! mother, nor any man. I don't care
whether I marry or not. I don't see that marrying is
so necessary; and I'm positively sick of hearing women
talk of marriage, as if it was the only subject in the
world to talk about."
"And so it is; a woman's nobody until she's a wife!"
"And then she's one-body's!"
"Yes! and then all's safe! But, if you're wise,
you'll marry anybody sooner than a master."
"And when I submit that any man shall be my master,
I shan't complain, be assured of it. But no more of
it; for here comes your favorite, Captain Barry."
"I wish he were your favorite, too. He's the man;
you can manage him like a feather."
"A feather, then, would be a good substitute for a
husband!"
"Yes, indeed, if it adorns one's bonnet!"
"Hush!"
"Well, ladies! you see I've been unlucky," began
Barry; "my `Glaucus' just lost the race by a span. Jim
Perkins rode him badly. He held in where he should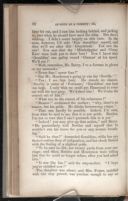 have let out, and I saw him looking behind, and jerking
in, just when he should have used the whip. But that's
nothing. I didn't count largely on this race. In the
next, however, I'll ride `Fair Geraldine' myself, and
then we'll see after this `Graystreak.' You saw the
run? You saw that the `Mississippian' and `Crazy
Kate' were both put to their best? Now I know that
`Geraldine' can gallop round `Glaucus' at his speed.
We'll see!"
"Well, remember, Mr. Barry, I've a fortune in gloves
on my namesake."
"Never fear! never fear!"
"But Mr. Henderson's going to run his `Sorella.'"
"Yes; I see him busy. He stands no chance.
`Sorella' is sister of `Ferraunt;' `Geraldine' can beat
'em both. I only wish we could get Hammond to come
out with his iron gray. We'd show him! We'd take the
conceit out of him!"
"What can be the reason of his reluctance?"
"Reason!" exclaimed the mother; "why, there's no
reason, but his pride. He thinks horsearcing vulgar."
"That can hardly be possible. Indeed, I'm sure,
from what he said to me, that it is not pride. Besides,
I'm not so sure that I can't persuade him to it yet."
"Indeed! you may give up that notion," said Barry.
"He particularly told Nettles and myself that he
wouldn't run his horse for you or any woman breathing."
"Said he that?" demanded Geraldine, while her eye
flashed sudden fires of indignation, and her cheek flushed
with the feeling of a slighted pride.
"To be sure he did; not twenty yards from your carriage;
and when Nettles and Henderson were telling
him that he could no longer refuse, after you had asked
him."
"It was like him!" said the step-mother. "I hope
you're satisfied now!"
The daughter was silent; and Mrs. Foster, satisfied
with the step gained, was prudent enough to say no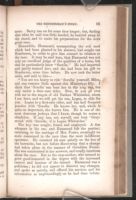 more. Barry ran on for some time longer; but, finding
that what he said was little heeded, he hurried away to
the stand, and to make his preparations for the next
great race.
Meanwhile, Hammond, unsuspecting the evil seed
which had been planted in his absence, had sought out
Henderson, in order to give him counsel in relation to
the race. It may be said here, that Hammond was not
only an excellent judge of the qualities of a horse, but
that he particularly knew "Sorella." He had imported
and partly trained her; and she had been his gift to
Henderson, some time before. He now took the latter
aside, and said to him—
"You are too heavy to ride `Sorella' yourself, Miles,
and can venture little against this Mississippi filly. I
think that `Sorella' can beat her in the long run, but
only under a first-rate rider. Now, do you go over
with me to the wagon of old Nathan Whitesides, whom
I see here, and we will get his son, Logan, to ride for
you. Logan is a first-rate rider, and has had frequent
practice with `Sorella.' He knows her, and, which is
quite as important, she knows him. He is one of the
most dextrous jockeys that I know, though he seems a
simpleton. If any one, not myself, can beat `Graystreak'
with `Sorella,' it is Logan Whitesides."
The boy was sought, found, and employed. A few
whispers in his ear, and Hammond left the parties;
returning to the carriage of Mrs. Foster, seemingly no
more concerned in the race than the most indifferent
spectator. He resumed his seat quietly on the box of
the barouche, but not before discovering that a change
had taken place in the manner of Geraldine Foster.
She was constrained in her answers, and totally incurious
about the race. Not so the step-mother, who seemed to
grow good-humored in due degree with the increased
reserve and hauteur of the damsel. Hammond was a
politician; he did not appear to discover any changes,
and spoke as quietly, and offered his services and his
information as unpretendingly as he had done before.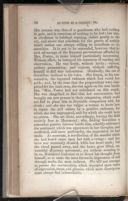 His manner was that of a gentleman who had nothing
to gain, and is conscious of nothing to be lost; but who,
in obedience to habitual training, defers gently to the
sex, and shows that solicitude for the graces of society
which makes one always willing to contribute to its
amenities. It is not to be concealed, however, that he
took advantage of the frequent provocations afforded by
Mrs. Foster, to make himself particularly interesting.
Without effort, he betrayed his resources of reading and
observation. He was lively, without levity; various,
without painstaking; and copious, without suffering
himself to fall into tediousness. Gradually, the ear of
Geraldine inclined to his voice. She forgot, in his conversation,
the reported rudeness which had vexed her
pride; and, by the time that the preparations were completed
for the main race, she was again on the seat beside
him. Mrs. Foster had not calculated on this result.
She was chagrined to find that her conversation had
brought out new powers in their companion, which could
not fail to place him in favorable comparison with his
rivals; and she was too vulgar a woman to know how
to repair the evil unless by a positive rudeness, for
which she was unprepared, and for which she could have
no excuse. She sat silent, accordingly, leaving the field
entirely free to Hammond; who, finding Geraldine a
somewhat pensive listener beside him, adroitly addressed
the sentiment which was uppermost in her thoughts, and
confirmed, still more profoundly, the impression he had
made. At moments, a recollection of the scandal which
she had heard came upon her with a twinge; and her
brow was momently clouded, while her heart sunk; but
the cloud passed away, and the heart grew lifted, as,
watchful of every movement, yet without seeming to
be so, Hammond took care so to direct her thought
from
himself, as to make the most favorable impression of self
through media the most indirect. We will not attempt
to pursue the conversation, which depended upon turns
of expression, tones, and glances, which mere description
must always find indescribable.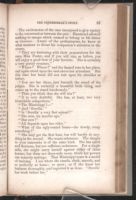 The excitements of the race interposed to give variety
to the conversation between the pair. Hammond allowed
nothing to escape which seemed to belong to his duties
as cicerone. Aware of the preliminaries, he knew at
what moment to direct his companion's attention to the
course.
"They are hastening with their preparations for the
race, Miss Foster, and if you will rise, as before, you
will enjoy a good view of your favorite. She is certainly
a very pretty creature."
"Where? Where?" and the damsel rose in her place,
and again stood upon the seat above her attendant. But
this time her hand did not rest upon his shoulder as
before.
"You see her there, just beneath the stand of the
judges. She is certainly a beautiful little thing, and
comes up to the stand handsomely."
"Then you think that she will win?"
"It is very doubtful. She has, at least, two very
formidable competitors."
"The Mississippi?—"
"And `Sorella.'"
"Is `Sorella' a very fast animal?"
"She was, six months ago."
"But now?"
"All depends upon her rider."
"What of the ugly-coated beast—the dowdy, crazy
something?"
"She may get the first heat, but will hardly do anything
in the second. She wants substance. The danger
to your namesake is of the same kind. She has spirit
and fleetness, but not sufficient endurance. For a single
mile, she might carry herself against either of these
horses; but these are three-mile races, which her powers
can scarcely undergo. That Mississippi mare is a model
of training. I see where she stands, sleek, smooth, and
so perfectly at home; so quiet; as if she knew her
business thoroughly, and regarded it as done. `Sorella'
has work before her."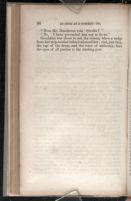 "Does Mr. Henderson ride `Sorella?'"
"No. I have persuaded him not to do so."
Geraldine was about to ask the reason, when a nudge
from her step-mother behind silenced her; and, just then,
the tap of the drum, and the voice of authority, drew
the eyes of all parties to the starting-post.
CHAPTER VI. THE RACE.—CROSS PURPOSES. As good as a comedy, or, The Tennesseean's story


---