| | | | |
| --- | --- | --- | --- |
| |   |   | MRS. PARTINGTON ON SURPRISE PARTIES. |
Knitting-work


---
MRS. PARTINGTON ON SURPRISE PARTIES.
"They 're all very well, surprise parties are," said
Mrs. Partington, laying her knitting-work in her lap,
and putting her specs up on the roof of her cap.
"They 're all very well where folks are prepared for
'em; where they have the sandwiches and cold ham all
cut and dried, with the lemonade in the goblins, and the
coffee in the tureen all ready to be turned out; but
where they come like an army, hungry as bears and
hypothenuses, and ready to eat one up, with no provisions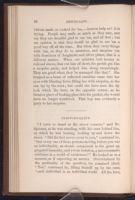 made or cooked for 'em, — heaven help us! it is
trying. People may smile as much as they may, and
say they are dreadful glad to see 'em, and all that; but
my opinion is that they would be glad to see 'em a
good way off, all the time. But when they carry things
with 'em, as they do to ministers, and surprise 'em
with donations of doughnuts and silver plates, that is a
different matter. When our minister lost money in
railroad shares, that cut him off short, his perish gin him
a surprise party, and helped him along surprisingly.
They are good when they 're managed like that." She
stopped as a beam of reflected sunshine came into her
eyes with blinding force, filling her with surprise, as the
sun lay by the west; but could she have seen the sly
look which Ike bore, on the opposite corner, as he
thrust a piece of looking-glass into his pocket, she would
have no longer wondered. That boy was evidently a
party to her surprise.
Knitting-work


---