| | | | |
| --- | --- | --- | --- |
| | | 1.  | |
| | | | |
| --- | --- | --- | --- |
| | | 2.  | |
| | | | |
| --- | --- | --- | --- |
| | | 3.  | |
CHAPTER VIII. Tiger-lilies


---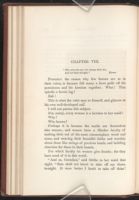 8. CHAPTER VIII.
"Who cross the sea, but change their sky,
And not their thought."
Horace.
Possibly the reason why few heroes are so to
their valets, is because full many a hero pulls off his
pantaloons and his heroism together. What! That
spindle a heroic leg?
Bah!
This is what the valet says to himself, and glances at
his own well-developed calf.
I will not pursue this subject.
But, surely, every woman is a heroine to her maid!
Why?
Who knows?
Perhaps it is because the maids are themselves
also women; and women have a Hindoo faculty of
making idols out of the most commonplace wood and
stone, and weaving their beautiful faiths and worship
about these like strings of precious beads, and building
churches for these in their hearts.
For which faculty let women give thanks; for they
have need of it in this world.
"And so, Gretchen," said Ottilie to her maid that
night, "thou shalt not kneel to take off my shoes,
to-night. It were better I knelt to take off thine!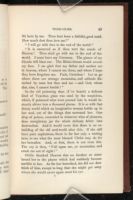 Sit here by me. Thou hast been a faithful, good maid.
How much dost thou love me?"
"I will go with thee to the end of the world!"
"It is answered as if thou wert the oracle of
Heaven! Thou shalt go with me to the end of the
world. I must leave my Germany. The glance of my
friends will blast me. The Rhine-breeze would scorch
my face. I am glad that my father and mother are
in heaven, where I cannot see them, and where I hope
they have forgotten me. Pack, Gretchen! Let us go
where there are strange mountains, and solitude disturbed
by none but thee and me — and God, whom
alas, alas, I cannot banish!"
In the old poisoning days (I 've heard) a delicate
kind of Venetian glass was used by the suspicious,
which, if poisoned wine were poured into it, would instantly
shiver into a thousand pieces. It is so with that
dainty world which an imaginative woman builds up in
her soul, out of the things that surround her. One
drop of poison, concealed in whatever wine of pleasure,
does straightway jar the whole delicate fabric into
destruction. And it would seem that there is no rebuilding
of the old soul-world after this. If she still
have pure aspirations, there is for her only a waiting
here, to see what the most blessed Christ may do for
her hereafter. And, at first, there is not even this.
The cry is then, "Fall upon me, ye mountains, and
crush me out of sight!"
Ottilie thanked Heaven that no brother or sister
bound her to the places which had suddenly become
terrible to her. As for her betrothed, she did not dare
think of him, except to long that she might get away
where she would never again meet his eye.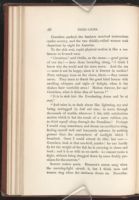 Gretchen packed, the bankers received instructions
under secrecy, and the two thickly-veiled women took
departure by night for America.
To the sick soul, rapid physical motion is like a sea-breeze
to fevered men.
"Gretchen," said Ottilie, as the steam — good genius
of our day! — bore them bounding along, "I think I
know why the world and the stars move. And the sea
— must it not be happy, since it is forever in motion?
Poor, unhappy trees on the shore, there — they cannot
move. They seem to thank the good kind breeze with
swelling whispers and sighs of delight, when it but
shakes their unwieldy arms! Motion forever, for me!
Gretchen, what is thine idea of heaven?"
"It is to sink into the Everlasting Arms and be at
rest."
"And mine is, to dash about like lightning, my soul
being unclogged by dull old sins; to move through
thousands of worlds, wherever I list, with unlaborious
motion which is but the result of a mere volition, yes,
to think myself along through the Paradises! Perhaps
I would stop, sometimes, and dream on meditative wing,
feeling myself well and buoyantly upbrone by nothing
grosser than the atmosphere of sunlight which I
breathed. Once I could almost do this; but now —
Gretchen, look at that sea-bird, yonder! he can hardly
fly for the weight of the fish he is carrying in claws and
beak; and it is so with us on earth: we cannot make a
flight, without being dragged down by some fleshly pro-vision-for-the-morrow."
Sorrow makes poets. Memnon's statue sang when
the morning-light struck it, but I think men and
women sing when the darkness draws on. Nevertheless
---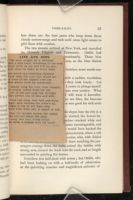 ---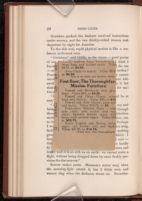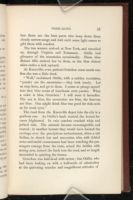 those are the best poets who keep down these
cloudy sorrow-songs and wait until some light comes to
gild them with comfort.
The two women arrived at New York, and travelled
on, through Virginia and Tennessee. Ottilie had
glimpses of the mountains occasionally. These blue
distant hills enticed her to them, as the blue distant
skies entice a lark upward.
At Knoxville, even patient Gretchen must needs confess
she was a little tired.
"Well," exclaimed Ottilie, with a sudden resolution,
"yonder are the mountains — they look lonely. Let
us stop here, and go to them. I yearn to plunge myself
into that blue ocean of loneliness over yonder. What
a color is blue, Gretchen! I will wear it hereafter.
The sea is blue, the mountains are blue, the heavens
are blue. One might think blue was good for sick souls
as for weak eyes."
The road from the Knoxville depot into the city is a
perilous one. As Ottilie's hack started, the horses became
frightened. In vain coachee cracked whip and
jerked rein. The animals became unmanageable, and
reared; in another instant they would have backed the
carriage over the precipitous embankment, when a tall
Indian, in slouch hat and moccasins, who, with folded
arms and stolid countenance had been watching the passengers
emerge from the train, seized the bridles with
strong arm, turned the hack into the road, and at length
succeeded in quieting the horses.
Gretchen was half-dead with terror; but Ottilie, who
had been looking on with a half-smile of admiration
at the quivering muscles and magnificent attitudes of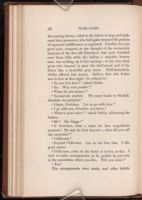 the rearing horses, called to the driver to stop, and beckoned
their preserver, who had again resumed his position
of apparent indifference, to approach. Possibly her eyes
grew more eloquent, as she thought of the melancholy
remnant of the fine old Cherokees that once bounded
over these hills, while the Indian, a majestic, brawny
man, was walking up to her carriage: at any rate, those
great orbs beamed in upon the half-tamed soul of the
fellow like a beautiful gray dawn. Half-shamefully,
Ottilie offered him money. Believe that this Indian
was in love at first sight: he refused it!
"Do you live here?" asked Ottilie.
"No. Way over yonder!"
"When do you return?"
"To-morrow mornin'. We carry books to Obadiah.
Obadiah our preacher."
"Listen, Gretchen. Let us go with him!"
"I go with you, Fraulein, anywhere."
"What is your name?" asked Ottilie, addressing the
Indian.
"Me? Jim Saggs!"
"O Gretchen, what a name for that magnificent
creature! He says he lives beyond — what did you call
the mountain?"
"Chilhowee."
"Beyond Chilhowee. Let us call him that. I like
good names.
"Chilhowee, come to the hotel at twelve, to-day. I
wish to make arrangements to be guided by you over
to the mountains, where you live. Will you come?"
"Yes."
The arrangements were made, and after infinite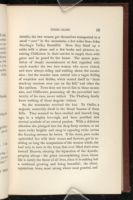 trouble, the two women got themselves transported to a
small "cove" in the mountains, a few miles from John
Sterling's Valley Beautiful. Here they fitted up a
cabin with a piano and a few books and pictures, retaining
Chilhowee in their service to supply them with
game and be guard for the house. The sparse population
of simple mountaineers at first regarded with
much wonder the two lone women who never visited,
and were always riding and walking about the mountains;
but the wonder soon settled into a vague feeling
of suspicion and dislike, which vented itself in "them
stuck-up creeturs over yan on the hill," and other the
like epithets. News does not travel fast in these mountains,
and Chilhowee, possessing all the proverbial taciturnity
of his race, never tattled. The Thalberg family
knew nothing of these singular visitors.
So, the mountains received the lost. To Ottilie, a
majestic maternity dwelt in the broad bosoms of these
hills. They seemed to have swelled and heaved, long
ago, in a mighty love-sigh, and been petrified into
eternal symbols of an eternal passion. With a delicious
abandon she plunged into the deep ferny ravines, or sat
upon rocky heights and sung to opposing rocks across
the foaming streams far below. If the stern, pure rocks
upbraided her with their seams and furrows, got in resisting
so long the temptations of the wanton winds, she
had only to turn to the trees, that ever lifted their arms
toward Heaven, obeying the injunction of the Apostle,
praying always: the great uncomplaining trees, whose
life is surely the finest of all lives, since it is nothing but
a continual growing and being beautiful; the silent,
mysterious trees, most strong where most gnarled, and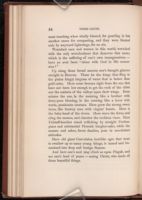 most touching when wholly blasted, for gnarling is but
another name for conquering, and they were blasted
only by wayward lightnings, for no sin.
Wretched men and women in this world, wretched
with the only wretchedness that deserves that name,
which is the suffering of one's own transgressions, —
have ye ever been "alone with God in His mountains?"
Up along those broad ascents one's thought glances
straight to Heaven. These be the kings that fling to
the plains kingly largesse of water that is better than
gold coins. Here come breezes right from the sea, that
have not been low enough to get the reek of the cities
nor the malaria of the valleys upon their wings. Here
salutes the sun, in the morning like a brother with
dewy-pure blessing, in the evening like a lover with
warm, passionate caresses. Here grow the strong, sweet
trees, like brawny men with virgins' hearts. Here is
the baby-hood of the rivers. Here wave the ferns, and
cling the mosses, and clamber the reckless vines. Here
Falstaff-beeches stand rollicking by straight Puritanpines
and substantial Flemish burgher-oaks, while the
mosses and ashes, forest dandies, pose in nonchalant
attitudes.
Here old giant Convulsion, horrible orge that wont
to swallow up so many young things, is tamed and humanized
into deep and benign Repose.
And here one's soul may climb as upon Pisgah, and
see one's land of peace — seeing Christ, who made all
these beautiful things.
CHAPTER VIII. Tiger-lilies


---