| | | | |
| --- | --- | --- | --- |
| | | 1.  | |
| | | | |
| --- | --- | --- | --- |
| | | 2.  | |
| | | | |
| --- | --- | --- | --- |
| | | 3.  | |
CHAPTER VII. Tiger-lilies


---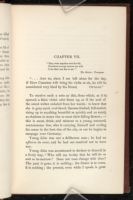 7. CHAPTER VII.
"They were together and she fell,
Therefore revenge became me well.
O the Earl was fair to see!"
The Sisters: Tennyson.
"... And so, since I am left alone for the day,
if Herr Cranston will bring his violin at six, he will be
considered very kind by his friend,
Ottilie."
To receive such a note as this, from which, as it is
opened, a faint violet odor floats up, as if the soul of
the sweet writer exhaled from her words; to know that
she is gray-eyed, oval-faced, lissome-limbed, full-souled,
rising up to anything beautiful as quickly and as surely
as shadows in water rise to meet their falling flowers; —
this is meat, drink, and raiment to a young, untamed,
venturesome lion, who is currying himself and curling
his mane in the best den of the city, or ere he begins to
rampage over Germany.
Young John was not a deliberate man; he had no
affaires du cœur, and he had not resolved not to have
any.
Young John was accustomed to declare to himself, in
a lively way, "Who will say to-day that he will do so
and so to-morrow? Does not man change with time?
The past is gone, it is nothing; the future is to come,
it is nothing; the present, even while I speak, is gone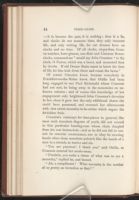 — it is become the past, it is nothing; time is a lie,
and clocks do not measure time, they only measure
life, and only waking life, for our dreams have no
clocks and no time. Of all clocks, clepsydras, Geneva-watches,
hour-glasses, sun-dials and Linnæan flower-clocks,
commend me" would say John Cranston "to thy
clock, O Festus, which was a heart, and measured time
by throbs. If old Doctor Brain wants to know the time
of life, let him look down there and count the beats."
Of course Cranston knew, because everybody in
Frankfort-on-the-Maine knew, that Ottilie had been
long engaged to one Paul Rübetsahl whom Cranston
had not met, he being away in the mountains on unknown
mission; and of course this knowledge of her
engagement only heightened John Cranston's devotion
to her, since it gave her the only additional charm she
could have possessed, and crowned her allurements
with that sweet necessity-to-be-stolen which sugars the
forbidden fruit.
Cranston's contempt for time-pieces in general, like
most such truculent disgusts of youth, did not extend
to that particular hunting-case whose chain dangled
from his vest button-hole; and so he did not fail to consult
its oracular countenance, nor to obey its warning
hands when those members pointed, like the hands of a
man in a stretch, to twelve and six.
"You are punctual: I thank you," said Ottilie, as
Cranston entered her music-room.
"Fraulein, you make a virtue of what was to me a
necessity," replied he, and bowed.
"Ah, a compliment! What necessity is the mother
of so pretty an invention as that?"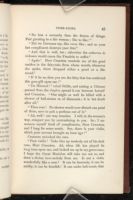 "No less a necessity than the fitness of things.
Fair greeting to a fair woman; like to like!"
"But we Germans say, like cures like; and so your
last compliment destroys your first."
"And that is well, too; otherwise the embarras de
richesses would cause the Fraulein to suffer."
"Again! Herr Cranston reminds me of the good
maiden in the fairy-tale, from whose mouth, whenever
she spoke, there dropped either a pearl or a diamond."
"If it be so, then you are the fairy that has conferred
this gem-gift upon me!"
"Du Himmel!" cried Ottilie, and seizing a Chinese
parasol from the étagère, spread it out between herself
and Cranston. "One might as well be killed with a
shower of hail-stones as of diamonds; it is but death
after all."
"Thou rose! No shower would ever disturb one petal
of thine, save to pelt a perfume out of it."
"Ah, well! one way remains. I will, in the woman's
way, conquer you by surrendering to you. So; I announce
myself tired of compliments, Herr Cranston,
and I long for some music. See, there is your violin,
which your servant brought an hour ago!"
Cranston unlocked the case.
"Poor violin! Take him up tenderly out of his dark
case, Herr Cranston. Ah, when life has played its
long tune upon me, and locked me up in my grave-case,
I hope the Great Musician will take me out so, and
draw a divine love-melody from me. Is not a violin
wonderfully like a man? It can be heavenly, it can be
earthy, it can be fiendish! It can make lark-music that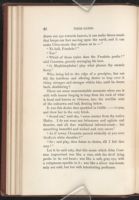 draws our eye towards heaven, it can make dance-music
that keeps our feet moving upon the earth, and it can
make Circe-music that allures us to —"
"To hell, Fraulein?"
"Yes."
"Which of these styles does the Fraulein prefer?"
said Cranston, gravely arranging his bow.
"O, Mephistopheles! play what pleases thy satanic
fancy."
Who, being led to the edge of a precipice, has not
felt the insidious and alluring desire to leap over it
rising stronger and stronger within him, until he draws
back, shuddering?
There are some unaccountable moments when one is
wild with insane longing to leap from the rock of what
is fixed and known as virtuous, into the terrible mist
of the unknown and bad, floating below.
It was this desire that sparkled in Ottilie —'s eyes,
and drew her to the very brink.
"Sound me," said she, "some strains from thy native
Hades. I do not want any brimstone and agitato and
thunder, and all that traditional infernal-music; but
something beautiful and wicked and very sweet."
"As if tawny Cleopatra peered wickedly at you over
Godiva's white shoulder?"
"So; and play, thou Satan in chains, till I bid thee
stay!"
Let it be said only, that this music which John Cranston
improvised was like a rose, with the devil lying
perdu in its red heart; was like a soft, gray eye, with
a voluptuous sparkle in it; was like a silver star-beam,
only not cold, but hot with intoxicating perfumes.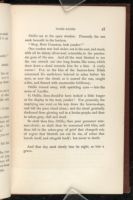 Ottilie sat at the open window. Presently the sun
sank beneath to the horizon.
"Stop, Herr Cranston, look yonder!"
One modest star had stolen out in the east, and stood,
with all its dainty silver-soul a-tremble, in the passionate
gaze of the sun. And all the west blushed to see
the sun stretch out two long beams, like arms, which
drew down a cloud towards him for a kiss. A costly
caress! For, as the kiss of the heaven-born Zillah
consumed his earth-born beloved to ashes before his
eyes, so now the cloud, as it neared the sun, caught
a-fire, and flamed with unutterable brilliancy.
Ottilie turned away, with sparkling eyes — into the
arms of Lucifer.
O, Ottilie, thou should'st have looked a little longer
at the display in the west, yonder! For, presently, the
unpitying sun went on his way down the heaven-slope,
and left the poor cloud alone; and the cloud gradually
darkened from glowing red to a bruise-purple, and then
to ashen-gray, dull and dead.
So shalt thou fare, Ottilie, thou poor gossamer summer-cloud;
so shalt thou be consumed with bliss, and
then left in the ashen-gray of grief that changeth not,
of regret that blotteth not out its sin, of crime that
hateth itself, and stingeth itself; but never to death.
And that day sank slowly into its night, as into a
grave.
CHAPTER VII. Tiger-lilies


---