The Linwoods; or, "Sixty years since" in America


---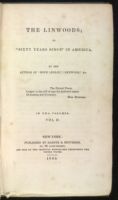 THE LINWOODS;
OR,
"SIXTY YEARS SINCE" IN AMERICA.
BY THE
AUTHOR OF "HOPE LESLIE," "REDWOOD," &c.
The Eternal Power
Lodged in the will of man the hallowed names
Of freedom and of country.
Miss Mitford.
IN TWO VOLUMES.
VOL. II.
NEW-YORK:
PUBLISHED BY HARPER & BROTHERS,
NO. 82 CLIFF-STREET,
AND SOLD BY THE PRINCIPAL BOOKSELLERS THROUGHOUT THE
UNITED STATES.
1835.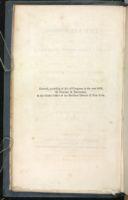 Entered, according to Act of Congress, in the year 1835,
By
Harper & Brothers,
In the Clerk's Office of the Southern District of New-York.
The Linwoods; or, "Sixty years since" in America


---