CHAPTER XXXIX. The Linwoods; or, "Sixty years since" in America


---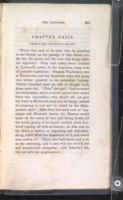 39. CHAPTER XXXIX.
"Good to begin well, better to end well."
What was next to be done was as puzzling
to our friends as the passage of that classic trio,
the fox, the goose, and the corn, was to our childish
ingenuity. Duty and safety were involved
in Linwood's return to the American camp with
all possible expedition. General Washington was
at Morristown, and the American army was going
into winter quarters in its immediate vicinity.
Thither Linwood must go, and so thought Lady
Anne must she. "Fate," she said, "had seconded
her inclinations, and to contend against their united
force was impossible; why should she not give
her hand to Herbert at once and be happy, instead
of returning to vex and be vexed by her disappointed
aunt? After they had made sure of happiness
and Heaven's favour, for Heaven would
smile on the union of true and loving hearts, let
the world gossip to its heart's content about Linwood
running off with an heiress; he who was so
far above a motive so degrading and soul-sacrificing,
could afford the imputation of it, and would
soon outlive it." There was both nature and truth
in her reasoning, and it met with her lover's full
and irrepressible sympathy; with Isabella's too,
but not with her acquiescence.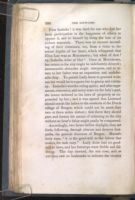 Poor Isabella! it was hard for one who had her
keen participation in the happiness of others to
oppose it, and to hazard by delay the loss of its
richest materials. There was an earnest seconding
of their entreaties, too, from a voice in the
secret depths of her heart, which whispered that
Eliot Lee was at Morristown; but what of that?
ay, Isabella, what of that? Once at Morristown,
her return to the city might be indefinitely delayed;
innumerable obstacles might interpose, and to return
to her father was an imperative and undeferable
duty. To permit Lady Anne to proceed without
her would be to expose her to gossip and calumny.
Isabella's was the ruling spirit; and after arguments,
entreaties, and many tears on the lady's part,
the lovers deferred to the laws of propriety as expounded
by her; and it was agreed that Linwood
should escort the ladies to the outskirts of the Dutch
village of Bergen, which could not be more than
two or three miles distant; that there they should
part, and thence the means of returning to the city
without an hour's delay might easily be compassed.
Accordingly, two hours before daylight, they set
forth, following, through obscure and devious foot-paths,
the general direction of Bergen. Miranda
truly says, "it is the good-will to the labour that
makes the task easy." Lady Anne had no goodwill
to hers, and her footsteps were feeble and faltering.
The day dawned, the sun rose, and as
yet they saw no landmarks to indicate the vicinity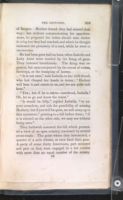 of Bergen. Herbert feared they had missed their
way; but without communicating his apprehensions,
he proposed the ladies should take shelter
in a log-hut they had reached, and which he thought
indicated the proximity of a road, while he went to
reconnoitre.
He had been gone half an hour, when Isabella and
Lady Anne were startled by the firing of guns.
They listened breathlessly. The firing was repeated,
but unaccompanied by the sound of voices,
footsteps, or the trampling of horses.
"It is not near," said Isabella to her little friend,
who had clasped her hands in terror; "Herbert
will hear it and return to us, and we are quite safe
here."
"Yes; but if he is taken—murdered, Isabella?
Oh, let us go and know the worst."
"It would be folly," replied Isabella, "to expose
ourselves, and risk the possibility of missing
Herbert; but if you will be quiet, we will creep up to
that eminence," pointing to a hill before them; "if
it is cleared on the other side, we may see without
being seen."
They forthwith mounted the hill, which presented
a view of an open country, traversed by several
cross-roads. The point where they intersected, a
quarter of a mile distant, at once fixed their gaze.
A party of some thirty Americans, part mounted
and part on foot, were engaged in a hot contest
with more than an equal number of the enemy.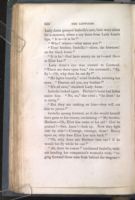 Lady Anne grasped Isabella's arm, both were silent
for a moment, when a cry burst from Lady Anne's
lips, "It is—it is he!"
"Who? where—what mean you?"
"Your brother, Isabella!—there, the foremost!
on the black horse!"
"It is he! God have mercy on us!—and there
is Eliot Lee!"
Lady Anne's eye was riveted to Linwood.
"There are three upon him," she screamed; "fly,
fly!—Oh, why does he not fly?"
"He fights bravely," cried Isabella, covering her
eyes. "Heaven aid you, my brother!"
"It's all over," shrieked Lady Anne.
Isabella looked again. Herbert's horse had fallen
under him. "No, no," she cried; "he lives! he
is rising!"
"But they are rushing on him—they will cut
him to pieces!"
Isabella sprang forward, as if she would herself
have gone to his rescue, exclaiming—"My brother,
Herbert—Oh, Eliot has come to his aid! God be
praised!—See, Anne!—look up. Now they fight
side by side!—Courage, courage, Anne! Mercy
upon us, why does Eliot Lee turn back?"
"Oh, why does not Herbert turn too? if he
would but fly while he can!"
"Ah, there he comes!" exclaimed Isabella, without
heeding her companion's womanly wish, "urging
forward those men from behind the wagons—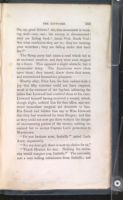 On, on, good fellows! Ah, that movement is working
well—see, see; the enemy is disconcerted!
they are falling back! thank God, thank God!
See what confusion they are in; they are running,
poor wretches; they are falling under that back
fire!"
The flying party had taken a road which led to
an enclosed meadow, and they were soon stopped
by a fence. This opposed a slight obstacle, but it
occasioned delay. The Americans were close
upon them; they turned, threw down their arms,
and surrendered themselves prisoners.
Shortly after, Eliot Lee, his face radiant with a
joy that fifty victories could not have inspired,
stood at the entrance of the log-hut, informing the
ladies that Linwood had confided them to his care;
Linwood himself having received a wound, which,
though slight, unfitted him for that office, and rendered
immediate surgical aid desirable to him.
His friend had bidden him say to Miss Linwood
that they had wandered far from Bergen; and that
as they could not now get there without the danger
of encountering parties of the enemy, nothing remained
but to accept Captain Lee's protection to
Morristown.
"Do you hesitate now, Isabella?" asked Lady
Anne, impatiently.
"No, my dear girl, there is now no choice for us."
"Thank Heaven for that. Nothing but necessity
would conquer you, Isabella." The necessity
met a very willing submission from Isabella; and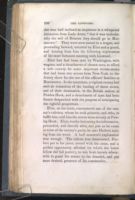 she was half inclined to acquiesce in a whispered
intimation from Lady Anne, "that it was undoubtedly
the will of Heaven they should go to Morristown."
They were soon seated in a wagon, and
proceeding forward, escorted by Eliot and a guard,
and hearing from him the following explanation
of his most fortunate meeting with Linwood.
Eliot Lee had been sent by Washington, with
wagons, and a detachment of chosen men, to afford
a safe convoy for some important winter-stores
that had been run across from New-York to the
Jersey shore for the use of the officers' families at
Morristown. In the meantime, a vigilant enemy had
sent an intimation of the landing of these stores,
and of their destination, to the British station at
Powles Hook, and a detachment of men had been
thence despatched with the purpose of anticipating
the rightful proprietors.
Eliot, on his route, encountered one of the enemy's
videttes, whom he took prisoner, and who, to
baffle him, told him the stores were already at Powles
Hook. Eliot, warily distrusting the information,
proceeded, and directly after, and just as he came
in view of the enemy's party, he met Herbert issuing
from the wood. A half moment's explanation
was enough. The vidette was dismounted, Herbert
put in his place, armed with his arms, and a
golden opportunity afforded (to which the brave
fellow did full justice), to win fresh laurels where-with
to grace his return to the dreaded, and yet
most desired, presence of his commander.
CHAPTER XXXIX. The Linwoods; or, "Sixty years since" in America


---