CHAPTER XXIII. The Linwoods; or, "Sixty years since" in America


---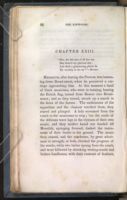 23. CHAPTER XXIII.
"She, the fair sun of all her sex
Has bless'd my glorious day;
And shall a glimmering planet fix
My worship to its ray?"
—Burns.
Meredith, after leaving the Provost, was hastening
down Broad-street, when he perceived a carriage
approaching him. At this moment a band
of black musicians, who were in training, bearing
the British flag, turned from Beaver into Broad-street;
and as they turned, struck up a march in
the faces of the horses. The suddenness of the
apparition and the clamour terrified them, they
reared and plunged. A lady screamed from the
coach to the musicians to stop; but the souls of
the Africans were lapt in the elysium of their own
music, and they neither heard nor heeded till
Meredith, springing forward, dashed the instrument
of their leader to the ground. The music
then ceased, and the coachman, by great adroitness
or strength, or both, checked the progress of
his steeds, while two ladies sprang from the coach,
and were followed by shrieking waiting-maids and
broken bandboxes, with their contents of feathers,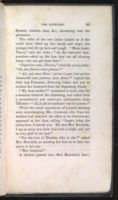 flowers, ribands, fans, &c., showering over the
pavement.
The elder of the two ladies looked as if she
could have lifted up her hands and wept; the
younger did lift up hers and laugh. "Make haste,
Nancy," said the elder; "oh, the coloured hair-powders—shut
up the box, they are all blowing
away—we can get none here."
"Dépêchez vous, Thérése," cried the young lady;
"oh, mes fleurs—mes plumes!"
"Ah, oui, mon Dieu! qu'est ce que c'est qu'une
demoiselle sans plumes, sans fleurs!" replied the
little trig Française, fluttering hither and yon to
reclaim her treasures from the dispersing winds.
"My dear mother!" exclaimed a voice, that for
a moment silenced the chattering, and called forth
a parenthetical and sotto-voce exclamation from
Thérése—"Ah, le fils de madame—un bel homme!"
While the usual expressions of a joyful meeting
were interchanging, Mrs. Linwood, who from her
window had watched the affair to its dénouement,
appeared at her door, calling "Jasper, bring the
ladies here, I entreat you. My dear Mrs. Meredith,
I am so sorry you have had such a fright, and yet
so very glad to see you."
"For the love of Heaven, who is she?" asked
Mrs. Meredith, so averting her face as to limit her
query to her son.
"Mrs. Linwood."
A shadow passed over Mrs. Meredith's face;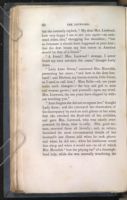 but she instantly replied, "My dear Mrs. Linwood,
how very happy I am to see you again—an awkward
début,
this," shrugging her shoulders; "but
so fortunate it should have happened at your door;
that the first house my foot enters in America
should be that of a friend."
"A friend! Mrs. Linwood! strange, I never
heard my aunt mention the name," thought Lady
Anne.
"Lady Anne Seton," continued Mrs. Meredith,
presenting her niece; "and how is the dear husband?
and Herbert, my harem-scarem little friend,
as I used to call him? Miss Belle—ah, ten years
make such changes—`the boy and girl to man
and woman grown;' and yourself—upon my word,
Mrs. Linwood, the ten years have slipped by without
touching you."
"Aunt forgets she did not recognise her," thought
Lady Anne; and she conveyed her observation of
the discrepancy by such an arch glance at her aunt,
that she checked the flood-tide of her civilities,
and gave Mrs. Linwood, who was nearly overpowered
by them, time to rally. She, good woman,
received them all literally; and, in return,
furnished the most circumstantial details of her
husband's late illness, told when he took physic
and when he did not; when his laudanum made
him sleep and when it would not—to all of which
Mrs. Meredith "lent the pitying ear" of a thorough-bred
lady, while she was mentally wondering the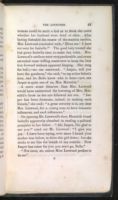 woman could be such a fool as to think she cared
whether her husband were dead or alive. After
having threaded the mazes of the materia medica,
Mrs. Linwood concluded with, "Bless me! I have
not sent for Isabella!" The good lady trusted she
had given Isabella time to make her toilet. Mrs.
Linwood's artifices were very pardonable, and never
exceeded some trifling manœuvre to keep the best
foot forward without apparent limping. She rung
the bell;—no one answered. "Jasper, will you
have the goodness," she said, "to tap at her father's
door, and let Belle know who is here—you see
Jasper is quite one of us, Mrs. Meredith."
A more acute observer than Mrs. Linwood
would have understood the lowering of Mrs. Meredith's
brow as her eye followed her son. "Jasper
has been fortunate, indeed, in making such
friends," she said; "a great security is it, my dear
Mrs. Linwood, for a young man to have domestic
influences, and such influences."
On opening Mr. Linwood's door, Meredith found
Isabella apparently absorbed in reading a political
pamphlet to her father. "Ah, Jasper, I'm glad to
see you!" cried out Mr. Linwood: "I give you
joy. I have been trying, ever since I heard your
mother was below, to drive this girl down; but she
sticks to me like the breath of my nostrils. Now
Jasper has come for you, you must go, Belle."
"Not must, sir, unless Miss Linwood prefers to
do so."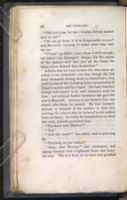 "Did you come for me—I mean, did my mother
send for me?"
"Do not go down if it is disagreeable to you,"
said Meredith, replying to rather more than met
the ear.
"Pshaw! go Belle; your dress is well enough;
the ladies—no disrespect, Jasper, it's the nature
of the animal—will like you all the better for
being worse dressed than themselves."
Isabella was not sorry to have her reluctance ascribed
to her dishabille; but that, though she had
some womanish feeling about it, constituted a very
small portion of her shrinking from a presentation to
Jasper's mother and fair cousin. She had, however,
enough self-control to do well whatever must be
done; and without farther hesitation she gave her
arm to Meredith. As soon as her father's door was
closed after them, he paused. He was intensely
anxious to intimate to his mother, at their first
meeting, the relation that he believed would subsist
between them; but while he hesitated how to word
this wish, Isabella prevented him.
"You have seen Herbert?"
"Yes."
"And the result?" she added, with a quivering
lip.
"Precisely as you wished."
"Dear, dear Herbert!" she exclaimed, and
sprang forward with a lightened heart and buoyant
step. The first flush of elevated and gratified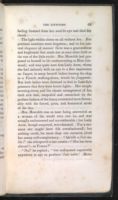 feeling beamed from her soul-lit eye and died her
cheek.
The light within shone on all without her. Her
personal anxieties were forgotten; and to her natural
elegance of manner there was a graciousness
and brightness that made her at once shine forth as
the sun of the little circle. Mrs. Meredith had proposed
to herself to be condescending to Miss Linwood;
and was quite sure that Lady Anne, whom
she had induced, with an eye to a first impression
on Jasper, to array herself before leaving the ship
in a French walking-dress, would be frappante.
But both ladies were destined to feel in Isabella's
presence that they were lesser lights. Her simple
morning-dress, and the classic arrangement of her
dark rich hair, unspoiled and untouched by the
profane fashion of the times, contrasted most favourably
with the forced, prim, and fantastical mode
of the day.
Mrs. Meredith was as near being astounded as
a woman of the world ever can be, and was
actually embarrassed and uncomfortable; but Lady
Anne, though surprised, was charmed. For a moment
she might have felt overshadowed; but
nothing could, for more than one moment, cloud
her sunny self-complacency. "Qu'elle a l'air noble!"
she whispered to her cousin—"She has been
abroad?—in France?"
"No," he replied; "but undisputed superiority
anywhere is apt to produce `l'air noble.' Meredith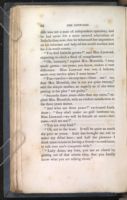 was not a man of independent opinions; and
he had never felt a more assured admiration of
Isabella than now, that he witnessed her impression
on his reluctant and lady-of-the-world mother, and
his
à-la-mode
cousin.
"You find Isabella grown?" said Mrs. Linwood,
expecting to elicit a flood of compliments.
"Oh, certainly," replied Mrs. Meredith, "very
much grown: ten years, you know, makes a vast
difference. Miss Linwood was not, I believe,
much over twelve when I went home."
"Ten—twelve—twenty-two—bless me! no,
dear Mrs. Meredith, she is not yet quite twenty,"
said the simple mother, as eagerly as if she were
putting in the plea "not guilty."
"Scarcely three years older than my niece," replied
Mrs. Meredith, with an evident satisfaction in
the three years minus.
"And what are three years?" exclaimed Lady
Anne; "they shall make no gulf between us,
Miss Linwood—we will be friends at once—intimate—will
we not?"
"You are very kind."
"Oh, not in the least. It will be quite as much
my gain as yours. Aunt has brought me out to
make my début here; and half the pleasure I
think must consist in having a friend—a confidante,
to talk over one's conquests with."
"Lady Anne, my love, you are so elated by
getting out of that odious ship, that you hardly
know what you are talking about."
"I beg your pardon, aunt, I do. I was talking
on the most enchanting subjects: lovers, conquests,
and confidantes."
"And what do you know about lovers and confidantes,
my dear child? They are the unknown
inhabitants of a terra incognita to you."
"My veteran mother," thought Meredith, "would
fain shelter my pretty cousin with the œgis of simplicity."
But simplicity was not in the rôle of the
young lady. "Mille pardons, chere tante," she
replied—"have you not for the last twelve months
been teaching me the geography of this unknown
world?—and, besides, what think you we read of,
talk of, dream of at boarding-school—history?—
Greeks and Romans?—no, no, dear lady: young
lords and nice officers in scarlet coats and epaulettes,
and, now and then, par parenthése—un beau
cousin." A bright glance at Jasper with these last
words propitiated his mother, and Lady Anne was
permitted to proceed. "I take it for granted, Miss
Linwood, that New-York is quite a paradise just
now?"
"If `nice young officers' are the birds of your
paradise, Lady Anne, it is."
"The beau cousin might perhaps be admitted
into yours," retorted the young lady, archly looking
at Isabella for the blush she expected to provoke;
but the blush called for came not to Isabella
Linwood's cheek.
Mrs. Meredith explored another face. Jasper's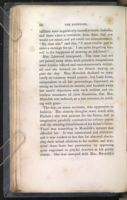 brilliant eyes impulsively turned towards Isabella,
and there came a revelation from them that she
would not admit, and yet could not misunderstand.
"My dear son," said she, "I must trouble you to
order a carriage for us. I am quite forgetting myself
in the happiness of meeting an old friend."
Mrs. Linwood interposed. The time had not
yet passed away when such primitive hospitalities
were frankly offered and unceremoniously accepted,
and she insisted on her friends staying to
pass the day. Mrs. Meredith declined as resolutely
as courtesy would permit; but Lady Anne,
independent in all her proceedings, expressed so
strong an inclination to remain, and brushed away
her aunt's objections with such evident and relentless
assurance of their flimsiness, that Mrs.
Meredith was reduced, as a last resource, to yielding
with grace.
The day, on many accounts, was oppressive to
Isabella. Her sisterly thoughts were much with
Herbert; she was anxious for his future, and in
imagination painfully contrasted his solitary prison
with the seeming cheerfulness of his father's house.
There was something in Meredith's manner that
offended her. It was constrained and elaborate,
and it was evident to her that he shunned disclosing
their actual relations to his mother, and sheltered
them from her penetration by appearing
quite engrossed in playful devotion to his pretty
cousin. She was annoyed with Mrs. Meredith's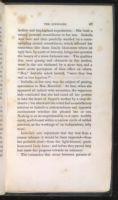 hollow and emphasized superlatives. She bore a
strong personal resemblance to her son. Isabella
was now and then painfully startled by a corresponding
mental resemblance, which affected her
somewhat like those family likenesses where an
ugly face, by a sort of travesty, brings into question
the beauty of a more fortunate one. The qualities
that were glaring and obtrusive in the mother,
were in the son sheltered by a nicer tact, and a
more acute perception of their effect on others.
"But," Isabella asked herself, "were they less
real or less hopeless?"
Isabella, in her turn, was the subject of passing
speculation to Mrs. Meredith. At first, when she
appeared all radiant with animation, the sagacious
lady concluded that she had taxed all her powers
to take the heart of Jasper's mother by a coup-de-théatre;
but afterward she could find no satisfactory
solution to Isabella's abstractedness and apparent
carelessness whether she pleased her or not.
Nothing is so incomprehensible to a mere worldly
spirit, spell-bound within a narrow circle of selfish
interests, as the workings of an independent, lofty
mind.
Isabella's sole enjoyment that day was from a
source whence it would be least expected—from
her probable rival—from the light-hearted, good-humoured
Lady Anne; and before they parted they
had made fair progress towards an intimacy.
The intimacies that occur between persons of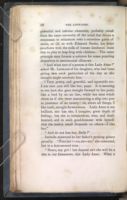 powerful and inferior character, probably result
from the same necessity of the mind that drives a
statesman to relaxation over a senseless game of
cards, or (if, as with Edmund Burke, his heart
overflows with the milk of human kindness) leads
him to play at leap-frog with children. The same
principle may furnish a solution for some puzzling
disparities in matrimonial alliances.
"And what sort of a person is this Lady Anne?"
asked Mr. Linwood of his daughter, who had been
giving him such particulars of the day as she
thought might entertain him.
"Very pretty, and graceful, and agreeable too.
I am sure you will like her, papa. It is amusing
to see how she goes straight forward to her point,
like a bird by an air line, while her aunt winds
about as if she were manœuvring a ship into port
in presence of an enemy; oh, above all things, I
like truth, straight-forwardness. Lady Anne is not
brilliant, nor has she, I imagine, great depth of
feeling; but she is independent, true, and kind-hearted,
and in such good-humour with herself
that she makes small demands on others—I like
her."
"And do not fear her, Belle?"
Isabella answered to her father's probing glance
proudly. "Fear her!—no, sir—no," she reiterated,
but in a less assured tone.
"Bravo, my girl! but depend on't she will be a
star in our firmament, this Lady Anne. What a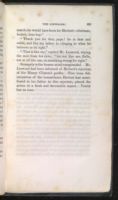 match she would have been for Herbert—obstinate,
foolish, dear boy."
"Thank you for that, papa! he is dear and
noble, and like his father in clinging to what he
believes to be right."
"That is like me," replied Mr. Linwood, wiping
the mist from his eyes; "but not like me, Belle,
not at all like me, in mistaking wrong for right."
Strangely is the human mind compounded. Mr.
Linwood had been informed of Herbert's rejection
of Sir Henry Clinton's proffer. This bona fide
intimation of the resemblance Herbert had manifested
to his father in this rejection, placed the
action in a fresh and favourable aspect. Vanity
has its uses.
CHAPTER XXIII. The Linwoods; or, "Sixty years since" in America


---