---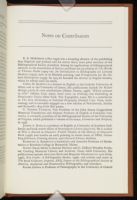 Notes on Contributors
R. B. McKerrow (1872-1940) was a founding director of the publishing firm Sidgwick and Jackson and for nearly thirty years joint secretary of the Bibliographical Society (London). Among his applications of bibliographical methods to the elucidation of literary problems are an edition of The Works of Thomas Nashe (1904- 10); An Introduction to Bibliography for Literary Students (1927), now in its fifteenth printing; and Prolegomena for the Oxford Shakespeare (1939). In 1925 he founded the Review of English Studies, which he edited until his death.
Carlo M. Bajetta is a lecturer in English at the Catholic University of Milan and at the University of Genoa. His publications include Sir Walter Ralegh, poeta di corte elisabettiano (Milan: Mursia, 1998); "Whole volumes in folio" (Milan: Cusl, 2000); Some notes on Printing and Publishing in Renaissance Venice (New York: The Typophiles, 2000). He is a contributor to The New Dictionary of National Biography (Oxford Univ. Press, forthcoming) and is currently engaged on a new edition of Wordsworth, Shelley and Reynold's 1819 Peter Bell poems.
G. Thomas Tanselle, Vice President of the John Simon Guggenheim Memorial Foundation and Adjunct Professor of English at Columbia University, is currently president of the Bibliographical Society of the University of Virginia, which published a volume of his essays, Literature and Artifacts, in 1998.
Joseph A. Dane is a professor of English at University of Southern California and book review editor of Huntington Library Quarterly. He is author of Who is Buried in Chaucer's Tomb?—Studies in the History of Chaucer's Book (1998) and studies on early printing in recent issues of PBSA, Gutenberg-Jahrbuch, Printing History, and Harvard Library Bulletin.
Rosemary A. Roberts is a statistician and Associate Professor of Mathematics at Bowdoin College in Brunswick, Maine.
Steven Escar Smith is Interim Director and C. Clifford Wendler Professor, Cushing Memorial Library and Archives, Texas A&M University. His publications include American Book and Magazine Illustrators to 1920 (Gale, 1998), Roy Fuller: A Bibliography (Scolar, 1996), and articles and notes in The Book Collector, Imprint, ANQ, Papers of the Bibliographical Society of America, Analytical and Enumerative Bibliography, and elsewhere.
Ralph Hanna is Professor of Palaeography at the University of Oxford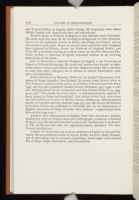 and Tutorial Fellow in English, Keble College. He frequently writes about Middle English and Anglo-Latin texts and manuscripts.
Robert Adams is Professor of English at Sam Houston State University. His main work has been on the theological background of Piers Plowman, but he has also published articles on Robert Browning, on Chaucer, and on the medieval cycle plays. Essays on textual issues associated with Langland have appeared in Medium Ævum, the Yearbook of Langland Studies, and Text. He is currently working as a senior editor on the Piers Plowman Electronic Archive, a collection of lightly annotated editions of all surviving manuscripts of the poem.
John A. Dussinger is Emeritus Professor of English at the University of Illinois at Urbana-Champaign. His books and articles have focused on eighteenth- century culture, particularly the early English novelists. He is currently at work with other colleagues on an edition of Samuel Richardson's complete correspondence.
Keith Maslen is an Honorary Fellow in the English Department, University of Otago, Dunedin, New Zealand. He jointly edited Book & print in New Zealand; a guide to print culture in Aotearoa, Victoria University Press, 1997, and has since published `Donald Francis McKenzie 1931-1999: a tribute', Bibliographical Society of Australia and New Zealand Bulletin 23, 1999, 3- 10, and "`Two books for every horse": a nineteenth-century regional library system for Otago and Southland', The culture of the book: essays from two hemispheres in honour of Wallace Kirsop, Melbourne, Bibliographical Society of Australia and New Zealand, 1999, 397-409. His Samuel Richardson of London Printer was published in November 2001 by the Department of English, University of Otago, Dunedin, New Zealand, <english.department @stonebow.otago.ac.nz>
James E. May (Department of English, Penn State University—DuBois, DuBois, PA 15801) is writing a descriptive bibliography of editions of Edward Young to 1775. He annually contributes the survey "Scribleriana Transferred" to The Scriblerian and edits the eighteenth-century newsletter The EastCentral Intelligencer.
Andrew M. Stauffer is an assistant professor of English at Boston University. He has published articles on Byron, Shelley, Godwin, Blake, Rossetti, and the Brownings, and is currently completing a book-length study entitled Fits of Rage: Anger, Revolution, and Romanticism.



---