---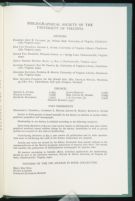 BIBLIOGRAPHICAL SOCIETY OF THE UNIVERSITY OF VIRGINIA
OFFICERS
President, Irby B. Cauthen, Jr., Wilson Hall, University of Virginia, Charlottesville, Virginia 22901
First Vice President, Kendon L. Stubbs, University of Virginia Library, Charlottesville, Virginia 22901
Second Vice President, WALKER COWEN, 211 Sprigg Lane, Charlottesville, Virginia 22901
Editor, FREDSON BOWERS, Route 14, Box 7, Charlottesville, Virginia 22901
Secretary-Treasurer, RAY W. FRANTZ, JR., University of Virginia Library, Charlottesville, Virginia 22901
Executive Secretary, Patricia B. Shutts, University of Virginia Library, Charlottesville, Virginia 22901
Hon. Secretary-Treasurer for the British Isles, MRS. DOUGLAS WYLLIE, Westbrae, 39 Libo Ave., Uplawmoor, G78 4AL Glasgow, Scotland
COUNCIL
Kendon L. Stubbs (1985)
Julius Barclay (1988)
WALKER COWEN (1986)
MRS. LINTON R. MASSEY (1989)
RUTHE R. BATTESTIN (1987)
I. B. CAUTHEN, JR. (1990)
FREDSON BOWERS (1991)

PAST PRESIDENTS
CHALMERS L. GEMMILL, ATCHESON L. HENCH, LINTON R. MASSEY, KENDON L. STUBBS
Studies in Bibliography is issued annually by the Society, in addition to various bibliographical pamphlets and monographs.
Membership in the Society is solicited according to the following categories:
Subscribing Members at $15.00 a year receive Studies in Bibliography and other bibliographical material issued without charge by the Society. Institutions as well as private persons are accepted in this class of membership.
Contributing Members at $75 a year receive all publications, and by their contributions assist in furthering the work of the Society. Institutions are accepted.
Articles and notes are invited by the editor. Preferably these should conform to the recommendations of the Modern Language Association of America Style Sheet. The Society will consider the publication of bibliographical monographs for separate issue.
All matters pertaining to business affairs, including applications for membership, should be sent to the Executive Secretary, Patricia B. Shutts, University of Virginia Library, Charlottesville, Virginia 22901.
WINNERS OF THE 1984 AWARDS IN BOOK COLLECTING
Brian Mac Neil
Stuart Leibiger
Caroline Elizabeth Roesch



---