| | | | |
| --- | --- | --- | --- |
| | | 5.  | |
| | | | |
| --- | --- | --- | --- |
| | | 2.0.  | |
| | | | |
| --- | --- | --- | --- |
| | | 2.1.  | |
| | | | |
| --- | --- | --- | --- |
| | | 2.2.  | |



---
Plate 56
Subservient to the clods of the furrow! the cattle and even
The emmet and earth-worm(s) are his superiors & his lords. [37]
Lines 36-37 of this plate were etched right across the plate-maker's stamp (on the back of the plate) and hence printed badly in all copies. In the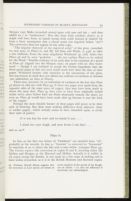 Morgan copy Blake retouched several spots with pen and ink — and then added an
s
to "earth-worm". Was this done from aesthetic choice, as it might well have been, to match worms with cattle instead of emmet? Or from a hasty assumption that a plural noun was required before "are"? The correction does not appear in any other copy.
"The singular character of the engraved script" of this plate (matched, we may note, in Plates 61 and 88) led Sloss and Wallis (I, 548) to infer a late addition. From the same singularity Wicksteed (p. 208) infers that Plates 56 and 61 were "probably . . . the two earliest Plates to be etched for the Work." Possible evidence of an early date is the existence of a proof of Plate 56 (tipped into the Morgan copy) on paper with an 1802 water-mark — though I am inclined to accept the Census hypothesis that the three proof pages of this sort were made much later than the date of their paper. Wicksteed further calls attention to the narrowness of the plate, but narrowness in itself does not afford any evidence of earliness or lateness (see addendum on Sizes of Plates).
There may, however, be an indication of earliness in the fact that Plate 56 shares its odd size with Plate 95. If these two pages were made from the opposite sides of the same piece of copper, they may have been made at about the same date. Plate 95 does seem to have been originally etched rather early, since before final use Blake drastically remade the plate; yet even so, Plate 56 would have been made after 95 because it uses the back of the copper.
Perhaps the most datable feature of these pages will prove to be their style of lettering. But their most striking difference from adjacent (later or earlier pages), which nobody seems to have remarked upon, is surely their style of poetry:
O it was lost for ever! and we found it not: . . .
. . . .
I mind not your laugh; and your frown I not fear! . . .
and so on.
[26]



---