---
I
Don't Wake the Children turned up in the piano-seat of the home in Jefferson, Ohio, of a lady who said she had once played and sung it for Howells himself.[3] The bibliographical description, following the method of Gibson and Arms, would be:
[Ornament] Don't wake | the | children [Ornament] 40 cts | [Ornament] Words by | William Dean Howells | Music by Clarence Wilber Bowers |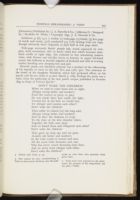 [Ornament] Published by | J. A. Howells & Co. | Jefferson O. | Designed by | Franklin H. White | Copyright 1895. J. A. Howells & Co.
Collation: p. [8], 14 x 11 inches: [1] title-page; [2] blank; [3] first page of words and music; [4-6] numbered 3-5; [7-8] missing from my copy, though obviously there originally as back half of title page sheet.
Title-page extremely florid: purple ink; words separated by complex, leafy ornaments; title in heavy ruled box which becomes simulated scrolls at right edge; this enclosed in box simulating massive vines, with flowers and iris-like leaves at bottom; in upper left-hand corner this balloons to include vignette of husband and wife in evening clothes bending over sleeping boy and girl.
Howells' poem, not elsewhere printed, was a product of the reflowering of his impulse to verse in the late '80's and early '90's. The reference to the death of his daughter Winifred, which had profound effects on his psyche and his art, dates it as after March 3, 1889. Perhaps the poem was a reject from the gathering of his new poetic output published in October 1895 as Stops of Various Quills.[4]
DON'T WAKE THE CHILDREN[5]
When we used to come home late at night,
(Happy young father and mother!)
From the concert or party, or play,
Do you mind, dear, how under the light,
Turned low in the hall, we would stay,
To whisper and caution each other,[6]
Don't wake the children!
Then softly we climed [sic] the long stair,
(Happy young father and mother!)
And on thro' the darkness we crept
To the door of the dim chamber where,
Together the little ones slept;
And we kissed them and whispered each other[6]
Don't wake the children!
They grew up long ago and are gone,
(Lonely old father and mother!)
In the wide world of women and men,
All the sweet little dreamers save one,
Who has never ceased dreaming since then,
And we never need whisper each other,
Don't wake the children.[6]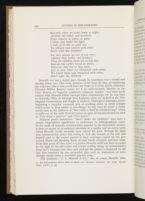 But still, when we come home at night,
(Foolish old father and mother!)
From concert, or party, or play,
I falter, and under the light,
I wait, as if still we must stay
To whisper and caution each other
Don't wake the children.[6]
For they cannot go out of our love,
(Always their father and mother!)
They are children there yet to this day,
Beneath the earth's breast or above,
Wherever they rest or they stray,
Just as then when we whispered each other,
We kissed them and whispered each other,
Don't wake the children!
Howells was not a major poet, though he sometimes was a sound and moving minor one. This verse, however, is far from his best, strengthening the suspicion that it was a cull from the Stops of Various Quills collection. Clarence Wilber Bowers' music for it is, unfortunately, inferior to the verse. Bowers, an "organist, conductor, composer, teacher," may have made contact with Howells either through Ohio relationships, for he was born in Norwalk, Ohio, or through New England, where he studied at the New England Conservatory and taught at Andover Theological Seminary before beginning a complex westward trek of teaching stints in small colleges which seems to have ended in San Diego.[7] In any case, he wrote a rather catchy tune in the tradition of "She's Only a Bird In a Gilded Cage" which is sadly out of key with Howells' poem in spite of musical directions such as "Con moto e patetico" and "Con dolore."
Without poetic distinction, "Don't Wake the Children" does have a certain biographical significance to underscore its bibliographical rarity. In the mode of domestic sentimentality popular in the nineteenth century, it seeks to arouse in its audience emotions of a quality and an excess upon which Howells would normally have turned his back. Perhaps his lapse into sentimentality shows him trying to heal the wounds to his wife and himself—and to the united psyche of their marriage—caused by the protracted illness and shocking death of their lovely daughter and first child. From that point of view there is a pathos Howells could not have intended in the sight of the old realist and ironist seeking refuge in sentimentality from fate's triumph over him—and perhaps the pathos is deepened by the fact that somehow he was persuaded that such an instrument of autotherapy would make a successful popular song.
The publisher, "J. A. Howells & Co.," was of course Howells' elder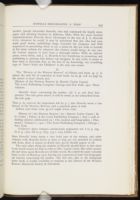 brother, Joseph Alexander Howells, who had continued the family newspaper and printing business in Jefferson, Ohio. With his usual familial conscientiousness Howells threw advantages in the way of J. A. Howells & Co. whenever he could. It may be speculated that Joe, who had once made good money publishing songs, recruited the composer and Will acquiesced in permitting them to use a poem he did not wish to include in his latest volume for whatever the venture would bring. At any rate, the venture appears to have been a thorough failure. With an inferior poem, worse music, and J. A. Howells & Co.'s handicaps in promoting and publishing it, perhaps that failure was foregone. In any event, it seems to have been so thorough that, to the best of my knowledge, my crumbling copy of "Don't Wake the Children" is the only one extant.



---