---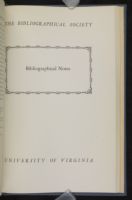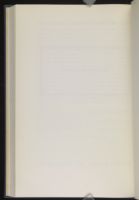 ---
St. Memin's Landon Carter recto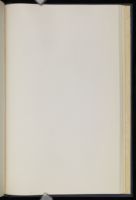 ---
St. Memin's Landon Carter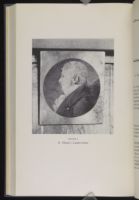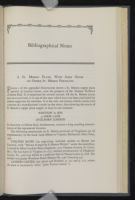 A St. Memin Plate, With Some Notes on Other St. Memin Portraits Fillmore Norfleet
Figure 1 of the appended illustrations shows a St. Memin copper plate portrait of Landon Carter, now the property of Mr. Dabney Wellford of Sabine Hall. It is important for several reasons. Of the St. Memin plates that have survived, it is one of the ones which have not been steel faced by modern engravers for restrikes. It is the only one known which carries even a portion of a manufacturer's mark on the verso, thus showing the source of St. Memin's copper plate supply at least in one instance:
WHITTOW & SON
31.SHOE LANE
<H>OLBORN LONDON
Its discovery at Sabine Hall, furthermore, corrects a long standing misattribution of the represented features.
The following memoranda on St. Memin portraits of Virginians are all supplementary to the book Saint-Mémin in Virginia, Richmond, Dietz Press, 1942.
TARLTON BATES (an engraving, included neither in Dexter nor Corcoran, with "Drawn & engrd. by St. Memin Philada." under the medallion, is owned by Miss Caroline Bates Singleton, 5502 Clemens Avenue, St. Louis, Mo.). He was born in Virginia in 1775, became prothonotory of Alleghany County, Pa., and was killed in a political duel in Pennsylvania in 1806. His brother was James Woodson Bates (Dexter No. 596. Corcoran 43).
LANDON CARTER (see above and Norfleet, p. 151 and p. 115, where the plate is incorrectly titled "John Tayloe Lomax").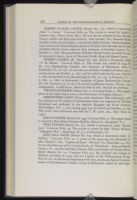 ROBERT BAYLOR CARTER (Dexter No. 565, which is incorrectly titled "L.:Carter." Corcoran Folio 49. The crayon is owned by Leslie C. Garnett, Esq., Chevy Chase, Md.). He was the son of Jessie Carter, Revolutionary soldier and Episcopal minister, who married, first, Hannah Baylor (mother of the crayon subject), and second, Juliet Garnett, whose daughter, Lucy Lyne Carter (married James Jamison Garnett) was the only heir-at-law of Robert Baylor Carter when he died, intestate, in Caroline County, Va., October 10, 1836. The grandfather of Robert Baylor Carter was Dale Carter, of Lancaster County, rector of Drysdale Parish, King and Queen County.
ROBERT GAMBLE, JR. (Dexter No. 598, which is incorrectly titled "T. H. Harris." Corcoran Folio 42. The crayon was owned in 1944 by Dr. Cary Breckenridge Gamble, now deceased, of Baltimore). Born in Richmond, Va., in 1781, he was the son of Robert Gamble (of whom only a crayon exists; see Norfleet, p. 164), and his wife Catharine Grattan. On July 2, 1808, he married Letitia Breckenridge (b. Oct. 26, 1791, in Fincastle, Va.—d. Oct. 10, 1866, in Baltimore), daughter of James Breckenridge (Dexter No. 608. Corcoran 39). In 1827, he moved to Jefferson County, Florida, and, subsequently, to Baltimore, where he died in 1867. He had ten children.
THOMAS JEFFERSON (Dexter No. 10. Corcoran Folio 51. The copperplate of this engraving is now at the University of Virginia Library.)
MERIWETHER LEWIS (Water color miniature. This full-length, full-face portrait of the subject in frontiersman dress was engraved by William Strickland and published in the Analectic Magazine and Naval Chronicle, Philadelphia, Vol. 7, 1816, facing page 329, for which see Norfleet, p. 184. This water color miniature was sold by C. W. Lyon, Inc., New York, in 1948.)
JOSIAH PARKER (Dexter No. 494. Corcoran Folio 12. The copper plate is owned by Mrs. Helen Chalmers Quillan, Mason St., Smithfield, Va.)
WEST PEYTON (Dexter No. 525, which is incorrectly titled "Bartleman." Corcoran Folio 49. The crayon is owned by Mrs. Walter Wilmot, "Afterglow Way", Montclair, N.J.), of Alexandria, Va.
JOHN HILL SMITH (Dexter No. 609, which is incorrectly titled "J. Edbretz." Corcoran Folio 40. A proof of the engraving has descended to Mrs. Charles C. Cox, "Inglewood Farm", Waverly, Va.) Born May 14, 1783, he was the eldest son of Col. Larkin Smith, of "Rickahock", King and Queen County, Va., and his wife Mary Eleanor Hill, and brother of Charles Henry Smith (Dexter No. 221. Corcoran Folio 41). He attended the College of William and Mary in 1799, and was Captain of the Williamsburg Troop, War of 1812. In the decade beginning with 1830, he became Special Commissioner of Revolutionary Claims, living in Richmond, where he died Sept.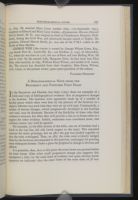 25, 1843. He married Mary Carey Ambler (May 1787-September 1843), daughter to Edward and Mary Carey Ambler, of Jamestown. His son, Edward Harvie Smith, M. D., was surgeon-in-chief of Chimborazo Hospital, Richmond, during the Civil War, and afterwards became consul at Naples. His grandson, Edward Harvie Smith, Jr., was one of the V.M.I. cadets in the Battle of New Market.
GEORGE WISE (the crayon is owned by George Wilson Gunn, Esq., 1303 South First St., Louisville, Ky.; see Norfleet, p. 224), of Alexandria, Va., where he was born in 1778, the son of Peter and Ann Bolling Wise. He died in 1856. By his second wife, Margaret Grier, he had issue Ann Eliza Wise, who married, in 1842, William Knox Wilson, and settled in St. Louis, Mo. The crayon has decended from their daughter, Miss Emma Wilson, of St. Louis, to the present owner, great-great-grandson of the subject.



---