| | | | |
| --- | --- | --- | --- |
| |   | 18.  | CHAPTER XVIII. IN WHICH I AGAIN BEHOLD AMANDA. |
CHAPTER XVIII. IN WHICH I AGAIN BEHOLD AMANDA. John Godfrey's fortunes, related by himself


---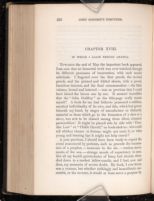 18. CHAPTER XVIII.
IN WHICH I AGAIN BEHOLD AMANDA.
Towards the end of May the important book appeared.
I am sure that no immortal work was ever watched, through
its different processes of incarnation, with such tender
solicitude. I lingered over the first proofs, the revised
proofs, and the printed and folded sheets, with a proud,
luxurious interest, and the final consummation — the little
volume, bound and lettered — was so precious that I could
have kissed the leaves one by one. It seemed incredible
that the "John Godfrey" on the title-page really meant
myself! A book for me had hitherto possessed a sublime,
mystical individuality of its own, and this, which had grown
beneath my hand, by stages of manufacture as distinctly
material as those which go to the formation of a shoe or a
stove, was now to be classed among those silent, eloquent
personalities! It might be placed side by side with "Paradise
Lost" or "Childe Harold," on book-shelves; who could
tell whither chance or fortune might not carry it, or what
young and burning lips it might not help unseal?
A year previous, I should have been ready to expect the
event announced by portents, such as precede the incarnation
of a prophet, — murmurs in the air, — restless movements
of the sea, — strange moods of expectancy in men.
But all my boyish pyrotechnics of fancy had already dwindled
down to a modest tallow-candle, and I had, now and
then, my moments of severe doubt. My book, I now knew,
was a venture, but whether strikingly and immediately successful,
or the reverse, it would at least serve a purpose by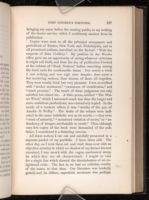 bringing my name before the reading public, to say nothing
of the dearer service which I confidently awaited from its
publication.
Copies were sent to all the principal newspapers and
periodicals of Boston, New York, and Philadelphia, and to
all prominent authors, inscribed on the fly-leaf: "With the
respects of John Godfrey." My position in the Wonder
office gave me an opportunity of seeing whatever criticisms
it might call forth, and from the day of publication I looked
at the column of "Book Notices," before searching among
the local news for condensable items. For nearly a week
I saw nothing, and was nigh unto despair; then came a
few scattering notices, then dozens of them all together.
They were mostly brief, but very pleasant. I was accredited
with "tender sentiment," sweetness of versification," and
"much promise." The result of these judgments not only
satisfied, but elated me. A little poem, entitled "The Winter
Wind," which I esteemed much less than the longer and
more ambitious productions, was extensively copied. In the
words of a western editor, it was "worthy of the pen of
Amelia B. Welby." The faults of the volume were indicated
in the same indefinite way as its merits; — they were
"want of maturity," "occasional violation of metre," or "redundancy
of images, attributable to youth." Thus, although
very few copies of the book were demanded of the publisher,
I considered it a flattering success.
All these notices I cut out and carefully preserved in a
separate pocket of my portfolio. I have them still. The
other day, as I took them out and read them over with an
objective scrutiny in which no shadow of my former interest
remained, I was struck with the vague, mechanical stamp
by which they are all characterized. I sought in vain
for a single line which showed the discrimination of an enlightened
critic. The fact is, we had no criticism, worthy
of the name, at that time. Our literature was tenderly
petted, and its diffuse, superficial sentiment was perhaps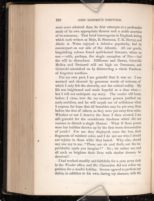 even more admired than its first attempts at a profounder
study of its own appropriate themes and a noble assertion
of its autonomy. That brief interregnum in England, during
which such writers as Moir, B. Simmons, T. K. Hervey, and
Alaric A. Watts enjoyed a delusive popularity, had its
counterpart on our side of the Atlantic. All our gentle,
languishing echoes found spell-bound listeners, whom no
one — with, perhaps, the single exception of Poe — had
the will to disenchant. Hillhouse and Dawes, Grenville
Mellen and Brainard still sat high on Parnassus, and
Griswold astonished us by disinterring a whole Pantheon
of forgotten worthies.
For my own part, I am grateful that it was so. I was
warmed and cheered by generous words of welcome, of
which I only felt the sincerity, not the critical nullity. My
life was brightened and made hopeful at a time when —
but I will not anticipate my story. The reader will learn,
before I close, how far my maturer powers justified my
early ambition, and he will acquit me of selfishness when
I express the hope that all brambles may be put away from
before the feet of others, as they were put away from mine.
Whether or not I deserve the fame I then coveted, I am
still grateful for the considerate kindness which did not
venture to disturb a single illusion. What if those poems
were but bubbles thrown up by the first warm fermentation
of youth? For me they displayed, none the less, their
fragments of rainbow color, and I do not see why I should
not rejoice in them while they lasted. Why, also, should
any one say to me, "These are air and froth, not the imperishable
opals you imagine?" No; let rather me, and
all such as brighten their lives with similar dreams, be
deceived!
I had worked steadily and faithfully for a year, at my desk
in the Wonder office, and Mr. Clarendon did not refuse my
petition for a week's holiday. Severn agreed to perform my
duties, in addition to his own, during my absence, with the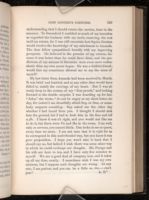 understanding that I should return the service, later in the
summer. To Swansford I confided so much of my intention
as regarded the business with my uncle, reserving the rest
until my return, for I was still uncertain how Squire Bratton
would receive the knowledge of my attachment to Amanda.
The dear fellow sympathized heartily with my improving
prospects. He believed in the promise of my volume, because
it was better than he could have done, and his predictions
of my success in literature were even more enthusiastic
than my own secret hopes. He was a faithful friend;
would that my conscience allowed me to say the same of
myself!
My last letter from Amanda had been received in March.
It was brief and hurried, and at any other time would have
failed to satisfy the cravings of my heart. But I was already
deep in the ecstasy of my "first proofs," and looking
forward to the double surprise I was hoarding up for her.
"John," she wrote, "do not be angry at my short letter, today,
for indeed I am dreadfully afraid Sep, or Dan, or somebody
suspects something. Sep asked me the other day
whether I had heard from you. I thought I should sink
into the ground, but I had to look him in the face and tell
a fib. I know it was n't right, and you would not like me
to do it, but there were Pa and Ma in the room. I am well,
only so nervous, you cannot think. Dan looks at me so queer,
every time we meet. I am not sure that it is right for us
to correspond in this underhanded way, but you know it was
your proposition. I hope you won't take it hard that I
should say so, but indeed I wish there was some other way
in which we could exchange our thoughts. Mr. Perego and
his wife are here to tea, and I have only five minutes to
myself. We see a good deal of company now, and it takes
up all my time, nearly. I sometimes wish I was my own
mistress, but I suppose such thoughts are wrong. At any
rate, I am patient, and you can be a little so, too, — can't
you?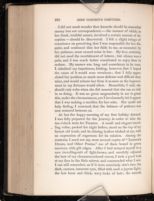 I did not much wonder that Amanda should be somewhat
uneasy lest our correspondence — the manner of which, to
her frank, truthful nature, involved a certain amount of deception
— should be discovered. I felt a slight twinge of
conscience on perceiving that I was responsible for her disquiet,
and confessed that her faith in me, as measured by
her patience, must exceed mine in her. My love, certainly,
did not need the nourishment of letters; but silence was a
pain, and I was much better constituted to enjoy than to
endure. My answer was long and consolatory in its tone.
I admitted my impatience, hinting, however, that I hoped
the cause of it would soon terminate; that I fully appreciated
her position, so much more delicate and difficult than
mine, and would release her from it as soon as the improvement
in my fortunes would allow. Meanwhile, I said, she
should only write when she felt assured that she ran no risk
in so doing. It was no great magnanimity in me to grant
this, under the circumstances, yet I involuntarily let it appear
that I was making a sacrifice for her sake. She could not
help feeling, I reasoned, that the balance of patience was
now restored between us.
At last the happy morning of my first holiday dawned.
I was fully prepared for the journey, in order to take the
ten o'clock train for Trenton. A small and elegant travelling
valise, packed the night before, stood on the top of my
honest old trunk, and its shining leather winked at me, with
an expression of eagerness for its mission. Among the
contents, I need not say, were several copies of "Leonora's
Dream, and Other Poems," one of them bound in green
morocco, with gilt edges. After I had arrayed myself in a
new travelling-suit of light-brown, and carefully adjusted
the bow of my cinnamon-colored cravat, I took a good look
at my face in the little mirror, and commended what I saw.
I can still remember, as if it were somebody else's face, the
dark, earnest, innocent eyes, filled with such a joyous light;
the low brow and thick, wavy locks of hair; the smooth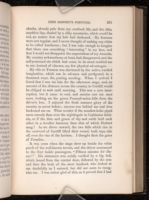 cheeks, already pale from my confined life, and the thin,
sensitive lips, shaded by a silky moustache, which
would
be
red, no matter how my hair had darkened. My features
were not regular, and I never thought of making any claim
to be called handsome; but I was vain enough to imagine
that there was something "interesting" in my face, and
that I would not disappoint the expectations of my Amanda.
My country awkwardness, at least, had disappeared, and the
self-possessed air which had come in its stead enabled me
to use, instead of obscure, my few physical advantages.
My ride to Trenton was shortened by the active, excited
imagination, which ran in advance and prefigured, in a
thousand ways, the coming meeting. When I arrived I
found that I was too late for the afternoon stage, and, on
account of the distance across the country to Cardiff, would
be obliged to wait until morning. This was a sore interruption,
but it came to end, and sunrise saw me once
more looking on the green Pennsylvanian hills from the
driver's box. I enjoyed the fresh summer glory of the
country as never before; success was behind me and love
beckoned me on. What wonder if the meadow-larks piped
more sweetly than ever the nightingale in Cephissian thickets,
or if the blue and green of sky and earth held each
other in a lovelier harmony than that of which Herbert
sang? As we drove onward, the two hills which rise to
the eastward of Cardiff lifted their round, leafy tops, afar
off, over the rim of the horizon. I thought them the gates
of Paradise.
It was noon when the stage drew up beside the white
porch of the well-known tavern, and the driver announced
to the four inside passengers, "Fifteen minutes for dinner!"
His statement was noisily verified by a big bell,
which issued from the central door, followed by the arm
and then the body of the stout landlord, who looked at
me doubtfully as I entered, but did not seem to recognize
me. I was rather glad of this, as it proved that I had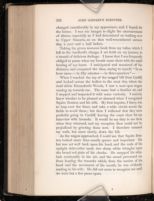 changed considerably in my appearance, and, I hoped, for
the better. I was too hungry to slight the announcement
of dinner, especially as I had determined on walking over
to Upper Samaria, as on that well-remembered autumn
day, a year and a half before.
Taking the green morocco book from my valise, which I
left in the landlord's charge, I set forth on my journey, in
a tumult of delicious feelings. I know that I was frequently
obliged to pause when my breath came short with the rapid
beating of my heart. I anticipated and measured off the
distance, and computed the time, saying to myself, "In an
hour more — in fifty minutes — in three-quarters" —
When I reached the top of the second hill from Cardiff,
and looked across the hollow to the next rise, where the
road skirts Hannaford's Woods, I saw a neat open wagon
coming up towards me. The team had a familiar air, and
I stopped and inspected it with some curiosity. I scarcely
knew whether to be pleased or alarmed when I recognized
Squire Bratton and his wife. My first impulse, I fancy, was
to leap over the fence and take a wide circuit across the
fields to avoid them; but then I reflected that they were
probably going to Cardiff, leaving the coast clear for my
interview with Amanda. It would be my duty to see them
when they returned, and my reception then could not be
prejudiced by greeting them now. I therefore resumed
my walk, but more slowly, down the hill.
As the wagon approached, I could see that Squire Bratton
looked more than usually spruce and important. His
hat was set well back upon his head, and the ends of his
upright shirt-collar made two sharp white triangles upon
the broad red plain of his cheeks. He snapped his whiplash
continually in the air, and the sound prevented me
from hearing the remarks which, from the motion of his
head and the movement of his mouth, he was evidently
making to his wife. He did not seem to recognize me until
we were but a few paces apart.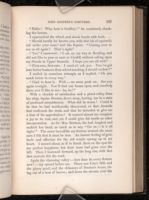 "Hallo! Why, here 's Godfrey!" he exclaimed, checking
the horses.
I approached the wheel, and shook hands with both.
"Should hardly ha' known you, with that bit of squirrel's
tail under your nose," said the Squire. "Coming over to
see us all again? That 's right."
"Yes," I answered; "I am on my way to Reading, and
did not like to pass as near as Cardiff, without calling upon
my friends in Upper Samaria. I hope you are all well."
"First-rate, first-rate. I need n't ask you. You 've got
into better business than school-teaching, I should reckon?"
I smiled in conscious triumph, as I replied, "Oh yes,
much better in every way."
"Glad to hear it. Well — we must push on. See you
again to-night. You 'll find our house open, and somebody
there you 'll like to see: ha, ha!"
With a chuckle of satisfaction and a pistol-volley from
his whip, Squire Bratton drove away, leaving me in a state
of profound astonishment. What did he mean? Could it
be that he had accidentally discovered, or that Amanda
had confessed, the truth, and that he intended to give me
a hint of his approbation? It seemed almost too complete
a joy to be real, and yet I could give his words no other
interpretation. As for Mrs. Bratton, she had laughed and
nodded her head, as much as to say, "Go on — it 's all
right!" The more incredible my fortune seemed, the more
sure I felt that it must be true. An instant feeling of gratitude
and affection for the old couple sprang up in my
heart. I turned about, as if to thank them on the spot for
my perfect happiness, but their team had gone over the
hill. Then I hastened forward, up the long rise, with feet
that scarcely felt the road.
Again the charming valley — how dear its every feature
now! — lay spread before me. There was Yule's Mill, and
the glassy pond, and the chimneys of Bratton's house, rising
out of a boss of leaves; and down the stream, over the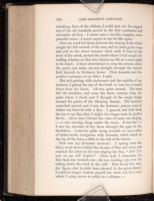 twinkling lines of the willows, I could just see the ragged
top of the old hemlock, sacred to the first confession and
surrender of love. I never saw a lovelier, happier, more
peaceful scene: I never expect to see its like again.
Now my road led down between the sloping fields which
caught the full warmth of the sun, and let their grain romp
and roll in the sweet summer wind, until it bent to the
level of the creek, around the knoll where I had sought for
trailing arbutus, on that day whence my life as a man ought
to be dated. I there determined to cross the stream above
the pond, and make my way straight through the narrow
field beyond, to Bratton's house. First Amanda, and the
positive assurance of my bliss! I said.
Hot and panting with excitement and the rapidity of my
motions, I gained the top of the knoll at last, but a stone's
throw from the house. All was quiet around. The trees
hid the windows, and even the front veranda, from the
point where I stood, and I thought of the magic hedge
around the palace of the Sleeping Beauty. The hundred
years had passed, and I was the fortunate prince, come to
waken my beloved with a kiss. I paused, and held back
the joy at my lips, that I might the longer taste its perfect
flavor. All at once I heard the voice of some one singing,
— a voice moving along under the trees. It was she! —
I saw the rose-tint of her dress through the gaps in the
shrubbery. I saw her glide along towards an open arbor
of lattice-work, overgrown with clematis, which stood on
the top of the lawn, a little to the left of the house.
Now was my fortunate moment! I sprang over the
fence, crept down behind the clumps of lilac and roses, and
reached the arbor as she was singing the line, "And I 've
seen an eye still brighter." (How well I remember it.)
Her back was towards me: she was looking out, over the
railing, down the road to the mill. How lovely her slender
figure, clad in pink lawn, showed in the green frame!
I could no longer contain myself, but cried out, in a voice
which I vainly strove to soften to a whisper, —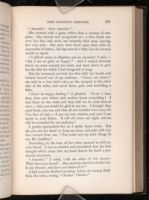 "Amanda! Dear Amanda!"
She started, with a gasp, rather than a scream, of surprise.
She turned and recognized me: a fiery blush ran
over her face and neck, but instantly died away, leaving
her very pale. Her eyes were fixed upon mine with an
expression of alarm; her lips moved a little, but she seemed
unable to speak.
"I did n't mean to frighten you so, Amanda," I said, —
"but I am so glad, so happy!" And I rushed forward,
threw my arms around her waist, and bent down to give
her the kiss for which I had hungered so long.
But she screamed, covered her face with her hands, and
twisted herself out of my embrace. "Leave me alone!"
she said, in a low, hard voice, as she escaped to the other
side of the table, and stood there, pale, and trembling a
little.
"Don't be angry, darling!" I pleaded. "Is n't it true,
then, that your father and mother know everything? I
met them on the road, and they told me to come here at
once — that you would be glad to see me. I thought they
must know, you see, and that all our troubles were over, for
I 'm free at last, — I am my own master, and now I can
speak to your father. It will all come out right, and we
will be rewarded for our patience."
I gently approached her as I spoke these words. But
she put out her hand to keep me away, and said, with her
face turned from me, "You must not say such things to
me, Mr. Godfrey."
Something in the tone of her voice seemed to chill my
very blood. I was so startled and astonished that the first
thought which came into my head forced for itself a passionate
utterance.
"Amanda!" I cried, "tell me what all this means!
What have you heard? Has anybody dared to slander me
in my absence, and have you believed it?"
I had scarcely finished speaking before she sprang forth
from the arbor, crying, "Charles! Charles!"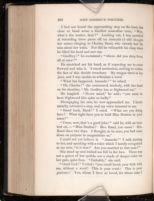 I had not heard the approaching step on the lawn, but
close at hand arose a familiar masculine voice, "Why,
what 's the matter, dear?" Looking out, I was petrified
at beholding, three paces off, my Amanda (I still thought
her mine) clinging to Charley Rand, who already had his
arm about her waist. Nor did he relinquish his clasp when
he lifted his head and saw me.
"Godfrey!" he exclaimed; "where did you drop from,
all at once?"
He stretched out his hand, as if expecting me to come
forward and take it. I stood motionless, striving to realize
the fact of this double treachery. My tongue clove to my
jaws, and I was unable to articulate a word.
"What has happened, Amanda?" he asked.
"Oh, Charles!" she murmured, tenderly, with her head
on his shoulder, "Mr. Godfrey has so frightened me."
He laughed. "Never mind," he said; "you seem to
have frightened him quite as badly."
Disengaging his arm, he now approached me. I involuntarily
retreated a step, and my voice returned to me.
"Stand back, Rand!" I cried. "What are you doing
here? What right have you to hold Miss Bratton in your
arms?"
"Come, now, that 's a good joke!" said he, with an insolent
air, — "Miss Bratton? Mrs. Rand, you mean! Mrs.
Rand since two days. I thought, to be sure, you had come
down on purpose to congratulate us."
I could not yet believe it. "Amanda!" I said, turning
to her, and speaking with a voice which I hardly recognized
as my own, "is it true? Are you married to that man?"
She stood up and looked me full in the face. There was
not a quiver of her eyelids, nor a shade of deeper color on
her pale, quiet face. "Certainly," she said.
"Good God!" I cried; "you could break your faith with
me, without a word! This is your truth! This is your
patience! You, whom I have so loved, for whose sake I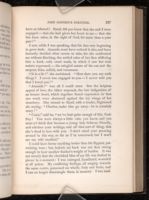 have so labored! Rand, did
you
know that she and I were
engaged — that she had given her heart to me — that she
has been mine, in the sight of God, for more than a year
past?"
I saw, while I was speaking, that his face was beginning
to grow dark. Amanda must have noticed it also, and have
instantly decided what course to take, for she confronted
me without flinching, the settled calm of her face stiffening
into a hard, cold, cruel mask, in which I saw her true
nature expressed, — the mingled nature of the cat and the
serpent, false, selfish, and venomous.
"It is a lie!" she exclaimed. "How dare you say such
things? I never was engaged to you — I never told you
that I loved you!"
"Amanda!" was all I could utter. But the helpless
appeal of love, the bitter reproach, the hot indignation of
an honest heart, which together found expression in that
one word, were shattered against the icy visage of her
treachery. She turned to Rand, with a tender, frightened
air, saying, "Charles, make him go away: he is certainly
crazy!"
"Come," said he, "we 've had quite enough of this, Godfrey!
You were always a little vain, you know, and you
must n't think that because a young lady behaves friendly,
and admires your writings, and all that sort of thing, that
she 's dead in love with you. I don't mind your prancing
around in this way, so far as I 'm concerned, but I won't
see my wife insulted."
I could have borne anything better than his flippant, patronizing
tone; but, indeed, my back was not then strong
enough to bear another feather's-weight of burden. It was
not merely that the cherished bliss of my life was dashed to
pieces in a moment: I was outraged, humiliated, wounded
at all points. My conflicting feelings, all surging towards
the same centre, possessed me wholly, body and brain, and
I can no longer disentangle them, in memory. I was mad.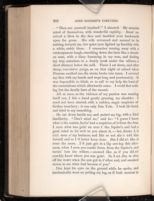 "Then see yourself insulted!" I shouted. My muscles
acted of themselves, with wonderful rapidity. Rand received
a blow in the face and tumbled over backwards
upon the grass. His wife screamed and seemed to be
making towards me, her quiet eyes lighted up horribly with
a white, steely blaze. I remember turning away with a
contemptuous laugh, stumbling down the lawn like a drunken
man, with a dizzy humming in my ears, and finding
my way, somehow, to a lonely nook under the willows, a
short distance below the mill. There I sat down, and after
sharp, convulsive pangs, as on that night at school when
Penrose soothed me, the storm broke into tears. I covered
my face with my hands and wept long and passionately. It
was impossible to think, or to call to my help the least of
the consolations which afterwards came. I could feel nothing
but the deadly hurt of the wound.
All at once, as the violence of my passion was wearing
itself out, I felt a hand gently pressing my shoulder. I
need not have started, with a sudden, angry suspicion of
further treachery: it was only Dan Yule. I took his hand,
and tried to say something.
He sat down beside me, and patted my leg, with a kind
familiarity. "Don't mind me," said he: "I guess I know
what 's the matter, havin' had a suspicion of it from the first.
I seen what was goin' on over t' the Squire's, and had a
good mind to ha' writ to you about it, — but, thinks I, it
a'n't none o' my business, and like as not she 's told him
herself, and so I 'd better keep clear. But I did n't like it
none the more. I 'd just got in a big saw-log this afternoon,
when I seen you comin' down from the Squire's, and
turnin' into the willers — seemed like as if you did n't
exackly know where you was goin'. So I set Jim to shut
off the water when the saw got to t' other end, and sneaked
across to see what had become o' you."
Dan kept his eyes on the ground while he spoke, and
mechanically went on patting my leg, as if both anxious to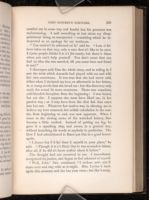 comfort me in some way and fearful lest his presence was
embarrassing. I said something at last about my disappointment
being so unexpected — something which he interpreted
as an apology for my weakness.
"You need n't be ashamed on it," said he. "Lots o' fellows
takes on that way, only a man does n't like to be seen.
I s'pose people thinks it is n't jist manly, but there 's times
when you can't help yourself. You don't mean that you
had no idee she was married, till you come here and found
it out?"
I thereupon told Dan the whole story, and in telling it, I
saw the trick which Amanda had played with me and with
her own conscience. It was true that she had never said,
either when I declared my love, or afterwards in her letters,
in so many words, that she loved me: but this discovery only
made the actual lie more enormous. There was conscious,
cold-blooded deception from the beginning: I was bound,
but not she. I suppose she must have liked me, in her
passive way; or I may have been the first fish that came
into her net. Whatever her motive was, in allowing me to
believe my love returned, her selfish calculation in the matter,
from beginning to end, was now apparent. When I
came to the closing scene of the wretched history, Dan
became a little excited. Instead of patting my leg, he
gave it a spanking slap, and swore, in a general way,
without launching his words at anybody in particular. The
blow I had administered to Rand put him in a good humor
again.
"I dunno but I 'd ha' done it myself, in your place," he
said. "Though it is n't likely that he was so much to blame,
after all, if he did n't know nothin' about it before."
The thought had not occurred to me. I immediately
recognized its justice, and began to feel ashamed of myself.
"Well, John," Dan continued, "I reckon, now, you 'll
come over and stay with us to-night. Miss Lavina 's back
again this summer, and she has your room; but Ike 's away,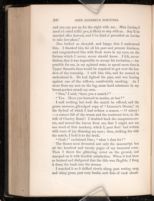 and you can put up for the night with me. Miss Lavina, I
need n't mind tellin'
you,
is likely to stay with us. Sue 'll be
married after harvest, and I 've kind o' prevailed on Lavina
to take her place."
Dan looked so sheepish and happy that I understood
him. I thanked him for all his past and present kindness,
and congratulated him with fresh tears in my eyes, on the
fortune which I never, never should know. I felt, nevertheless,
that it was impossible to accept his invitation, — impossible
for me, in my agitated state, to spend more time in
Upper Samaria than would be required to get over the borders
of the township. I told him this, and he seemed to
understand it. He had lighted his pipe, and was leaning
against one of the willows, comfortably smoking. As I
arose from my seat on the log, some hard substance in my
breast-pocket struck my arm.
"Dan," I said, "have you a match?"
"Yes. Have you learned to smoke, at last?"
I said nothing, but took the match he offered, and the
green morocco, gilt-edged copy of "Leonora's Dream," on
the fly-leaf of which I had written a sonnet, — O misery!
— a sonnet full of the truest and the tenderest love, to the
wife of Charley Rand! I doubled back the sumptuous covers,
and turned the leaves from me, that I might not see
one word of that mockery, which I, poor fool! had written
with tears of joy dimming my eyes; then, striking fire with
the match, I held it to the book.
"Gosh!" exclaimed Dan; "what 's that for?"
The flames soon devoured not only the manuscript but
all the hundred and twenty pages of my immortal verse.
Then I threw the glittering cover on the ground, and
stamped on it with fiendish satisfaction. When it had been
so bruised and disfigured that the title was illegible, I flung
it down the bank into the stream.
I watched it as it drifted slowly along, past rotting snag
and slimy grass, past oozy banks, and flats of rank skunk-cabbage,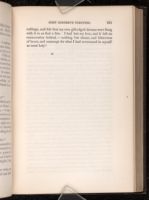 and felt that my own gilt-edged dreams were flung
with it to as foul a fate. I had lost my love, and it left no
consecration behind, — nothing but shame, and bitterness
of heart, and contempt for what I had reverenced in myself
as most holy!
CHAPTER XVIII. IN WHICH I AGAIN BEHOLD AMANDA. John Godfrey's fortunes, related by himself


---