As good as a comedy, or, The Tennesseean's story


---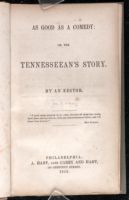 AS GOOD AS A COMEDY:
OR, THE
TENNESSEEAN'S STORY.
BY AN EDITOR.
"I have some purpose in it;—and, but beat off these two rooks,
Jack Daw and his fellow, with any discontentment hither, and I'll
honor thee forever."
Ben Jonson.
PHILADELPHIA:
A. HART, LATE CAREY AND HART,
126 CHESTNUT STREET.
1852.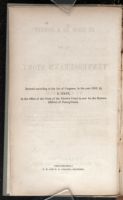 Entered according to the Act of Congress, in the year 1852, by
A. HART,
in the Office of the Clerk of the District Court in and for the Eastern
District of Pennsylvania.
PHILADELPHIA:
T. K. AND P. G. COLLINS, PRINTERS.
As good as a comedy, or, The Tennesseean's story


---