Married or single?


---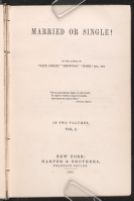 MARRIED OR SINGLE?
BY THE AUTHOR OF
"HOPE LESLIE," "REDWOOD," "HOME," ETC., ETC.
"Seven generations, haply, to this world,
To right it visibly a finger's breadth,
And mend its rents a little."
Aurora Leigh.
IN TWO VOLUMES.
VOL. I.
NEW YORK:
HARPER & BROTHERS,
FRANKLIN SQUARE.
1857.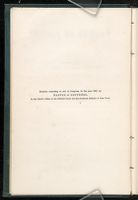 Entered, according to Act of Congress, in the year 1857, by
HARPER & BROTHERS,
In the Clerk's Office of the District Court for the Southern District of New York.
Married or single?


---