| | | | |
| --- | --- | --- | --- |
| |   |   | BY HERMAN MELVILLE. TYPEE. |
Moby-Dick, or, The whale


---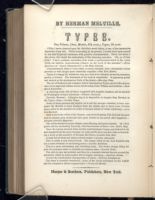 BY HERMAN MELVILLE.
TYPEE.
One Volume, 12mo, Muslin, 87½ cents; Paper, 75 cents.
"Why I never chanced upon Mr. Melville's work before, is one of the inscrutable
mysteries of my fate. While luxuriating in its perusal, I looked back upon myself
in my ante-Typee-cal existence, with positive commiseration. There are those, I
am aware, who doubt the authenticity of this charming narrative. `Oh, ye of little
faith!' I have a solemn conviction of its truth—a pertinacious belief in the entire
work—an humble, unquestioning reliance on the word of the narrator."
—Correspondence
of "Grace Greenwood" to the Home Journal.
Chateaubriand's Atala is of no softer or more romantic tone—Anacharsis scarce
presents us with images more classically exquisite.
—New York Mirror.
Typee is a happy hit, whichever way you look at it—whether as travels, romance,
poetry, or humor. The bonhommie of the book is remarkable. It appears as genial
and natural as the spontaneous fruits of the island.
—Morning News.
The air of freshness and romance which characterizes Typee, gives it the appearance
of an improved edition of our old favorites, Peter Wilkins and Gulliver.
—Richmond
Republican.
A charming book—full of talent, composed with singular elegance, and as musical
as Washington Irving's Columbus.
—Western Continent.
Enviable Herman! A happier dog it is impossible to imagine than Herman in
the Typee valley.
—London Times.
Some of these pictures but require us to call the savages celestials, to have supposed
Mr. Melville to have dropped from the clouds, and to fancy some Ovidian
grace added to the narrative in order to become scenes of classic mythology.
—London
Spectator.
Such is life in the valley of the Typees; and surely Rasselas, if he had had the good
luck to stumble on it, would not have gone further in his search after happiness.
—
Douglas Jerrold's Magazine.
The whole narrative is most simple, most effecting, and most romantic. Ah! thou
gentle and too enchanting Fayaway, what has become of thee?
—Lon. Gent's. Mag.
Since the joyous moment when we first read Robinson Crusoe, and believed it all,
and wondered all the more because we believed, we have not met with so bewitching
a work as this narrative of Herman Melville's.
—London John Bull.
A book full of fresh and richly-colored matter.
—London Athenæum.
This is really a very curious book. The happy valley of our dear Rasselas was
not a more romantic or enchanting scene.
—London Examiner.
This is a most entertaining and refreshing book. The writer, though filling the
post of a common sailor, is certainly no common man.
—London Critic.
The style is racy and pointed, and there is a romantic interest thrown around the
adventure, which to most readers will be highly charming.
—American Review.
It bears the unexhausted characteristics of talent.
—National Intelligencer.
The story is eventful—wonderful; some of the deeds performed by the author
and his companion almost surpass belief.
—Cincinnati Herald.
Harper & Brothers, Publishers, New York.
Moby-Dick, or, The whale


---