| | | | |
| --- | --- | --- | --- |
| |   |   | BY HERMAN MELVILLE. OMOO. |
Moby-Dick, or, The whale


---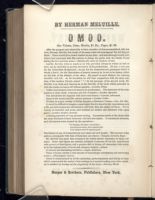 BY HERMAN MELVILLE.
OMOO.
One Volume, 12mo, Muslin, $1 25; Paper, $1 00.
After the pungent and admirably written narrative of that accomplished, able seaman,
Herman Melville, few books of the same class but must appear flat and unprofitable.
Omoo would have found readers at any time; and that although twenty publishers
had combined with fifty authors to deluge the public with the Pacific Ocean
during the five previous years.
—Blackwood's notice of Coulter's Cruise.
Let Mr. Melville write as much as he will, provided always he writes as well as
now, and he shall find us greedy devourers of his productions. He has a rare pen
for the delineation of character; an eye for the humorous and grotesque which is
worth a Jew's; for the description of natural scenery he is not to be beaten, either
on this side of the Atlantic or the other. His pencil is most distinct, the coloring
beautiful and rich. As for invention, he will bear comparison with the most cunning
of the modern French school. * * * At the last page of his second work, Mr.
Melville is as fresh and vigorous as at the first line of the book which preceded it.
Lkie his reader, he leaves off with an appetite.
—London Times.
Unlike most sequels, Omoo is equal to its predecessor. The character of the composition
is clear, fresh, vivacious, and full of matter.
—London Spectator.
The adventures are depicted with force and humor.
—London Athenæum.
Some of the scenes are like cabinet pictures.
—London Critic.
Written in a style worthy of Philip Quarles or Robinson Crusoe.
—Lon. Lit. Gaz.
It would be difficult to imagine a man better fitted to describe the impressions such
a life and such scenes are calculated to call forth, than the auther of Omoo. Every
variety of character, and scene, and incident, he studies and describes with equal
gusto.
—London People's Journal.
A stirring narrative of very pleasant reading. It possesses much of the charm that
has made Robinson Crusoe immortal—life-like description. It commands attention,
as if old interest were created by the narratives—
"Of Raleigh, Frobisher, and Drake—
Adventurous hearts, who bartered bold
Their English steel for Spanish gold."
The history is one of comparatively new lands and new people. His account of the
natives corresponds with that of Kotzebue and others.
—Douglas Jerrold's Paper.
Mr. Melville has more than sustained his widely-spread reputation in these volumes.
Omoo and Typee are actually delightful romances of real life, embellished
with powers of description, and a graphic skill of hitting off characters, little inferior
to the highest order of novel and romance writers.
—Albion.
A curious and fascinating narrative.
—Anglo American.
These volumes contain a vast amount of exceedingly entertaining and interesting
matter.
—Philadelphia Courier.
Omoo is characterized by all the animation, picturesqueness, and felicity of style
which commended the author's first writings to a second reading, even after curiosity
is satisfied by tracing out the singularity of the story.
—Literary World.
Harper & Brothers, Publishers, New York.
Moby-Dick, or, The whale


---