Roughing it


---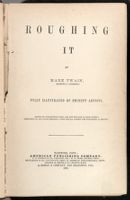 ROUGHING
IT
BY
MARK TWAIN.
(SAMUEL L. CLEMENS.)
FULLY ILLUSTRATED BY EMINENT ARTISTS.
(ISSUED BY SUBSCRIPTION ONLY, AND NOT FOR SALE IN BOOK STORES.)
(RESIDENTS OF ANY STATE DESIRING A COPY SHOULD ADDRESS THE PUBLISHERS AS BELOW.)
HARTFORD, CONN.:
AMERICAN PUBLISHING COMPANY.
F. G. GILMAN & CO., CHICAGO, ILL.; W. E. BLISS, TOLEDO, OHIO.
NETTLETON & CO., CINCINNATI, OHIO; D. ASHMEAD, PHILADELPHIA, PENN.;
GEORGE M. SMITH & CO., BOSTON, MASS.
A. ROMAN & COMPANY, SAN FRANCISCO, CAL.
1872.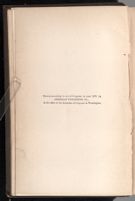 Entered according to act of Congress, in year 1872, by
AMERICAN PUBLISHING CO.,
in the office of the Librarian of Congress at Washington.
Roughing it


---