Kavanagh


---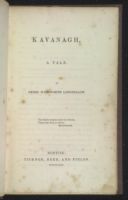 KAVANAGH,
A TALE.
BY
HENRY WADSWORTH LONGFELLOW.
The flighty purpose never is o'ertook,
Unless the deed go with it.
Shakspeare.
BOSTON:
TICKNOR, REED, AND FIELDS.
M DCCC XLIX.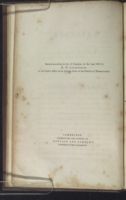 Entered according to Act of Congress, in the year 1849, by
H. W.
Longfellow,
in the Clerk's Office of the District Court of the District of Massachusetts
CAMBRIDGE:
STEREOTYPED AND PRINTED BY
METCALF AND COMPANY,
PRINTERS TO THE UNIVERSITY.
Kavanagh


---